https://www.storyboardthat.com/lesson-plans/separate-peace-by-john-knowles/characters
Activity Overview
As students read, a storyboard can serve as a helpful character reference log. This log (also called a character map) allows students to recall relevant information about important characters. When reading a novel, small attributes and details frequently become important as the plot progresses. With character mapping, students will record this information, helping them follow along and catch the subtleties which make reading more enjoyable!
Gene Forrester
Physical Traits
16-17 years old, 5'8 ½" tall, 140 pounds, athletic, smart, sarcastic; has a "West Point stride"

Character Traits
Jealous and insecure; concerned with rules and regulations; feels guilty after knocking Finny out of the tree; lies about his background; afraid of the war

Quote
"But by now I no longer needed this vivid false identity; now I was acquiring, I felt, a sense of my own real authority and worth."
Other characters included in this map are: Phineas "Finny", Elwin "Leper" Lepellier, Brinker Hadley, Cliff Quackenbush, and Dr. Stanpole
Student Instructions
Create a character map for the major characters.
Identify the major characters in A Separate Peace and type their names into the different title boxes.
Choose a character to represent each of the literary characters.
Select colors and a pose appropriate to story and character traits.
Choose a scene or background that makes sense for the character.
Fill in the Textables for Physical Traits, Character Traits, and Quote.
Save often!
Lesson Plan Reference
Grade Level 9-10
Difficulty Level 2 (Reinforcing / Developing)
Type of Assignment Individual or Partner
Type of Activity: Character Map
Common Core Standards
[ELA-Literacy/RL/9-10/3] Analyze how complex characters (e.g., those with multiple or conflicting motivations) develop over the course of a text, interact with other characters, and advance the plot or develop the theme
[ELA-Literacy/RL/9-10/6] Analyze a particular point of view or cultural experience reflected in a work of literature from outside the United States, drawing on a wide reading of world literature
[ELA-Literacy/W/9-10/6] Use technology, including the Internet, to produce, publish, and update individual or shared writing products, taking advantage of technology's capacity to link to other information and to display information flexibly and dynamically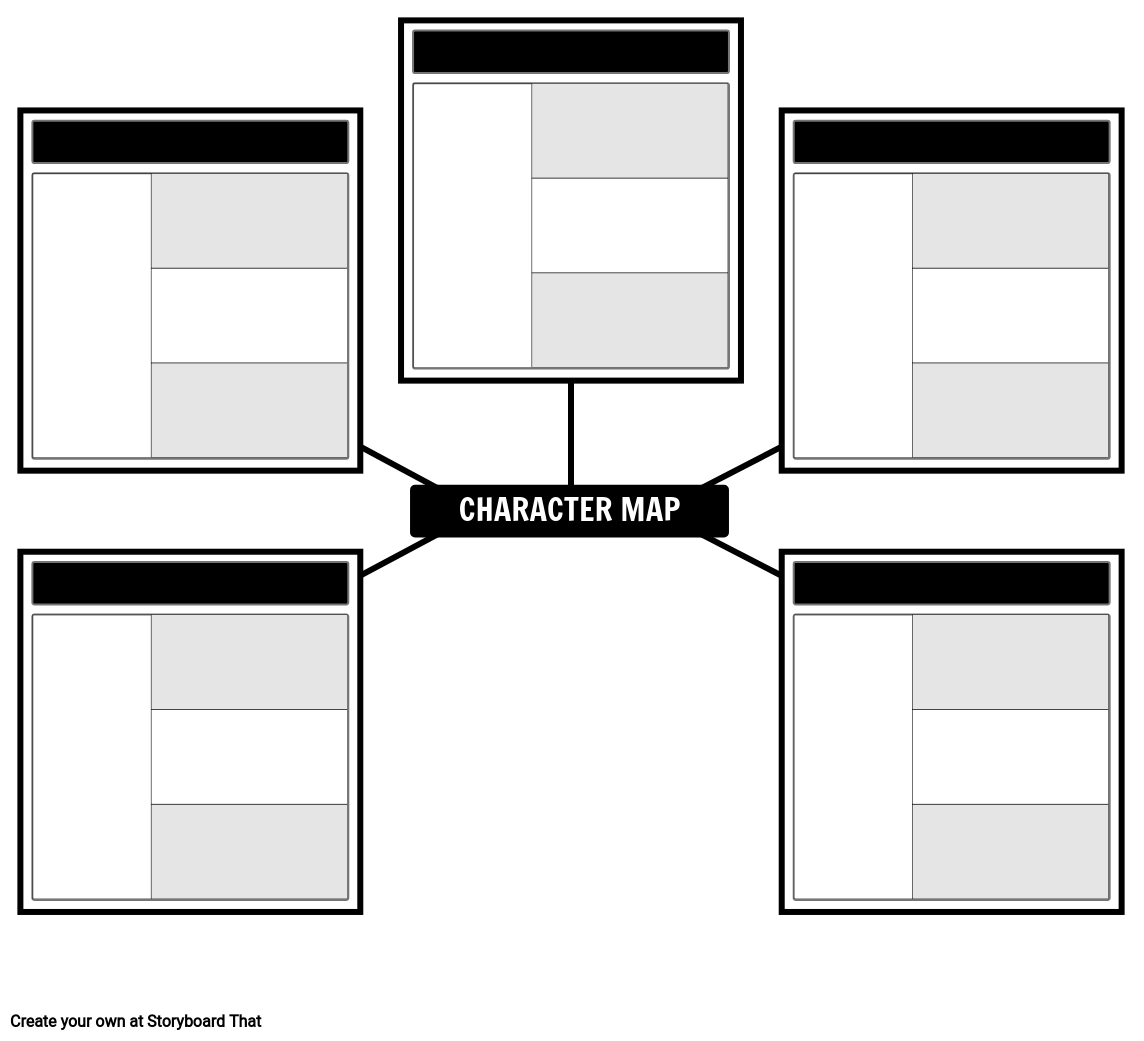 Create a character map of the characters in the story. Put the character's name in the title boxes and choose a character and scene to represent each one. As you read, take notes on the characters by answering the questions.
Proficient
33 Points
Emerging
25 Points
Beginning
17 Points

The characters and scenes are both appropriate for the book's characters.

Many of the characters and scenes match the book's characters.

More than half of the characters and scenes do not match the characters in the book.

Most of the information of the notes is correct.

Many of the notes have correct information, but some are incorrect or missing.

Less than half of the information of the notes is correct and relevant.

Work is complete, thorough, and neat.

Most of the sections of the character map were at least attempted and work is presentable.

Character map is unfinished and/or disorganized.
*(This will start a 2-Week Free Trial - No Credit Card Needed)
https://www.storyboardthat.com/lesson-plans/separate-peace-by-john-knowles/characters
© 2021 - Clever Prototypes, LLC - All rights reserved.