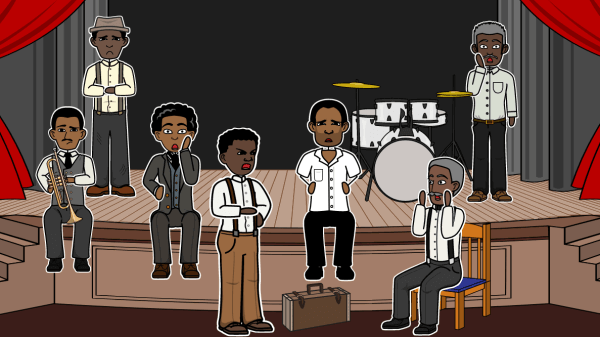 Bud, Not Buddy is a historical fiction novel by Christopher Paul Curtis about an orphan boy during the Great Depression. It is a story that relays the hardship of a young African American boy on his journey to find his place in the world. Softly entwined throughout the story are interesting historical tidbits, all while maintaining a light-hearted, humorous quality. These activities that will help students interactively and creatively grasp important concepts in the story!
Zajęcia dla uczniów dla Bud, Nie Buddy
Bud Not Buddy Summary
Bud Caldwell is a ten-year-old orphan living in a foster home in Flint, Michigan. His prized possessions are some band fliers and rocks he carries around in an old suitcase. Bud is placed in the care of the Amoses, a couple with a twelve-year-old son. After a confrontation between the two boys, Bud is locked in a dark shed for the night. Bud escapes and, after getting some revenge on the other boy, slips into the night.
Bud realizes that being "on the lam" is a lot more challenging and scary than he imagined. Bud decides that he needs to find the man from the flier, Herman E. Calloway, who he believes to be his father. Bugs, a friend from the orphanage, comes across Bud sleeping under a tree at the library. The two decide to ride the trains out of Flint. However, when it comes time to jump on the train, Bud doesn't make it, and is left to walk to Grand Rapids alone.
Fortunately, he is spotted in the middle of the night, on a dark country road by the good-hearted Lefty Lewis. Lefty worries about Bud being alone, and with the promise of some pop and a sandwich, he convinces Bud to get in his car. Bud cleverly tells Lefty that he has run away from his dad in Grand Rapids. Just as he had hoped, Lefty gives Bud a ride to his "father".
When Bud finally reaches Grand Rapids, he approaches Herman E. Calloway and the band members, stating that he has arrived to be with his father. Mr. Calloway is an old, grumpy man, who simply dismisses the boy, but the band members agree to take him in, until everything gets sorted out.
Bud begins traveling with the band, and assists them with cleaning the stage and carrying their instruments. At one of their shows, Bud notices Mr. Calloway picking up some small, smooth rocks. This reveals the connection between Bud and Mr. Calloway – he is not Bud's father, but his grandfather. Bud realizes that he has been sleeping in his dead mother's bedroom during his stay. With this knowledge, Bud sets out his mother's belongings, which he's had with him all along, and begins practicing trumpet so he can be a true member of his grandfather's band.
Essential Questions for Bud Not Buddy
How did the Great Depression affect people in the 1930s?
"When one door closes, another one opens." What does this mean? What could it mean in your life?
What is kindness? How do strangers show kindness?
Is perseverance a necessary human quality? Why or why not?