Students can now work on the same storyboard at the same time.
With two or more engaged minds working on the same storyboard, the outcome is bound to be more unique and creative than if one person were working alone. Each student brings their own knowledge and skillset to the assignment, creating a truly amazing result.
Let the creativity begin!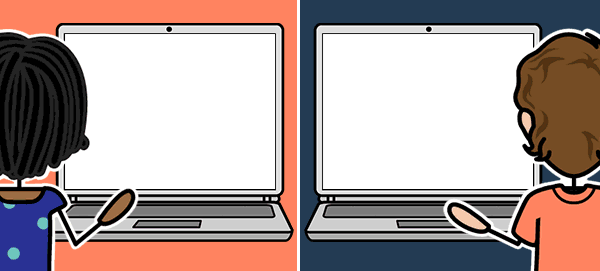 New Collaborative Activities
These activities have been designed with student collaboration in mind. Copy to your account and assign to your students.
Most Popular Activities - Reimagined!
Storyboard That has many teacher resources to choose from. Revisit some of our favorites to see how you can add student collaboration!
Enable Real-Time Collaboration
Why Collaboration?
Collaboration within a learning environment is very important and has many benefits. One of these benefits is that it allows students to think on a deeper level and increases their communication skills as they plan and talk through the assignment with others. Another benefit of collaboration is that students learn to respect and understand others' perspectives and strengthen their listening and reasoning skills. When students work together, they learn to compromise, take turns, share responsibility, problem solve, plan, and delegate roles; all of which are important skills to have throughout life.
Real-time collaboration also makes it possible for students to work together no matter where they are. Teachers can assign homework and projects that can be worked on outside of class, or if students have to be remote for any reason. Additionally, teachers can work with students or groups of students on their storyboards. This is useful if students need help with directions, edits, or corrections on their assignment.
Common Questions
How do I enable student collaboration on an assignment?


After you have created or copied an assignment, click the "Allow students to collaborate on this assignment" box in the "Edit Assignment" tab.






How many students can work on a storyboard at once?


While there is no set limit to the number of users who can work on a storyboard at once, we recommend five users or fewer for optimal performance.



Can any student edit anyone else's storyboard?


Students must grant permission to the classmates with whom they would like to collaborate.



How do I know who worked on a storyboard?


When you click on the "View Student Work" tab, click on a student's name, and whoever worked on that storyboard will show in the upper right hand corner. The student who began the storyboard and allowed others to collaborate will appear in blue.



How can students who work on the same project submit to Google Classroom?


The student who began the storyboard will be able to submit to Google Classroom as they would with any assignment. All students who collaborated will be listed as authors of that storyboard.
Contact us at support@storyboardthat.com or (US) +1-617-607-4259.
*(This Will Start a 2-Week Free Trial - No Credit Card Needed)