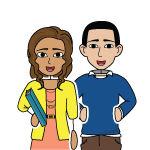 Storyboard That is happy to provide you with a free training session or demonstration before or after your free trial or purchase. Whenever! We can easily customize a 1:1 session to suit your needs, or even meet with many teachers at once! Just let us know what you're looking for, and our team will work with you to get the most out of your training.
Schedule a Training Session
We can help you get up and running! We will gladly meet with teachers as a group or individually.
If you are interested in more information, reach out to us at hello@storyboardthat.com. If you are ready to schedule some time, pick a date and time below!
Most Popular Training Topics
Your session will be tailored to your needs, but here are a few things we could cover!
Guided School / Classroom Setup
Whether it is a single classroom or a full school district, we will help you get set up. We have rostering and SSO integrations with Clever, Canvas, ClassLink, Schoology, and Google Classroom.
Lesson Planning Session
Our goal is to make sure you are successful with Storyboard That, so we want to meet with you about a specific lesson and help you introduce Storyboard That to your class. One of our awesome representatives will meet with you for about 20-30 minutes to help you use Storyboard That to teach, practice, or assess a topic of your choice!
Pilot Program
If you aren't ready to purchase Storyboard That, we can offer your school a free pilot for four weeks. We require a minimum of five teachers to participate and you can have UNLIMITED students.
Training Session With Students
We love to see what students do! We would be excited to join your classroom for about an hour to work with you and your students with Storyboard That. Depending on your preference, can run the session or be a support in the wings.
Additional Training Options
Demonstration Catered to Your Needs
We offer free demos for interested teachers and administrators. These sessions go over the basic functions of the creator and the teacher dashboard in about 20-30 minutes.
Admin / Department / School Training
Let us help you get set up and comfortable using Storyboard That! For accounts with multiple teachers or entire schools, we are happy to offer up group or individual training.
District-Wide Training
We can run a professional development session for your district!