eLearning Bascis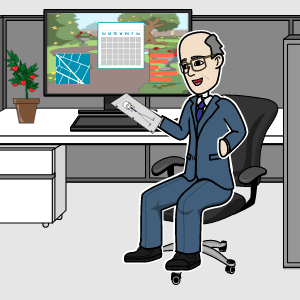 Since the first edition of Better than Bullet Points was released in 2008, I've offered many workshops on elearning design based on the book's premise that good eLearning is about design, not software. A large part of the conversation has always included my use of storyboarding. Storyboards help me organize my ideas and make sure the program moves in a logical way, organize the layout of scenarios with branching decision making, and see if a program has become too "talky". I've always used PowerPoint for this, but found it had limitations: having to create characters from scratch, finding and settling for photos that weren't really quite what I had in mind, having to dummy up my own backgrounds and settings, and difficulty in swapping out whole scenes. Storyboard That solves all these problems for me and, better yet, I can import finished storyboard cells into and out of PowerPoint.
Storyboarding is a great way of trying out scenarios, making sure you've got the right mix of characters, and quickly running through dialogue that matches. One of most common problems with eLearning courses is the "next button problem", where linear navigation leads the learner rather passively from one screen... to another… to another. Storyboarding a case or simulation can help you create the layout for meaningful interactions: simulations showing consequences of the learner's decisions can make for powerful learning experiences.
Here's an example of a storyboard video used for a segment in a "hiring" course. Video is an expensive, time-consuming undertaking and it's important that everyone be very clear on how the finished product will look. Before moving into video production there was a good deal of discussion about dialogue and especially the specifics of how the actor in the second scenario should look and speak. Back in the day I had to build the storyboard from scratch with stick figures; this is how it might look if I built it in Storyboard That:
Practice Interview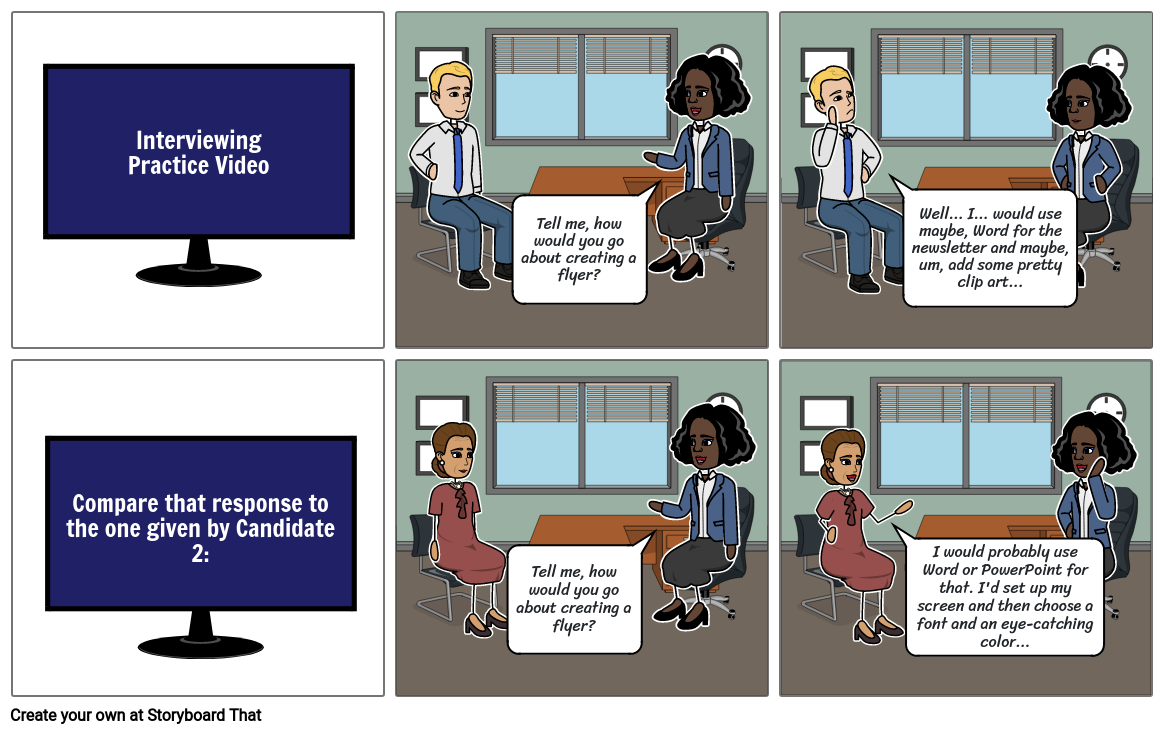 Here's another example, from a program on EEO (Equal Employment Opportunity) laws. The course includes several "what should you do?" scenarios that I first built with Storyboard That:
What Would You Do - Wages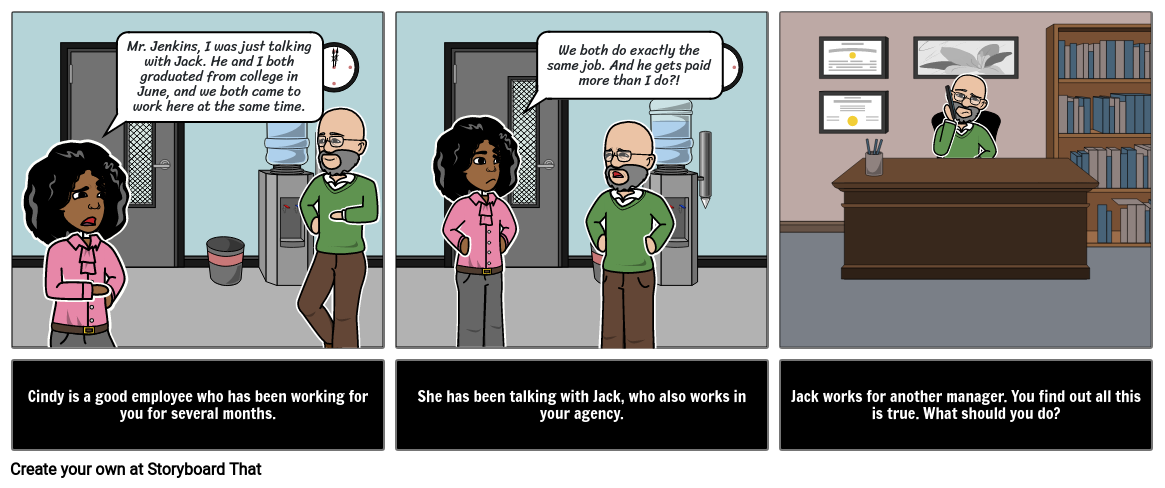 The client decided she wanted to use a basic template and common template elements across the whole course. I ended up stripping out the background and work only with headshots of individuals. In this case, the storyboard helped the client decide what she did not want. Here's how the final version looks: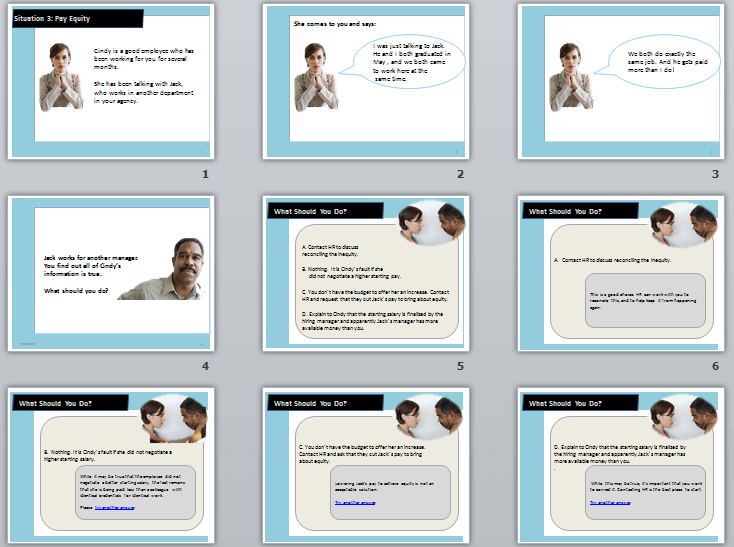 Storyboarding is a good investment in terms of both time and money. It's a great tool for helping you organize your thoughts, clarifying expectations with stakeholders, and saving frustration and rework.
About Dr. Jane Bozarth
Dr. Jane Bozarth is a well-known eLearning designer and industry speaker and writer. She is the author of several books, including Better than Bullet Points. Also be sure to check out her popular monthly "Nuts and Bolts" column in Learning Solutions Magazine. You can find her on Twitter: @JaneBozarth, and on her Facebook page www.facebook.com/Bozarthzone.