Creating Personas
This is the third part of our Illustrated Guide to Product Development series.
Personas (or personae for you Latinists out there) are a framework to create and bring archetypal customers and users to life. By focusing on discrete types of users, it makes it easier to visualize and imagine how these actors would interact with a system and identify important use cases and features. They have been in use since the mid-90s and are a common part of ethnographic research.
Companies often create buyer personas and bring them up throughout all stages of the product and sales life cycle. Constantly asking questions like, "How would Customer Carol react in this situation?" This entire series of articles is based around making sure you are building a product/service customers want, so spending time thinking about your customers is time well spent!
If you are just jumping into this series, be sure to check out the previous two parts, The "Elevator Pitch", and Choosing the Right Go-To-Market Strategy, as we are creating a fictitious company, SoLoMoFoo, and following their quest to bring a Social Local Mobile Food app to companies to track free food in the office.
Solomofoo Example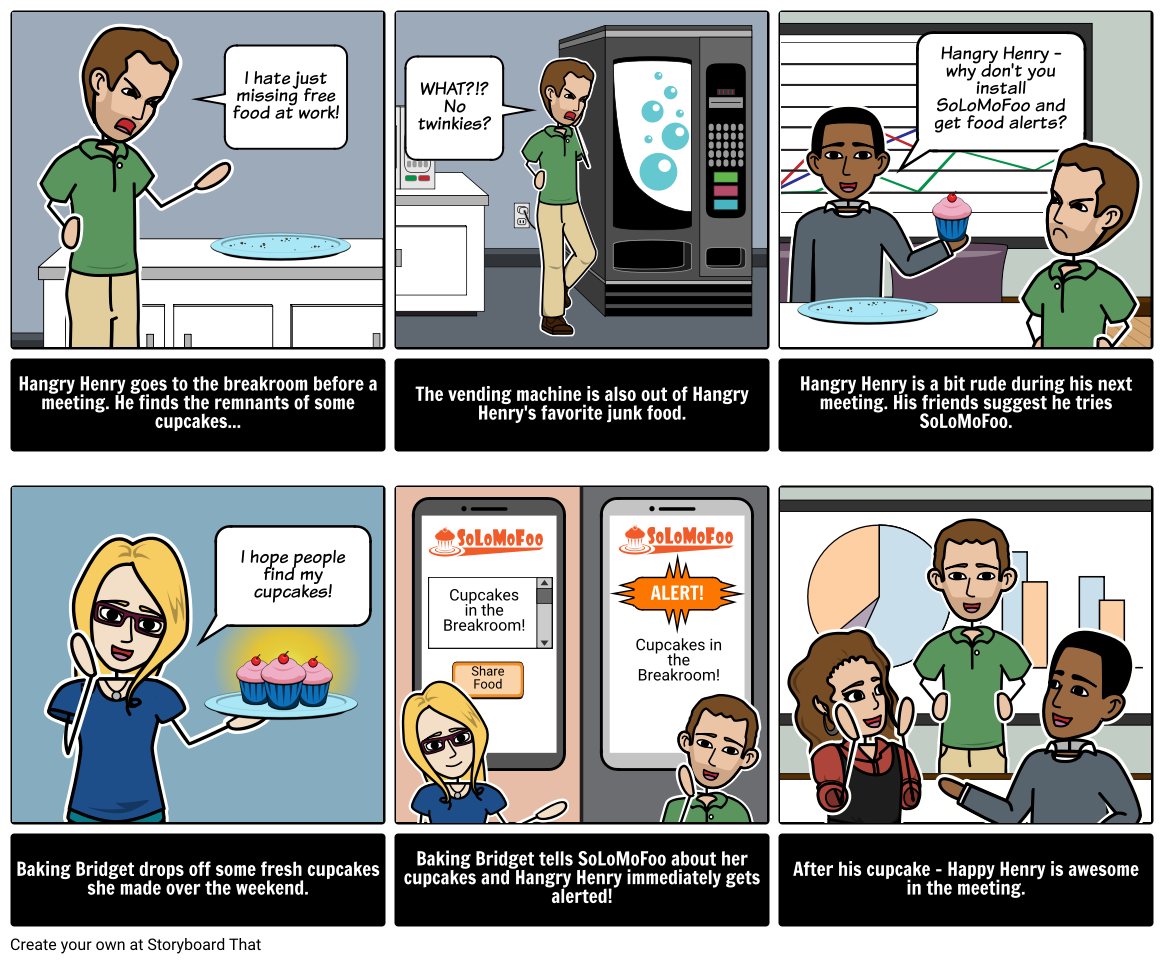 Personas for SoLoMoFoo
For SoLoMoFoo the three most important personas are Decision Maker, Supply Side, and Demand Side. Let's take a closer look at these persona examples.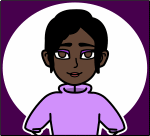 HR Hailey
Decision Maker
This is the person who will actually have the authority to purchase SoLoMoFoo. In this case, our target customer is HR Hailey. This is the single most important persona, since without someone pushing to purchase the product, there is no business case!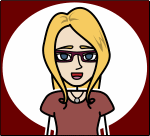 Baking Bridget
Supply Side
In order for SoLoMoFoo to be a viable product, someone needs to provide food and alert other users to its existence. Baking Bridget is based off a real employee of Storyboard That, who really likes to make amazing baked goods over the weekend. Another potential persona in this role could be Lunch Meeting Larry who always buys food for the 12:00 meeting and has extras.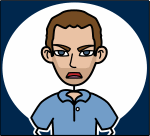 Hangry Henry
Demand Side
The final critical persona for SoLoMoFoo is for someone to actually want to eat free food that is lying around the office. Hangry Henry provides a nice persona type that can be a bit too easy to relate to. Other choices could have been Worked Through Lunch Wanda or Yet Another Late Night Yael.
Download Free Persona Templates
SoLoMoFoo Personas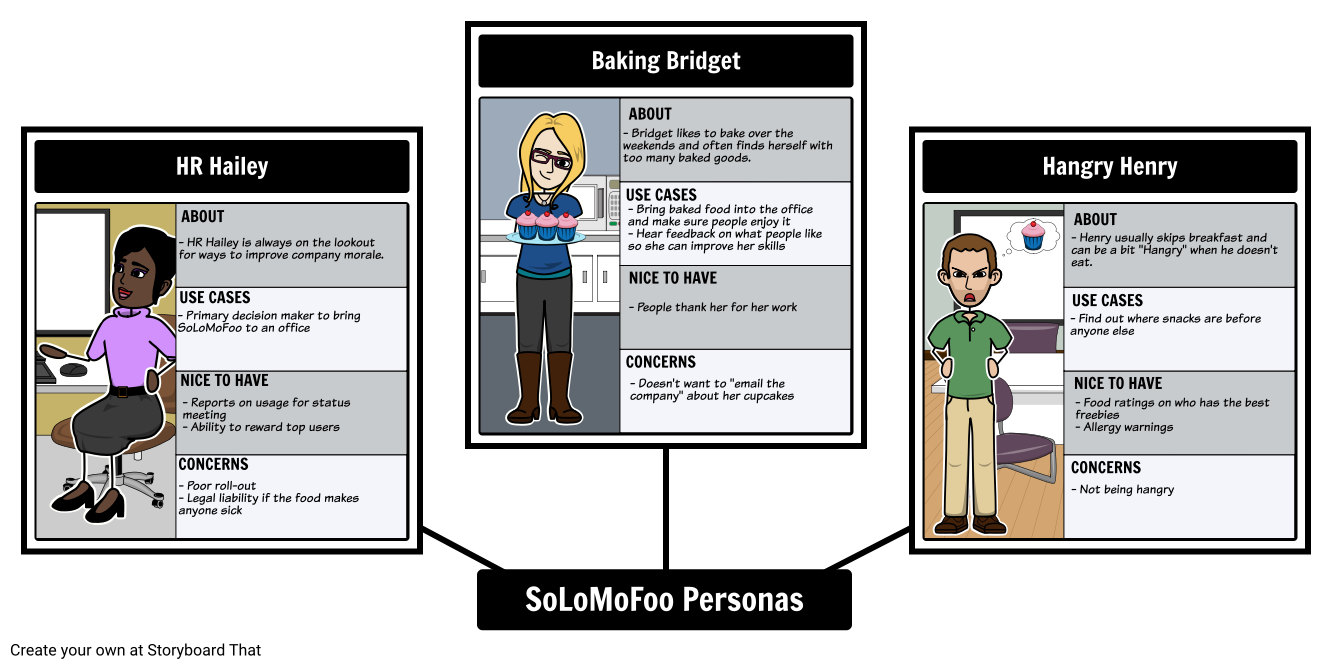 Drill Down into Key Personas
Due to the importance of really understanding the decision maker to be able to properly position marketing efforts, we have created a more detailed persona for HR Hailey.
Detailed Persona for HR Hailey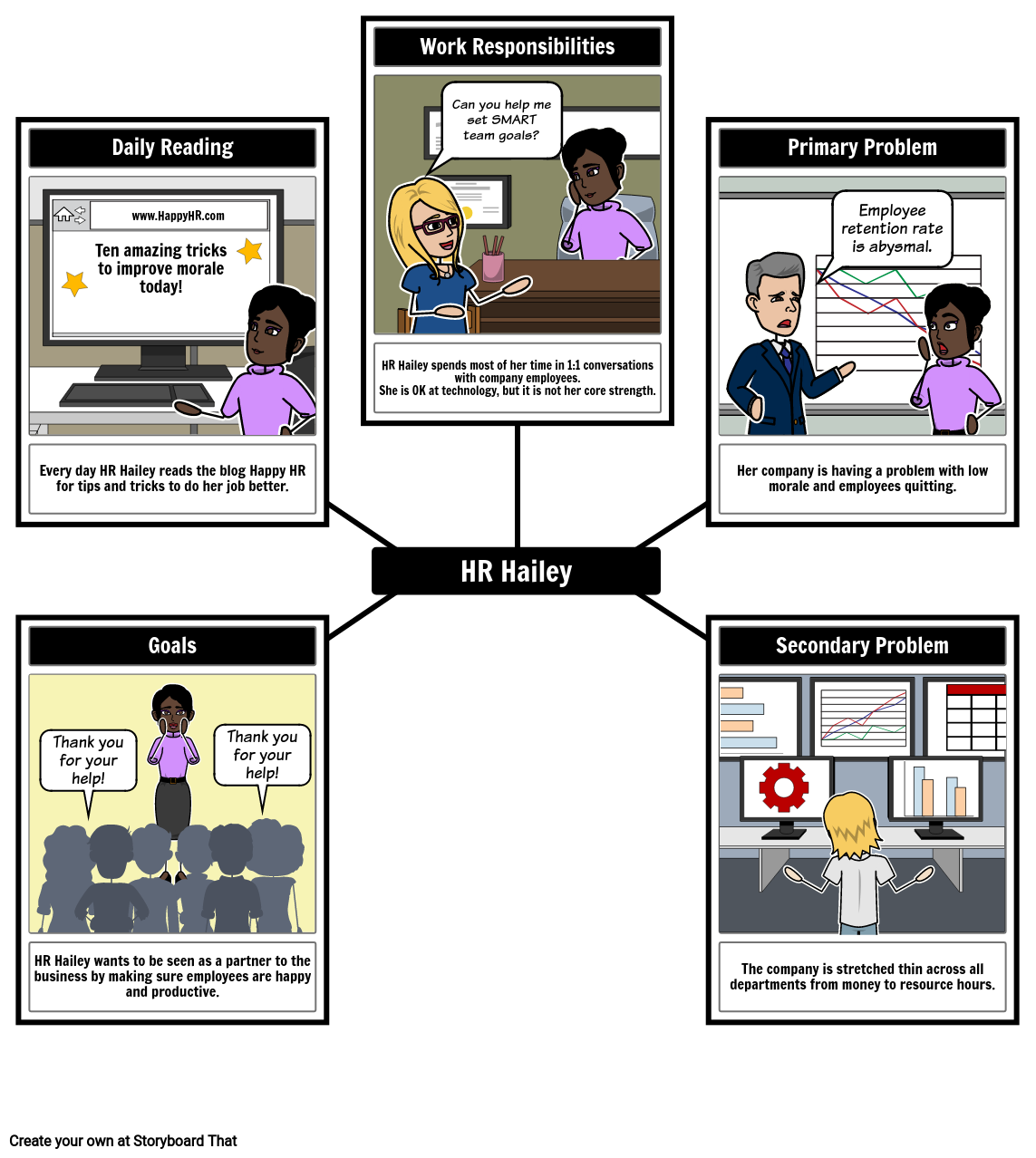 Why Use Personas?
Personas are used and created by a wide variety of job roles from User Experience (UX), customer research, interaction designers, developers, HR, sales, and probably almost any job title found on LinkedIn. The list of potential use cases is near infinite, but some common reasons include:
Think Like a Customer
In order to think like a customer, it is important to know who your customers are and what motivates them.
Identify Non-Obvious Users
For many products there are a large number of people involved in the product life cycle that are non-core users. Common examples include the purchasing decision maker, who may not be the purchaser (i.e. procurement office), and who may not be the actual user of the product purchased. Good design needs to take all of these users into account.
Build the Right Product and User Experience
Creating an amazing product or experience requires understanding who all the direct and indirect users of a system are and ensuring they can achieve their individual goals, which may often be very different.
Because Your Boss Said To
This is both a funny and quite real reason. Bosses often ask for personas to be created because they are aware of the value, and because they would rather delegate the work since they are unaware of how easy they are to make with Storyboard That!
Download Free Persona Templates
How to Use Personas in a Meeting
Make Sure Everyone is Familiar with the Personas
We here at Storyboard That truly believe in taking the time to make sure everyone is on the same page before moving to the next step. Discussing concepts early and often ensures alignment and often brainstorms important ideas at the beginning of a project where there is more time to incorporate them.
An easy approach is to print out the personas and read though them and see if people have any feedback. Most people's feedback is additive which deepens the personas and gives the participant a feeling of being part of the process, and therefore, bought in.
Ask Questions Like
How would [Persona Pat] react in this situation?
Do you really believe [Persona Pat] would be motivated to _____?
How would this change if instead of [Persona Pat], [Persona Pete] was using ______?
Now It's Your Turn!
Download Free Persona Templates
Below are two starter persona templates you can use to create personas. The first persona template is meant to show a brief summary of several personas on one piece of paper/slide. The second persona template is for going deeper in research on one specific persona. Just click "Create a Copy" to get started. Feel free to change the categories to best match the needs of your own use case.
Remember, creating personas is an iterative process. It is quite natural - and highly encouraged - to go back and make edits and changes over time.
For a detailed and extended look at tips and tricks to create personas, check out our article on Personas that focuses on the research and creation process.
Keep Reading
Next up, Customer Journey Mapping.
About Aaron Sherman
Aaron Sherman (@AaronBenSherman) is the CEO and Creator of Storyboard That (www.storyboardthat.com) – the award-winning, world leader in digital storytelling technology. Aaron founded Storyboard That in 2012 after 10 years working the full gamut of product development roles (Developer, Project Manager, Product Owner, and Long Term Strategist) across three continents (North America, Europe and Australia) to fundamentally improve how products were internally prototyped and discussed.
Aaron has spoken as a guest Lecturer to MBA students at Northeastern, and with General Assembly leading workshops on Product Development.