Seeing is Believing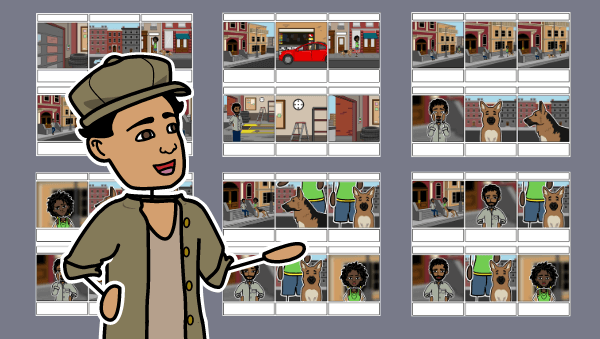 Vision.
It all begins with a vision from within. You see it so clearly in your mind – a dramatic, emotional opening, a close-up of the main character, camera pans left, revealing the truth that will change everything...
It's not just that you see it in your mind's eye. The vision plagues you. It craves to be seen by a wider audience. And it's chosen you to do exactly that job. You're the filmmaker. You must bring the vision into our reality. But these are just words, an idea in your mind. A feature script you've finally finished. Maybe a YouTube piece born in your brain that's just itching to go viral. Or you're a writer at an ad agency and have a client deadline the very next day.
What's the solution? How do you visually present your content ideas quickly in our ever-more visual culture? What's the bridge between the idea and the pre-production needed to make the work materialize in the real world? How do you get there?
You're the decision maker now. YOU are the content creator. You will bring that winning version of your vision into reality and share it with the world. You will be the instant idea-maker that can show people your most innovative, cutting-edge proposals in a snap.
Visually. Easily. Creatively. Quickly.
How? Because the Storyboard Creator gives you the power to visualize the idea before you shoot the first frame of your vision. Now you can finally harness your creativity with one smooth, expressive program.
Do you know how to drag and drop? Do you know how to select art from menus, play around with simple software commands, crop, resize, change image color? Are you comfortable with an intuitive, user-friendly interface like most people use every day? Then you can use Storyboard That.
Wanna see what it looks like? Check it out: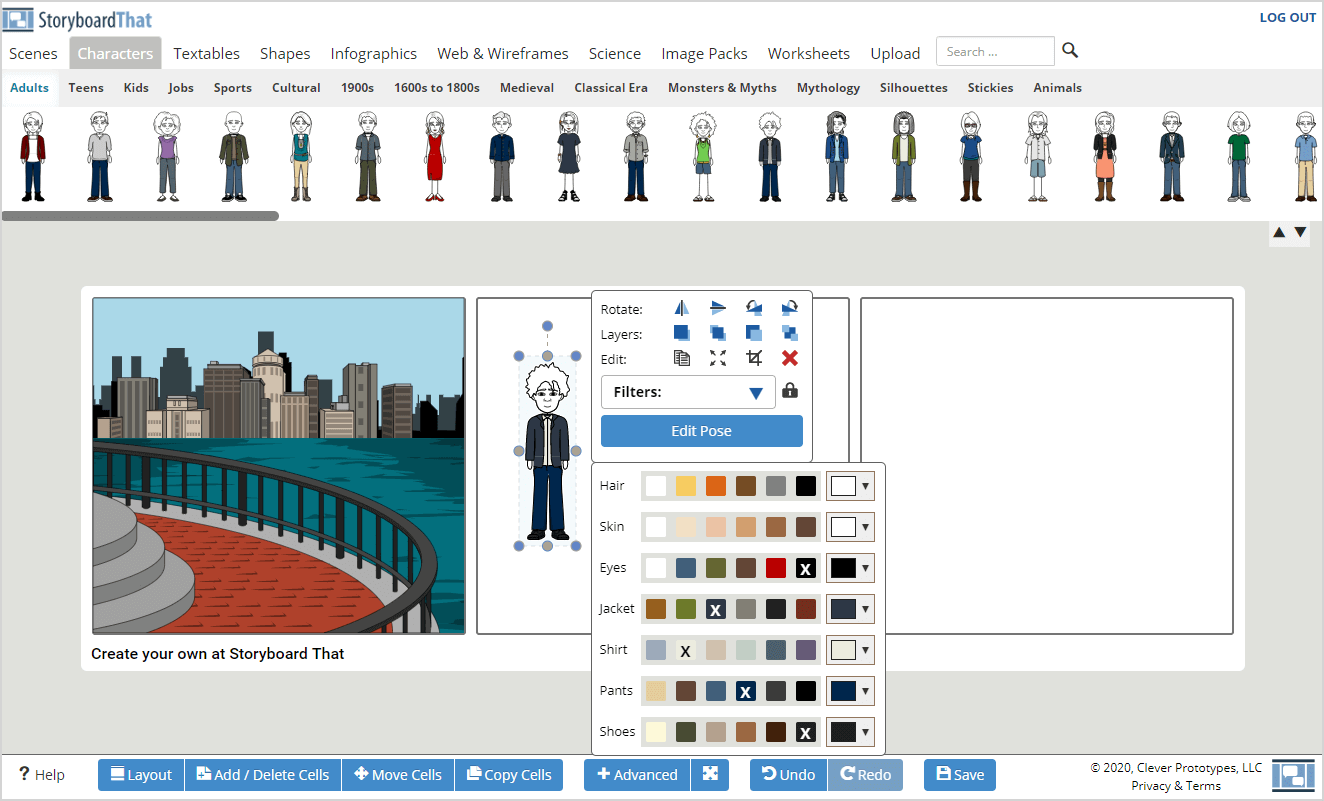 As you can see, it's a simple setup with many familiar commands and an easy-to-use design. But what really matters is the vision it can help you materialize. What does that vision look like? Here's a screenplay example using an excerpt from Brenda & Mary, a coming-of-age tale.
EXT. COFFEE SHOP - DAY
BRENDA meets MARY outside the coffee shop. You can tell Brenda is very worried about something.
BRENDA
Thanks for coming, Mary.
MARY
Of course! When I got your call I came running!
INT. COFFEE SHOP - DAY
The girls are nursing their drinks - Brenda has a green smoothie while Mary sips on her cappuccino. Brenda has trouble making eye contact - this won't be easy for her. Mary is anxious.

MARY
Well, whatever it is you have to tell me, you should just let it out.
CLOSER IN ON BOTH Women
Mary inhales, closes her eyes and blurts it out.

BRENDA
I was the one who told on you at school!

Mary is distraught.
MARY
Oh, Brenda, how could you?


Not a bad scene, but so far, just words. Now, watch it come to life with help from Storyboard That.
Brenda

OK, I can't draw at all and that took me less than 10 minutes to put together. Storyboard That's inventory of locations, characters and props made it incredibly easy. But that's only the beginning. Check out what you can do with a little more time and effort:
Brenda Extended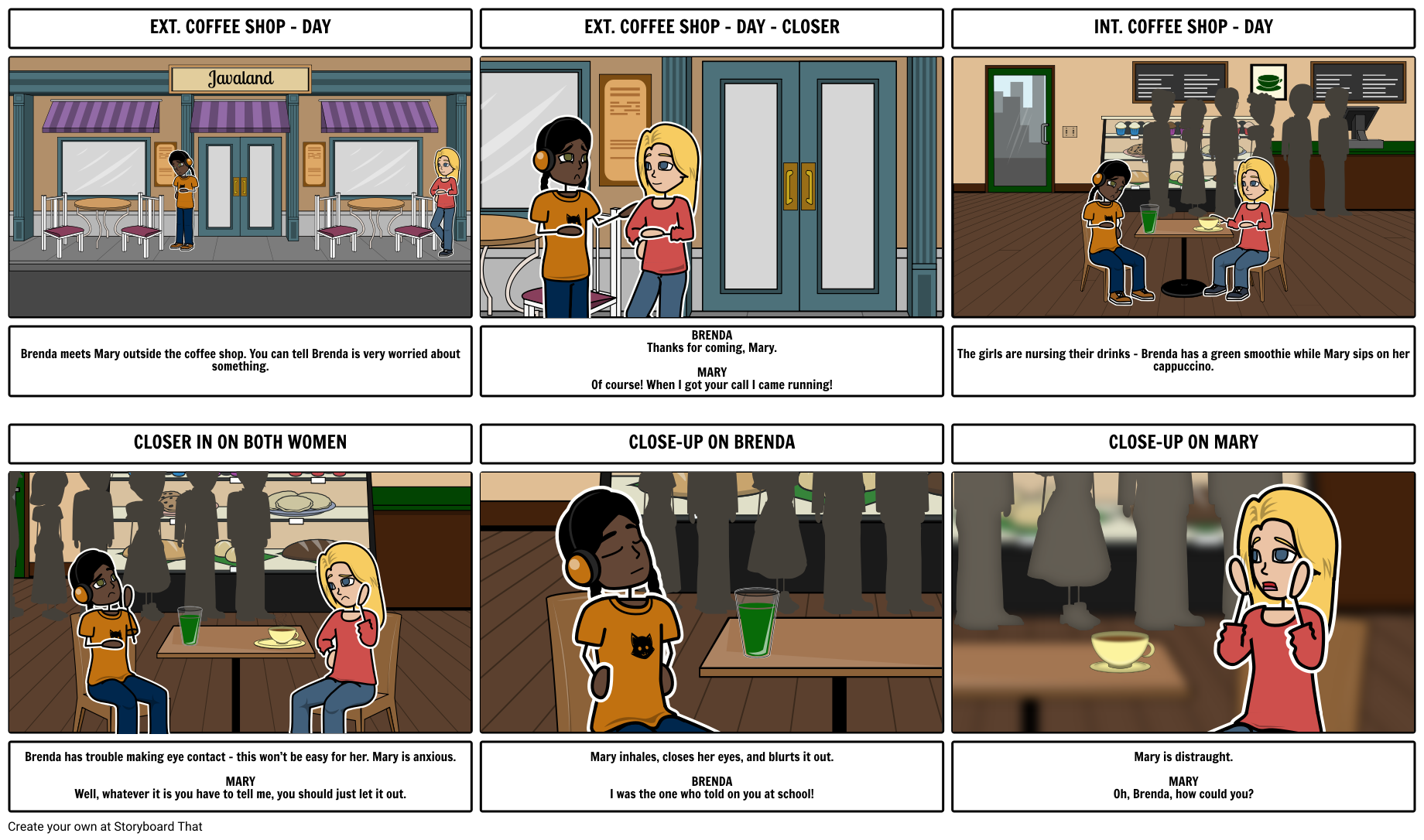 You can make just about any script come to life. Everybody knows Dracula, right? Here's a simple scene from a creepy night with The Count.
INT. CASTLE - NIGHT
Dracula is angry at the interlopers. He rushes down the stairs of his great hall to seek them out.
EXT. CASTLE - NIGHT
Reaching outside his castle, Dracula greets the night, ready to transform into a bat.
EXT. GRAVEYARD - NIGHT
Dracula has turned into a bat, flies through the graveyard to search for his enemies.
Sounds spooky so far. Now let's really get to see that scene!
Dracula Scene Storyboard

Storyboard That really makes the old bat rise from the ether – I mean, wow! It even has castles, graveyards, and vampires! How cool is that? There's tons of inventory and thousands of elements to choose from for absolutely any kind of story. And not only that – you can upload your own images, too. Expect loads of other features, from layout options to cell sizes and so much more. The possibilities are literally endless.
Those examples were fun – but now imagine the thrill of laying eyes on YOUR idea for the very first time. Nothing beats that – it's the reward of creation.
Storyboards are the next step in experiencing that final creation. For the first time in your process, you will get to actually see your work come to life. It's not moving and breathing yet. But it's there, the professional storyboard, a visual representation, an important landmark on the road to the completion of your piece. And you made it happen in a fraction of the time it takes to draw it all out.
Now your crew really soaks in the vision that's been bubbling up in your mind for so long. Pre-production can begin. The cinematographer can plan the shots. The set dressers, wardrobe department, and prop masters can all do their things, too. For the first time, the cast will understand how their parts fit into physical reality. And investors – people who may not even be film professionals – they will finally get it: your idea looks great.
Bring the life out from within a script. Flesh out words and ideas into images regardless of illustration skills – after all, not every filmmaker has them. Even if one draws like Leonardo da Vinci, creators often don't have the time. Now you have the space and the know-how to reach that wonderful moment: your vision finally visualized.
With Storyboard That, any filmmaker on any schedule, regardless of drawing ability, can harness the power of the program, and watch as their vision finally breaches into the visual sphere and makes its debut into a larger world.
---
About the Author
Argentinean-born New Yorker Miguel Cima is a veteran of the film, television, and music industries. An accomplished writer, filmmaker, and comic book creator, Miguel's movie, Dig Comics, won Best Documentary at the San Diego Comic Con and was selected for Cannes. He has worked for Warner Bros. Records, Dreamworks, MTV, and more. Currently, Miguel creates content for multiple platforms and media. His formal education came from New York University, where he earned a BFA in film. World traveler, culture junkie and major foodie, he is happily unmarried to the same gal since the mid 2000s, devoted to his family & friends, and slavishly serves his true masters - two dogs and a cat.