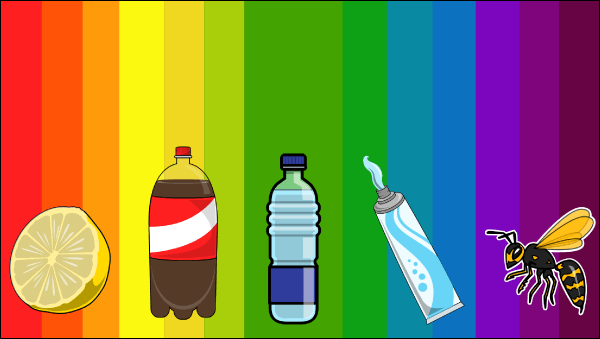 Acids and bases are everywhere in our lives. Our stomachs produce hydrochloric acid to help us digest food and to protect us from infectious disease. Acids are also present in many sour tasting foods. We can find bases in bleach for cleaning, among other places. People often recall the corrosive properties of acids but are unaware that bases can be just as corrosive, if not more dangerous. The pH scale measures how acidic or basic a substance, and we can determine that measurement by adding a universal indicator to it. The activities in this guide will help students understand more about the properties of acids and bases and are a perfect supplement to lab time!
Student Activities for Acids and Bases
Acids and Bases Background
The ancient Greeks, who were early pioneers of chemistry, started to categorize different substances based on how they tasted (although this is not a great idea in the modern lab!). The categories they used were salty, sweet, sour, and bitter. The Romans inherited this idea and started to refer to sour substances as acids. The word acid is derived from the Latin, acere, meaning "to be sour". The word alkali comes from Arabic, ḳalā, meaning "to roast", and is thought to have come from Greeks mixing ashes with animal fat to make soap. In modern-day chemistry, we use the term base to describe a substance that can neutralize an acid. An alkali is a special type of base that can dissolve in water.
Acids are infamous for their corrosive properties, but bases can cause a lot more damage. Both acids and bases can corrode skin, leaving serious disfigurement, and they can also cause blindness if they get into your eyes. Not all acids and bases are dangerous though. Many of the foods we eat and enjoy are acidic or basic. Lemon juice is quite a strong acid and baking soda is a base!
How acidic or basic a substance is can be measured on the pH scale. This is an inverse logarithmic scale from 1-14. A strong acid is a 1, 7 is neutral (a substance which is neither acidic or basic) and 14 is a strong base. The scale is a measure of the hydrogen ion (H+) and hydroxide ions (OH-) in the substance. If there is an excess of H+ ions, then the substance is acidic. If there is an excess of OH- ions, then the substance is basic (or alkaline). A universal indicator is a substance that is often used in the lab to measure the pH of a substance. It is a mixture of dyes that gradually changes color depending on the pH. If it turns dark red, the substance is strongly acidic. Green would mean the substance is neutral with a pH of 7. Strong bases would turn the mixture of dyes a dark purple color.
Our stomachs produce hydrochloric acid, which is very useful in helping us digest food. Sometimes our stomachs can produce too much acid and cause heartburn. Medication is easily available to treat this in the form of antacids. An antacid medication's active ingredients are bases or chemicals with a pH of more than 7. When the base reaches the stomach acid, it causes a neutralization reaction. Neutralizing the acid can reduce discomfort. We know a chemical reaction has taken place because new substances are formed. The word equation for this reaction is acid + base → salt + water.