https://www.storyboardthat.com/lesson-plans/animal-farm-by-george-orwell/characters
Activity Overview
Before or during reading, it is helpful to review the ways that this novel is allegorical. Students will need knowledge of important Russian figures, and how they relate to the characters of Animal Farm. If starting this assignment while reading, students can complete this character map to help keep track of important attributes of each character. If completing before reading, internet research may be helpful to establish prominent figures and characteristics of particular communist leaders that play a significant role in the allegory.
Important Figures in Animal Farm and Communism
Student Instructions
Create a character map for the major characters.
Identify the major characters in Animal Farm and type their names into the title boxes on the left side of the chart.
Choose a Storyboard That character to represent each of the literary characters.
Select colors and a pose appropriate to story and character traits.
Choose a scene or background that makes sense for the character.
Identify the corresponding historical figures for each of the literary characters.
Use Search at the top for appropriate images from Photos for Class to represent each historical figure.
Fill in Textables for Characteristics, Beliefs/Ideals, and Alliances & Enemies for both literary characters and historical figures.
Save often!
Lesson Plan Reference
Grade Level 9-12
Difficulty Level 2 (Reinforcing / Developing)
Type of Assignment Individual or Partner
Type of Activity: Character Map
Common Core Standards
[ELA-Literacy/RL/9-10/3] Analyze how complex characters (e.g., those with multiple or conflicting motivations) develop over the course of a text, interact with other characters, and advance the plot or develop the theme
[ELA-Literacy/RL/9-10/6] Analyze a particular point of view or cultural experience reflected in a work of literature from outside the United States, drawing on a wide reading of world literature
[ELA-Literacy/W/9-10/6] Use technology, including the Internet, to produce, publish, and update individual or shared writing products, taking advantage of technology's capacity to link to other information and to display information flexibly and dynamically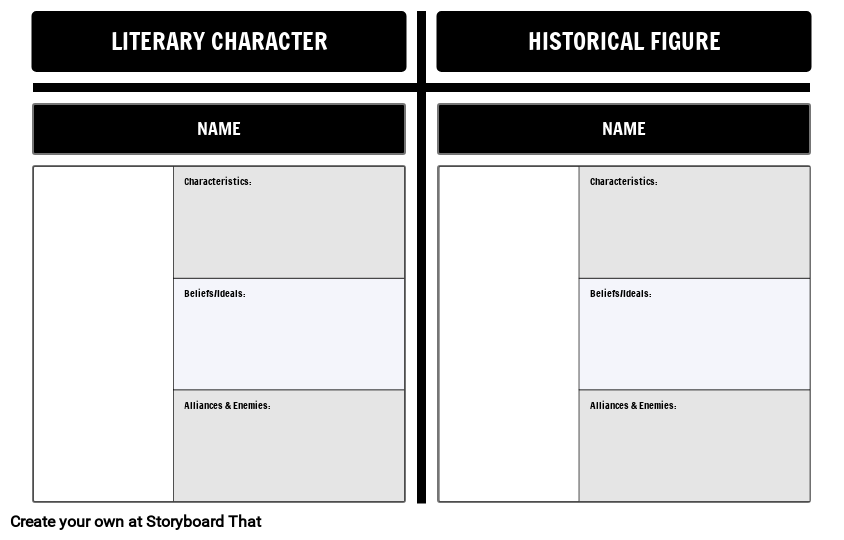 Create a character map of the characters in the story. Put the character's name in the title boxes and choose a character and scene to represent each one. As you read, take notes on the characters by answering the questions.
Proficient
33 Points
Emerging
25 Points
Beginning
17 Points

The characters and scenes are both appropriate for the book's characters.

Many of the characters and scenes match the book's characters.

More than half of the characters and scenes do not match the characters in the book.

Most of the information of the notes is correct.

Many of the notes have correct information, but some are incorrect or missing.

Less than half of the information of the notes is correct and relevant.

Work is complete, thorough, and neat.

Most of the sections of the character map were at least attempted and work is presentable.

Character map is unfinished and/or disorganized.
*(This will start a 2-Week Free Trial - No Credit Card Needed)
https://www.storyboardthat.com/lesson-plans/animal-farm-by-george-orwell/characters
© 2021 - Clever Prototypes, LLC - All rights reserved.