https://www.storyboardthat.com/lesson-plans/slavery-in-america/poster
Slavery: Oney Judge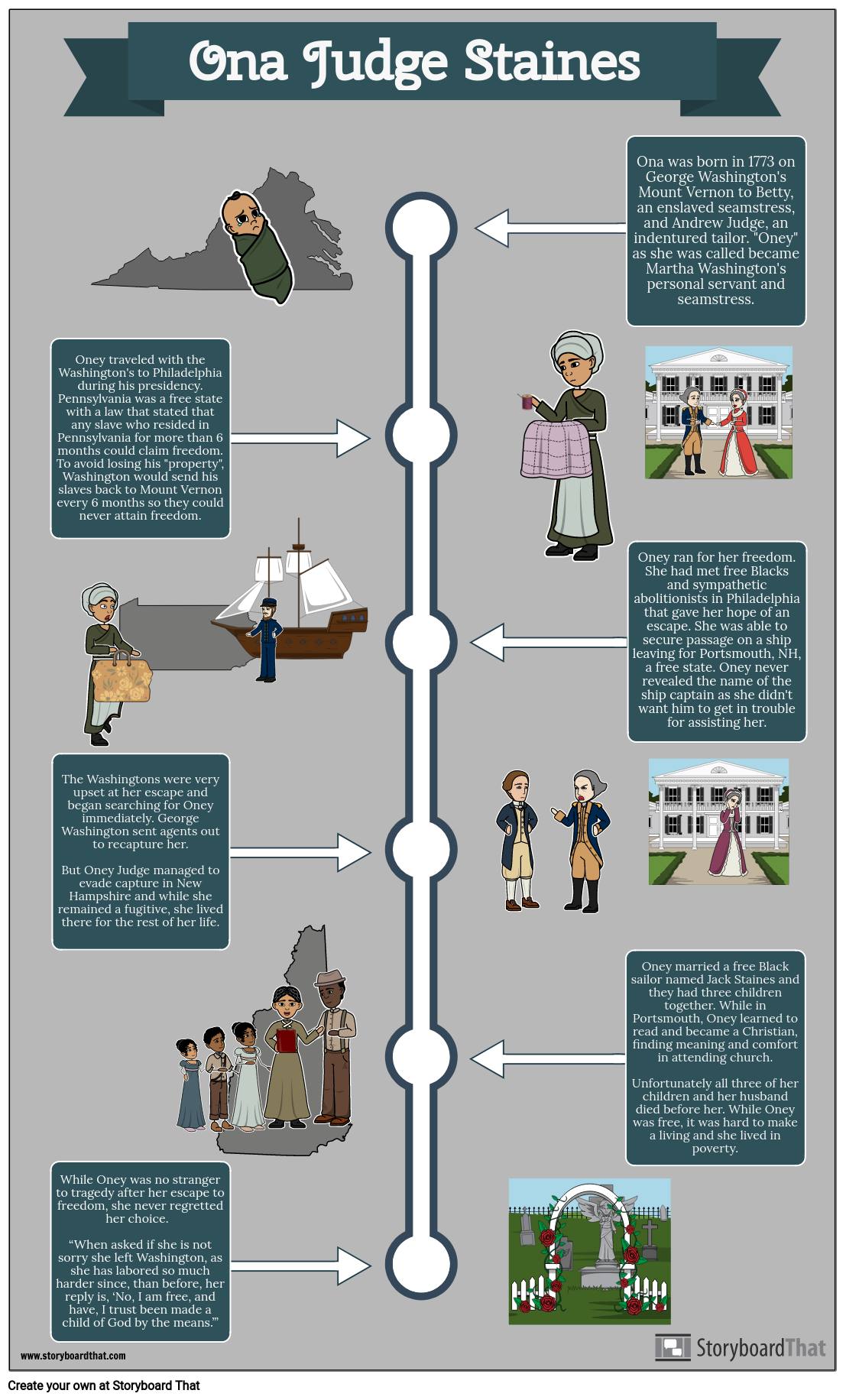 Activity Overview
History posters are a great way to highlight the important accomplishments of influential people and the important aspects of historic events by using vivid graphics and concise text. Researching real people and delving into the details of important events helps students to get a more concrete and compassionate understanding of the culture, lives and diverse perspectives of people who were enslaved in America or who worked to end slavery. Giving students the perspective of those who lived during a time period helps them go beyond simply memorizing dates and names to gain a more substantial, empathetic, and realistic view of the period. In this activity, students will create a poster highlighting a key event or person from the time of American slavery.
Teachers can assign students specific people or events or give students a choice of which they'd like to research. Teachers may wish to provide resources such as books or the online encyclopedia Britannica for students to read about their person or event. Once they're completed, the posters can be printed out, laminated, and hung around the room as a visual reminder of what students have learned. Students can also present their posters to their classmates, sharing their knowledge about their person. Thus combining research, writing and public speaking skills into one powerful assignment.
Find more biography poster templates to add to this assignment if desired!
Important People
Crispus Attucks (1723-1770)
Elizabeth Freeman (1742–1829)
Olaudah Equiano (1745-1797)
Phillis Wheatley (1753-1784)
Richard Allen (1760-1831)
Ona Judge (1773-1848)
Mary Prince (1788‐​1833)
John Rankin (1793 – 1886)
Sojourner Truth (1797-1883)
John Brown (1800-1859)
Maria W. Stewart (1803–1879)
William Lloyd Garrison (1805 – 1879)
Abraham Lincoln (1809-1865)
Harriet Beecher Stowe (1811-1896)
Henry "Box" Brown (1815-1897)
Frederick Douglass (1818-1895)
Harriet Tubman (1820(?) - 1913)
Sarah Parker Remond (1824–1894)
Ellen Craft (1826–1891)
Robert Smalls (1839-1915)
Susie King Taylor (1848-1912)
Booker T. Washington (1856-1915)
Important Events
1676 - Bacon's Rebellion
1688 - Pennsylvania Quakers adopt the first formal anti-slavery resolution.
1712 - Slave Revolt in New York City
1775 - The American Revolution begins.
1775 - Pennsylvania Society for the Abolition of Slavery founded.
1800 - Gabriel's Rebellion
1820 - Missouri Compromise approved by Congress.
1831 - Nat Turner's Rebellion
1839 - Amistad Rebellion
Compromise of 1850
1852 - Publishing and Impact of Uncle Tom's Cabin
1854 - Kansas Nebraska Act
1857 - Dred Scott Supreme Court Case
1863 - 54th Regiment attack on Fort Wagner
1863 Emancipation Proclamation
Lesson Plan Reference
Grade Level 4-6
Difficulty Level 3 (Developing to Mastery)
Type of Assignment Individual
Type of Activity: Biographies
Due Date:
Objective: Research a famous or notable person that relates to the period of Slavery in America such as an enslaved person or an abolitionist OR explain, in detail, an important event that relates to the time period. Create a History Poster that highlights the important details and impact of the person or the event.
Student Instructions:
Choose a person or an event to research.
Using school resources, conduct some research and learn more about your chosen person or event.
On the poster, include your person's name and dates of birth (and death if applicable). Choose a character that resembles your person. Add words and images to describe your person's accomplishments. If you chose to do an event, include a title for the event, the date(s), important people involved and important details about the event and its impact on history..
Save and submit your storyboard.
Requirements: If a person: Person's image, name, dates of birth/death, 3-5 important events and/or accomplishments as well as images to represent your person. If an event: Event's name, dates, 3-5 important details and its impact on history as well as images or scenes to illustrate it.

Single Teacher
As low as /month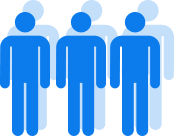 Department
As low as /month

School/District
As low as /month
*(This will start a 2-Week Free Trial - No Credit Card Needed)
https://www.storyboardthat.com/lesson-plans/slavery-in-america/poster
© 2020 - Clever Prototypes, LLC - All rights reserved.
Over 15 Million
Storyboards Created