Her work 'Uncle Tom's Cabin' forced readers to confront the brutal reality of slavery and strengthened the abolitionist movement.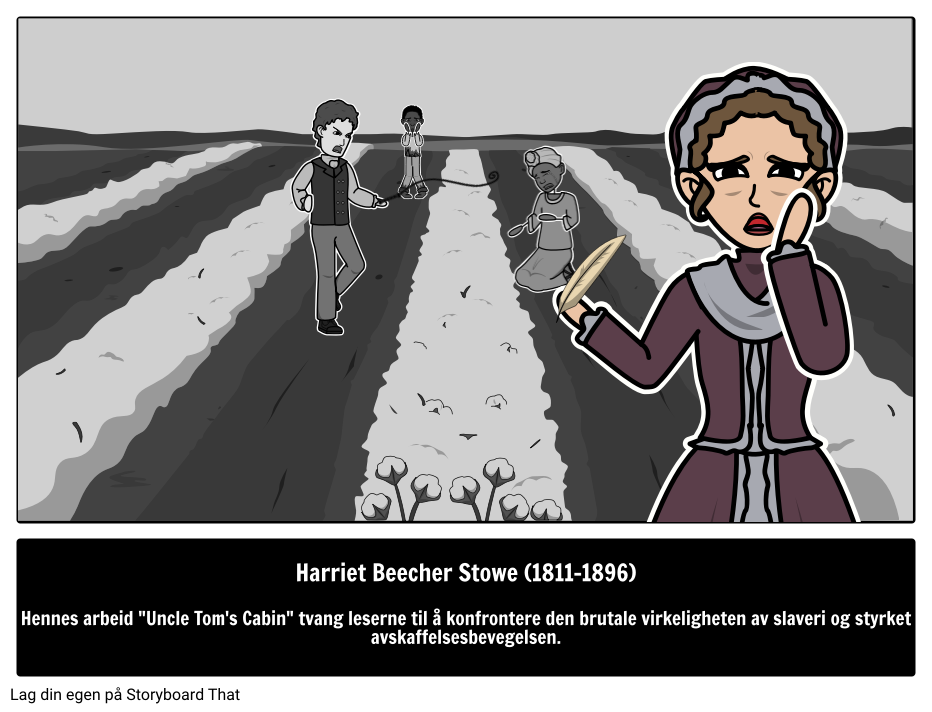 Harriet Beecher Stowe
Harriet Beecher Stowe fikk berømmelse for sin anti-slaveri roman, Uncle Tom's Cabin , som opprinnelig ble serialisert i 1851 i avisen The National Era . Romanen forteller historien om onkel Tom, en middelaldrende slave eid av en Kentucky bonde, som selges av eieren når han møter økonomiske problemer og til slutt havner i hendene på en grusom slaveeier som undertrykker ham til alvorlige slag.
Beecher Stowe var en av 13 barn og, i motsetning til mange jenter på den tiden, fikk en god utdannelse. Født Harriet Beecher, ble hun reist i Connecticut før hun reiste med familien til Ohio. Det var i Cincinnati at hun møtte Calvin Stowe og paret giftet seg i 1832. Beecher Stowe kom i kontakt med mange afrikanske amerikanere hvis erfaringer inspirerte henne senere å skrive. Både Harriet og hennes ektemann støttet avskaffelsen, og de støttet undergrunnsbanen ved å tilby ly.
Familien hadde flyttet til Maine da den våpnede slaveloven ble vedtatt i 1850. Loven innebar at lovhåndhevelse tjenestemenn var lovlig pålagt å arrestere folk som ble mistenkt for å være flyktige slaver basert bare på bevis fra noen som hevdet å "eie "Den mistenkte slaven. Mistenkte fikk ikke lov til å få prøving av jury eller å presentere vitnesbyrd for å støtte saken. Mange afrikanske amerikanere ble kidnappet og innvilget i slaveri. Slaveri kunne ikke lenger settes som et problem som bare var relevant i de sørlige statene. Siden nordlige stater var forpliktet til å håndheve slaveri, ble de tvunget til å konfrontere det og stille spørsmål om sin egen medvirkning.
Beecher Stowe skrev onkel Tom's Cabin i reaksjon på Fugitive Slave Law. Boken tjente til å øke bevisstheten om virkelighetene av slaveri og det fanget raskt oppmerksomheten til det amerikanske offentligheten. Etter utbruddet av borgerkrigen reiste Beecher Stowe til Det hvite hus der hun møtte president Lincoln, som angivelig sa til henne: "Så du er den lille kvinnen som skrev boken som startet denne store krigen."
I hennes senere liv fortsatte Beecher Stowe å forkynne for politiske og sosiale årsaker og fortsatte å skrive. Måten som onkel Tom's Cabin involverte så mange mennesker i abolisjonistbevegelsen, styrket posisjonen til kvinnelige abolitionister og forsterket kvinnelige aktivists stemmer. Beecher Stowe døde i 1896 i en alder av 85 år.
Harriet Beecher Stowe Accomplishments
Uncle Tom's Cabin ignited debate around slavery with its detailed depiction of the horrors of slavery and outraged readers.
Her writing created a space for other female abolitionists and activists.
As a supporter of the Underground Railroad she offered shelter to fugitive slaves.
Harriet Beecher Stowe Quotes
"The bitterest tears shed over graves are for words left unsaid and deeds left undone."
"I did not write it. God wrote it. I merely did his dictation."
"It's a matter of taking the side of the weak against the strong, something the best people have always done."
Lær mer om mennesker som har påvirket historien i
Illustrated Guide to Biographies
!
*(Dette vil starte en 2 ukers gratis prøveversjon - ingen kredittkort nødvendig)
https://www.storyboardthat.com/no/biography/harriet-beecher-stowe
© 2023 - Clever Prototypes, LLC - Alle rettigheter forbeholdt.
StoryboardThat er et varemerke for
Clever Prototypes , LLC
, og registrert i US Patent and Trademark Office