https://www.storyboardthat.com/lesson-plans/ancient-india/social-structure
Activity Overview
Using a G.R.A.P.E.S. Chart to organize information about Ancient Civilizations is a useful tool to enhance students' analysis of the characteristics and contributions of a society. Going further and including visuals helps students to better retain the details of each category. Ancient India developed a caste system that is still felt today. In this activity, students will create a social pyramid to illustrate the social structure/caste system of Ancient India. They should include the different types of people and professions that fall under each section. Students can come together after they've created their storyboards to share what they've learned. The full G.R.A.P.E.S. Chart can be used as a post assessment after students have presented.
Due Date:
Objective: Create a Social Pyramid focusing on the different characteristics of the Social Structure or Caste System of Ancient India.
Student Instructions:
Click "Start Assignment".
Using the Pyramid template, use the "free form text" to write titles in each section of the pyramid.
You may include a background image and pictures to represent the different categories. To find images related to Ancient India, type "India" into the search bar.
Save and submit your storyboard.
Requirements: Label each level of the Social Pyramid of Ancient India. Include appropriate scenes or characters to illustrate the cell. 2-3 sentence description to demonstrate your understanding.
Lesson Plan Reference
Grade Level 6-8
Difficulty Level 3 (Developing to Mastery)
Type of Assignment Individual
Common Core Standards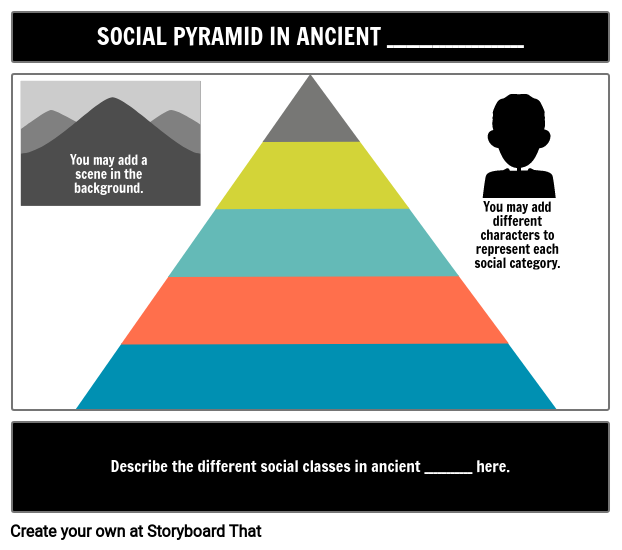 *(This will start a 2-Week Free Trial - No Credit Card Needed)
https://www.storyboardthat.com/lesson-plans/ancient-india/social-structure
© 2021 - Clever Prototypes, LLC - All rights reserved.