https://www.storyboardthat.com/lesson-plans/because-of-mr-terupt-by-rob-buyea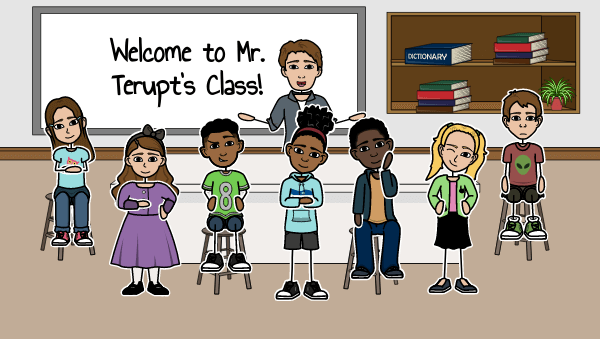 Growing up isn't easy, but with a teacher like Mr. Terupt, it can be pretty amazing. Because of Mr. Terupt is about how one teacher changes the lives of seven unique fifth graders; it is about kindness, acceptance, friendship, and forgiveness. Students will surely see themselves in one of the characters, and teachers will be inspired by Mr. Terupt's dedication to teaching, love for his students, and the positive influence he has on everyone around him. The first in a series of three wonderful stories about an unforgettable teacher, this book is perfect for a class read aloud novel study, especially in the upper elementary grades.
Student Activities for Because of Mr. Terupt
Because of Mr. Terupt Summary
It is the first day of fifth grade and there is a brand new teacher named Mr. Terupt. He is young, funny, and clearly not like any other teacher these kids have had before. The story is told from the views of seven very different students in his class. Peter is the class clown. He is always pulling pranks and seeing what he can get away with. Luke is the brain; he thinks in numbers and appears very serious. His peers sometimes think he comes across as thinking he's better than everyone else. Anna is quiet and shy. Her mom had her when she was 16, and often feels ostracized because of it. Alexia is the "mean girl". She thinks that making friends means being mean to others, so she constantly puts others down. Danielle is overweight and Alexia doesn't let her forget it. She lives on a farm with her family and is very religious. Jeffrey is known as the slacker. He wonders why even bother having relationships with other people because they always go away; he is often angry and keeps to himself. Finally, there is Jessica. She is the new girl in town, who moved from California with her mom. Jessica is strong willed and doesn't let Alexia scare her.
As the reader learns more about the characters and how their lives are intertwined, Mr. Terupt works his magic to transform their relationships with one another in a positive way. After the class earns a reward for good behavior, they choose to have an outdoor snow day. Things go terribly wrong when one of the students accidentally throws an icy snowball and hits Mr. Terupt, leaving him in a coma.
Because of Mr. Terupt is an incredible story about friendship, forgiveness, willingness to change, and learning how to take responsibility for one's own actions. It is about the true magic of a dedicated teacher, and how one person can change the lives of so many.
Essential Questions for Because of Mr. Terupt
How does Mr. Terupt change the lives of each of the seven students in the novel?
What is the theme of this book?
How does Mr. Terupt teach the students about personal responsibility?
Find more lesson plans and activities like these in our
English Language Arts
Category!
Schedule a free Guided Session with us to become a Storyboard That pro!
*(This will start a 2-Week Free Trial - No Credit Card Needed)
https://www.storyboardthat.com/lesson-plans/because-of-mr-terupt-by-rob-buyea
© 2021 - Clever Prototypes, LLC - All rights reserved.