https://www.storyboardthat.com/lesson-plans/how-the-camel-got-his-hump-by-rudyard-kipling/bme-summary
Activity Overview
In this activity, students decide on what they think the important parts in the text are, and categorize them into the beginning, middle, and end of the story. Having students decide on the beginning, middle, and end will help them break up the text, and make it easier to choose one or two main events to create. Students can plan their ideas with a partner or individually and decide what main parts they would like to add to their storyboard.

The storyboard above shows one example for the beginning, middle, and end, but you could set a number of frames for the students to use based on the ability of the student, or length of the text.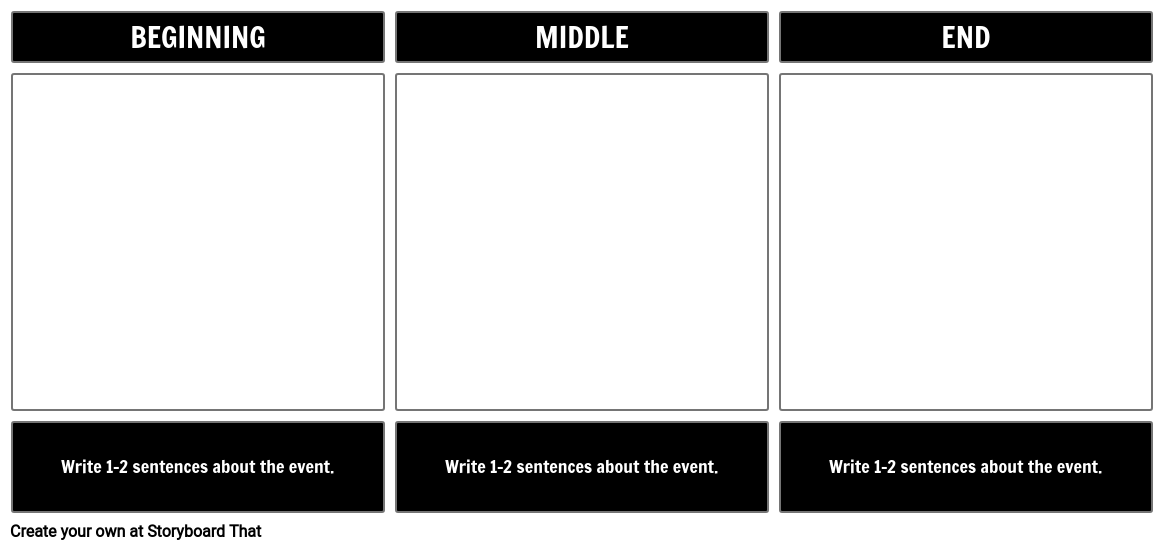 Lesson Plan Reference
Grade Level 2-3
Difficulty Level 3 (Developing to Mastery)
Type of Assignment Individual or Group
Type of Activity: Parts of a Story
Common Core Standards
[ELA-Literacy/W/2/3] Write narratives in which they recount a well-elaborated event or short sequence of events, include details to describe actions, thoughts, and feelings, use temporal words to signal event order, and provide a sense of closure.
[ELA-Literacy/RL/3/2] Recount stories, including fables, folktales, and myths from diverse cultures; determine the central message, lesson, or moral and explain how it is conveyed through key details in the text.
*(This will start a 2-Week Free Trial - No Credit Card Needed)
https://www.storyboardthat.com/lesson-plans/how-the-camel-got-his-hump-by-rudyard-kipling/bme-summary
© 2021 - Clever Prototypes, LLC - All rights reserved.