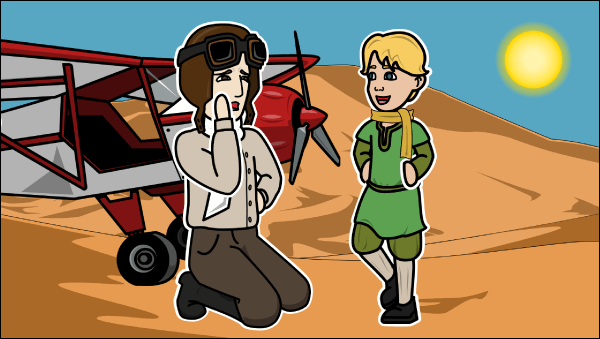 Antoine de Saint-Exupéry's Le Petit Prince has long been a staple of French classrooms. This touching fable appeals to both children and adults as it addresses the importance of friendship, truth, and the beauty that lies beneath the surface. As a text for beginning French students, it provides rich opportunities for acquiring useful vocabulary and reinforcing rules of verb conjugation and tense. The following activities will engage students in both vocabulary practice and literary analysis activities.
Student Activities for Le Petit Prince
Adapt each of the storyboard lessons as necessary based on the level of your students. Each of the activities included in this lesson plan can be made simpler by reducing the number of cells required or allowing students to write solely in the present tense. Alternately, the complexity of the lessons can be increased with the use of the passé simple or an increased focus on literary analysis. Be sure to take advantage of the slide show function to allow students to practice oral language as they present their work to their classmates.
For additional activity ideas, check out our English activities for The Little Prince.
Essential Questions for Le Petit Prince
What are the most important themes of the book?
What forms of the past tense does the author use? Why?
Who is the narrator of the story and what is his relation to the little prince?
What lessons that the little prince learns can we apply to our own lives?
How did Saint-Exupéry's own life affect the story of Le Petit Prince?
Find these lesson plans and more like them in our
World Languages
Category!
*(This will start a 2-Week Free Trial - No Credit Card Needed)