Activity Overview
Students decide on what they think the important parts in the text are, and categorize them into the beginning, middle, and end of the story. Having students decide on the beginning, middle, and end will help them break up the text, and make it easier to choose one or two main events to create. Students can plan their ideas with a partner or individually and decide what main parts they would like to add to their storyboard.
Poppleton in Winter has three different tales in it. Students can create a summary storyboard for each tale. The example shown is for the story titled, "The Sleigh Ride".
Beginning
Poppleton calls all his friends to ask them to go on a sleigh ride.
Middle
Everybody is busy baking yummy treats so they can not go on a sleigh ride. Poppleton feels upset.
End
Poppleton's friends come over and surprise him for his birthday (which he forgot). They eat treats and go for a midnight sleigh ride.
Student Instructions
Make a storyboard summary of the tales in Poppleton in Winter.
Make a picture that shows the beginning of the story.
Make a picture that shows the middle of the story.
Make a picture that shows the end of the story.
Write a sentence under each picture.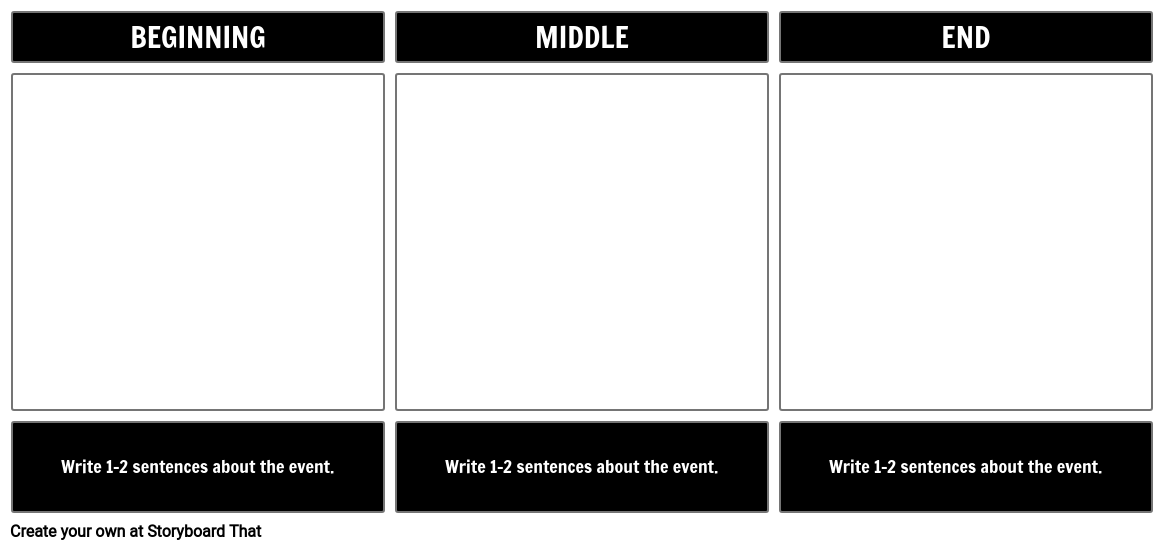 Lesson Plan Reference
Common Core Standards
[ELA-Literacy/W/3/2] Write informative/explanatory texts to examine a topic and convey ideas and information clearly.
[ELA-Literacy/RL/1/3] Describe characters, settings, and major events in a story, using key details.
[ELA-Literacy/RL/3/2] Recount stories, including fables, folktales, and myths from diverse cultures; determine the central message, lesson, or moral and explain how it is conveyed through key details in the text.
Create a storyboard that shows a sequence of events. Below each cell, type in a description about the importance of that part of the story.
Proficient
Emerging
Beginning

Each of the cells represents a different part of the story. The cells are in order from beginning to end.

One cell is out of order, or the storyboard is missing important information.

Important information is missing and/or two or more cells are out of order.

Cells include images that accurately show events in the story and do not get in the way of understanding.

Most images show the events of the story, but some are incorrect.

The images are unclear or do not make sense with the story.

Descriptions match the images and show the change over time.

Descriptions do not always match the images or mention the importance of the event.

Descriptions are missing or do not match the images.

Spelling and grammar is mostly accurate. Mistakes do not get in the way of understanding.

Spelling is very inaccurate and hinders full understanding.

Text is very difficult to understand.
*(This Will Start a 2-Week Free Trial - No Credit Card Needed)
https://www.storyboardthat.com/lesson-plans/poppleton-in-winter-by-cynthia-rylant/summary
© 2023 - Clever Prototypes, LLC - All rights reserved.
StoryboardThat is a trademark of Clever Prototypes, LLC, and Registered in U.S. Patent and Trademark Office