https://www.storyboardthat.com/lesson-plans/revolutionary-war/vocabulary
Activity Overview
Starting a unit or lesson with the key vocabulary that students will see in their readings or presentations aids in overall comprehension and retention. In this activity, students will create a storyboard that defines and illustrates key vocabulary related to American Revolution.
Students will preview the terms and definitions and use whole class or small group discussion to demonstrate their understanding of each meaning. Then, they will create a spider map of 3-5 terms at the teachers discretion. Each cell will contain a term, its definition and an illustration that depicts the meaning. When students define and illustrate each term, they master the application of it and retain it as part of their lexicon.
Suggested Vocabulary for American Revolution:
Patriot
Loyalist
Act
Boycott
First Continental Congress
Import
Parliament
Proclamation
Protest
Repeal
Taxation without Representation
Independence
neutral
Traitor
Tyrant
Treason
Resolution
Declaration of Independence
Founding Fathers
Militia
Minuteman
Second Continental Congress
French and Indian War
Proclamation of 1763
The Quartering Act
The Stamp Act
The Boston Massacre
The Boston Tea Party

The Intolerable Acts or The Coercive Acts

First Continental Congress

Declaration of Independence
Founding Fathers
Militia
Minuteman
Second Continental Congress
Enlist
Mercenary
Revolution
Strategy
Tactic
Treaty
Turning point
Volunteer
Due Date:
Objective: Create a storyboard that defines and illustrates vocabulary relating to the American Revolution.
Student Instructions:
Click "Start Assignment".
In the title boxes, identify the key terms you have chosen.
In the description boxes, write the definition of the term.
Create an illustration for each term using appropriate scenes, characters, and items.
Save and submit your storyboard.
Requirements: Must have 3 terms, correct definitions and appropriate illustrations for each that demonstrate your understanding of the words.
Lesson Plan Reference
Grade Level 4-6
Difficulty Level 2 (Reinforcing / Developing)
Type of Assignment Individual or Partner
Type of Activity: Visual Vocabulary Boards
Common Core Standards
[ELA-Literacy/L/9-10/3] Apply knowledge of language to understand how language functions in different contexts, to make effective choices for meaning or style, and to comprehend more fully when reading or listening
[ELA-Literacy/L/9-10/4] Determine or clarify the meaning of unknown and multiple-meaning words and phrases based on grades 9-10 reading and content, choosing flexibly from a range of strategies
[ELA-Literacy/L/9-10/6] Acquire and use accurately general academic and domain-specific words and phrases, sufficient for reading, writing, speaking, and listening at the college and career readiness level; demonstrate independence in gathering vocabulary knowledge when considering a word or phrase important to comprehension or expression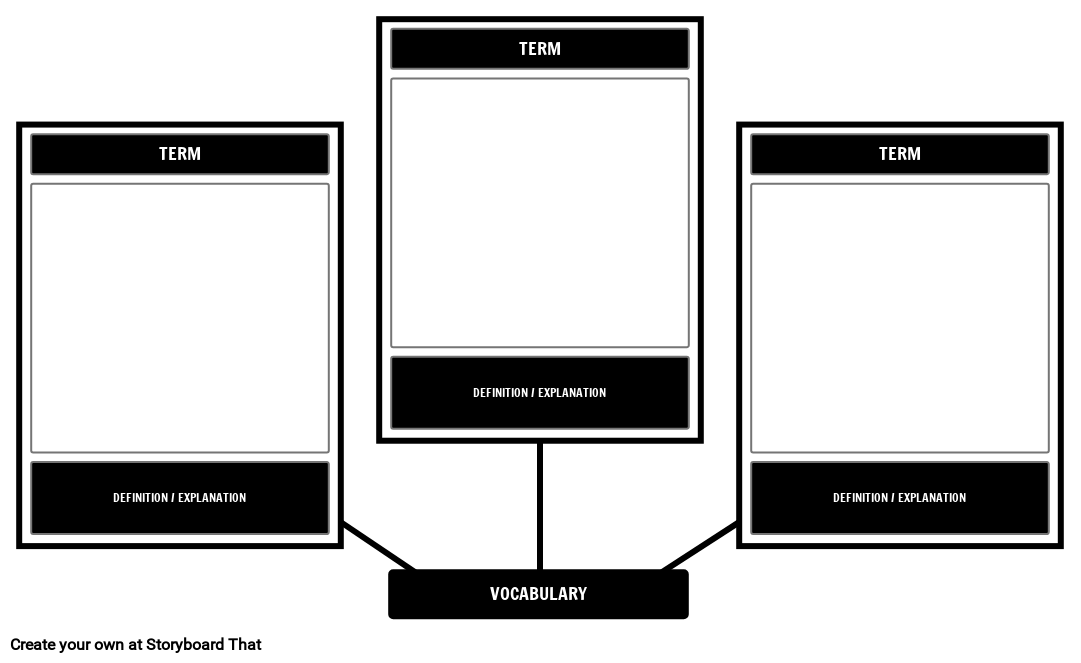 Define and illustrate each of the key terms.
Proficient
7 Points
Emerging
4 Points
Beginning
1 Points

The vocabulary words are correctly defined.

The meaning of the vocabulary words can be understood but it is somewhat unclear.

The vocabulary word is not clearly defined

The storyboard illustrations clearly depict the meaning of the vocabulary words.

The illustrations relate to the meaning of the vocabulary words but it they are difficult to understand.

The illustrations do not clearly relate to the meaning of the vocabulary words.

Work is well written and carefully thought out.

Work shows some evidence of effort.

Work shows little evidence of any effort.
*(This will start a 2-Week Free Trial - No Credit Card Needed)
https://www.storyboardthat.com/lesson-plans/revolutionary-war/vocabulary
© 2021 - Clever Prototypes, LLC - All rights reserved.