https://www.storyboardthat.com/lesson-plans/the-little-prince-by-antoine-de-saint-exupery/bme-summary
Activity Overview
An exceptional way to help your students follow a story is to have them track the important details. This helps students develop a greater understanding of how the events fit together to provide the overall structure of the story. A beginning, middle, end plot summary is perfect for students to practice identifying the elements of a story.
While this activity provides an example for a BME summary of The Little Prince, the activity can be further customized if you want students to use a different plot structure. Check out our resources on plot diagrams and narrative structure templates for additional information!
Example The Little Prince Summary
Beginning
The aviator lands in the Sahara desert and meets the little prince.
Middle
Readers learn of the little prince's background and his travels from his planet to earth.
End
Readers realize how the two main characters have changed through their experiences.
Student Instructions
Make a storyboard summary of The Little Prince.
Make a picture that shows the beginning of the story.
Make a picture that shows the middle of the story.
Make a picture that shows the end of the story.
Write a sentence under each picture.
Lesson Plan Reference
Grade Level 4-5
Difficulty Level 3 (Developing to Mastery)
Type of Assignment Individual or Partner
Type of Activity: Parts of a Story
Common Core Standards
[ELA-Literacy/RI/5/2] Determine two or more main ideas of a text and explain how they are supported by key details; summarize the text.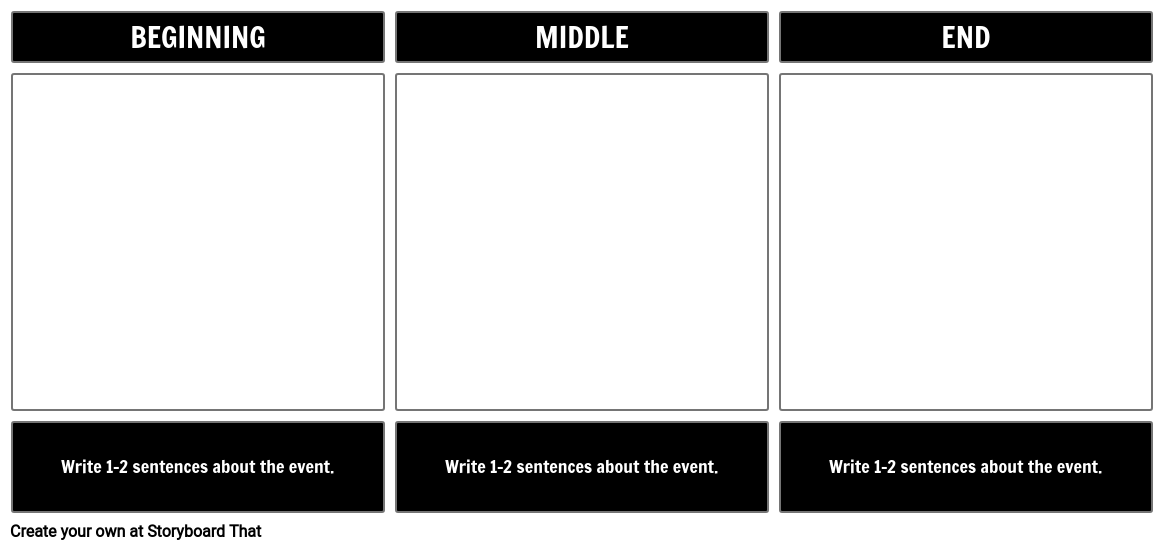 Create a storyboard that shows a sequence of events. Below each cell, type in a description about the importance of that part of the story.
Proficient
Emerging
Beginning

Each of the cells represents a different part of the story. The cells are in order from beginning to end.

One cell is out of order, or the storyboard is missing important information.

Important information is missing and/or two or more cells are out of order.

Cells include images that accurately show events in the story and do not get in the way of understanding.

Most images show the events of the story, but some are incorrect.

The images are unclear or do not make sense with the story.

Descriptions match the images and show the change over time.

Descriptions do not always match the images or mention the importance of the event.

Descriptions are missing or do not match the images.

Spelling and grammar is mostly accurate. Mistakes do not get in the way of understanding.

Spelling is very inaccurate and hinders full understanding.

Text is very difficult to understand.
*(This will start a 2-Week Free Trial - No Credit Card Needed)
https://www.storyboardthat.com/lesson-plans/the-little-prince-by-antoine-de-saint-exupery/bme-summary
© 2021 - Clever Prototypes, LLC - All rights reserved.