https://www.storyboardthat.com/lesson-plans/the-secret-garden-by-frances-hodgson-burnett/theme
Activity Overview
Themes, symbols, and motifs come alive when you use a storyboard. The theme provides a moral to the story and is the central idea behind the text. Through analyzing themes, students can delve deeper into the text's meaning and apply the moral to their own lives. In this activity, students will identify a theme of The Secret Garden and support it with evidence from the text.
Example Themes from The Secret Garden
Change
In India she had always been too hot and languid and weak to care much about anything, but in this place she was beginning to care and to want to do new things. Already she felt less "contrary", though she did not know why.

Mistress Mary felt a little awkward as she went out of the room. Yorkshire people seemed strange, and Martha was always rather a puzzle to her. At first she had disliked her very much, but now she did not.

Mary had indeed been rather like him herself and since she had been at Misselthwaite had gradually discovered that her own manners had not been of the kind which is usual or popular.
Companionship
Thinking him over and saying to herself that, queer as it was, here was another person whom she liked in spite of his crossness. She liked old Ben Weatherstaff. Yes, she did like him. She always wanted to try to make him talk to her.

"Do you think he is?" cried Mary eagerly. She did so want to know. "Do you think he really likes me?"

"I wish my father would come home," he said. "I want to tell him myself. I'm always thinking about it-"
Other possible themes include: self-image, magic, nature, and growing.
Student Instructions
Create a storyboard that identifies recurring themes in The Secret Garden. Illustrate instances of each theme and write a short description below each cell.
Click "Start Assignment".
Identify the theme(s) from The Secret Garden you wish to include and replace the "Theme 1" text.
Create an image for examples that represents this theme.
Write a description of each of the examples.
Save often!
Lesson Plan Reference
Grade Level 4-5
Difficulty Level 3 (Developing to Mastery)
Type of Assignment Individual or Partner
Type of Activity: Themes, Symbols & Motifs
Common Core Standards
[ELA-Literacy/RL/5/2] Determine a theme of a story, drama, or poem from details in the text, including how characters in a story or drama respond to challenges or how the speaker in a poem reflects upon a topic; summarize the text.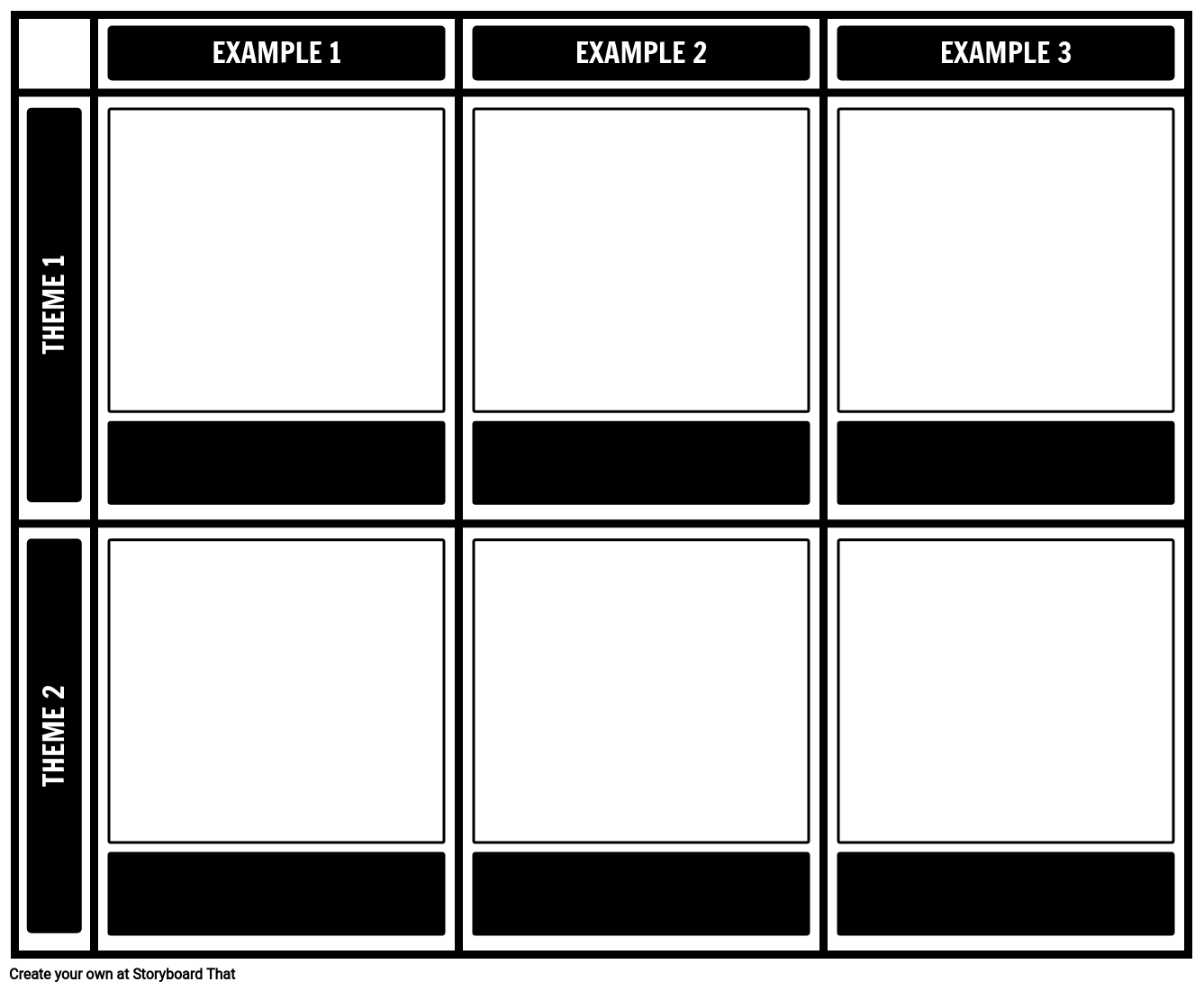 Create a storyboard that identifies themes in the story. Illustrate examples of each theme and write a short description below each cell.
Proficient
Emerging
Beginning

All themes are correctly identified and described.

Some themes are correctly identified.

No themes are correctly identified.

All examples support the identified theme(s).

Most examples fit the identified theme(s).

Most examples do not fit the theme(s).

Images clearly show connection with the theme(s).

Some images help to show the theme.

Images do not help in understanding the theme.
*(This will start a 2-Week Free Trial - No Credit Card Needed)
https://www.storyboardthat.com/lesson-plans/the-secret-garden-by-frances-hodgson-burnett/theme
© 2021 - Clever Prototypes, LLC - All rights reserved.