https://www.storyboardthat.com/lesson-plans/anti-bullying/who-are-your-friends
The Crowd You're Around

Activity Overview
Sometimes students need to stop and listen to what their friends are really saying. Being surrounded by positive people can be beneficial and motivate you. On the other hand, if you're around negative people, they could bring you down or begin to negatively affect your thoughts.
In this activity, students will create a storyboard illustrating the things they hear from their friends and how that makes them feel. These things do not necessarily have to relate to the student in question. Hopefully your students will produce all positive cells because we want them to have positive people around them. For those who do not, the important piece of their storyboard is their reflection.
Lesson Plan Reference
Grade Level 6-12
Difficulty Level 2 (Reinforcing / Developing)
Type of Assignment Individual or Partner
Student Instructions
At times, we need to stop and listen to what our friends are saying around us. You'll be creating a storyboard representing examples of what you hear daily, positive or negative.
Click "Start Assignment".
Create a traditional storyboard with four cells.
In the first three cells, show common things your friends say, either good or bad.
In the last cell, create a reflection of your thoughts on what your friends say.
Make sure your facial expressions represents the feeling you get when you hear these words.
Save and submit the assignment.
Blank 6 Cell Narrative


Single Teacher
As low as /month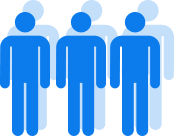 Department
As low as /month

School/District
As low as /month
*(This will start a 2-Week Free Trial - No Credit Card Needed)
https://www.storyboardthat.com/lesson-plans/anti-bullying/who-are-your-friends
© 2020 - Clever Prototypes, LLC - All rights reserved.
Over 15 Million
Storyboards Created