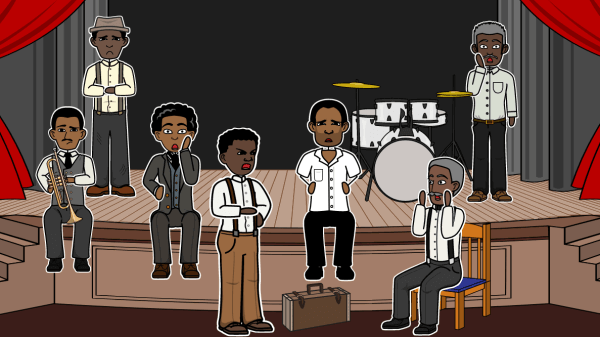 Bud, Not Buddy is a historical fiction novel by Christopher Paul Curtis about an orphan boy during the Great Depression. It is a story that relays the hardship of a young African American boy on his journey to find his place in the world. Softly entwined throughout the story are interesting historical tidbits, all while maintaining a light-hearted, humorous quality. These activities that will help students interactively and creatively grasp important concepts in the story!
Student Activities for Bud, Not Buddy
Essential Questions for Bud Not Buddy
How did the Great Depression affect people in the 1930s?
"When one door closes, another one opens." What does this mean? What could it mean in your life?
What is kindness? How do strangers show kindness?
Is perseverance a necessary human quality? Why or why not?
Bud Not Buddy Summary
Bud Caldwell is a ten-year-old orphan living in a foster home in Flint, Michigan. His prized possessions are some band fliers and rocks he carries around in an old suitcase. Bud is placed in the care of the Amoses, a couple with a twelve-year-old son. After a confrontation between the two boys, Bud is locked in a dark shed for the night. Bud escapes and, after getting some revenge on the other boy, slips into the night.
Bud realizes that being "on the lam" is a lot more challenging and scary than he imagined. Bud decides that he needs to find the man from the flier, Herman E. Calloway, who he believes to be his father. Bugs, a friend from the orphanage, comes across Bud sleeping under a tree at the library. The two decide to ride the trains out of Flint. However, when it comes time to jump on the train, Bud doesn't make it, and is left to walk to Grand Rapids alone.
Fortunately, he is spotted in the middle of the night, on a dark country road by the good-hearted Lefty Lewis. Lefty worries about Bud being alone, and with the promise of some pop and a sandwich, he convinces Bud to get in his car. Bud cleverly tells Lefty that he has run away from his dad in Grand Rapids. Just as he had hoped, Lefty gives Bud a ride to his "father".
When Bud finally reaches Grand Rapids, he approaches Herman E. Calloway and the band members, stating that he has arrived to be with his father. Mr. Calloway is an old, grumpy man, who simply dismisses the boy, but the band members agree to take him in, until everything gets sorted out.
Bud begins traveling with the band, and assists them with cleaning the stage and carrying their instruments. At one of their shows, Bud notices Mr. Calloway picking up some small, smooth rocks. This reveals the connection between Bud and Mr. Calloway – he is not Bud's father, but his grandfather. Bud realizes that he has been sleeping in his dead mother's bedroom during his stay. With this knowledge, Bud sets out his mother's belongings, which he's had with him all along, and begins practicing trumpet so he can be a true member of his grandfather's band.
How To Encourage Reading Habits Besides Academics in Young Students
1
Recommend Good Books
Teachers can recommend young students age-appropriate books according to their interests. If a student is interested in animals, the teacher can recommend them a book from that particular niche.
2
Create a Friendly Environment for Reading
Teachers can promote the idea of reading books and other sorts of writing by making sure students feel completely comfortable while doing that. Teachers can make students aware of the benefits of reading and give students their own time in class sometimes to read whatever they like.
3
Organize Book Clubs and Reading Circles
Teachers can organize a book club for the students once a week where they can discuss and review a certain book they read in the previous week. This will make students comfortable to share their opinions and understand different perspectives.
4
Arrange Library Visits
If possible, teachers can arrange library visits for students to get their attention toward reading. Sometimes seeing other people can also encourage them to do the same. Teachers can also lead by example and tell students about their experience with reading.
5
Appreciate Progress
Teachers can appreciate students who are able to finish a book or a reading within a given time frame. To stop other students from getting discouraged, teachers can provide them with words of motivation.
Frequently Asked Questions About Bud, Not Buddy
What is the main plot of "Bud, Not Buddy"?
Christopher Paul Curtis' book "Bud, Not Buddy" chronicles the adventures of ten-year-old African American youngster Bud Caldwell during the Great Depression. Bud embarks on a search to find his father, whom he believes to be a well-known jazz musician, after being placed in foster care.
What main themes are covered in the storyline?
The novel "Bud, Not Buddy" examines issues of tenacity, family, identity, racism, friendship, and the strength of optimism amid trying situations.
Who are the main characters in Bud, Not Buddy?
There are many characters who play an important role in the story, but the main characters are Bud Caldwell, Herman E. Calloway, Bugs, Lefty Lewis, Todd Amos, and Deza Malone.
How is Bud, Not Buddy suitable for diverse readers?
Due to its multi-social topics, relatable main characters, universal themes of resiliency and family, approachable writing style, and emotional depth, this novel is a great choice for readers of all backgrounds. The book's compelling narrative and historical insights provide educational value while fostering understanding and compassion for other people's perspectives. This acclaimed book, which won the Newbery Medal, connects with readers from all walks of life, making it a potent and accessible work of fiction.