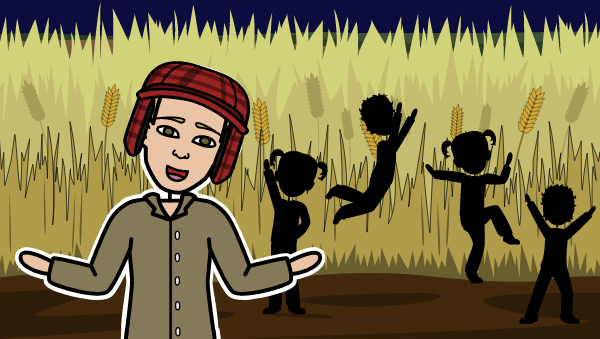 J.D. Salinger described his work The Catcher in the Rye as a novel about "an individual's alienation in a heartless world." Indeed, one of the primary themes that is highlighted throughout Holden Caulfield's whirlwind narrative of mental breakdown is alienation. Holden seems only to connect with children younger than himself, those who have not yet been scarred or corrupted by the heartless world around them. He increasingly isolates himself by finding fault with others (everyone is a "phony"), getting tossed out of boarding school after school, ruining every chance he has to establish a romantic relationship, and voicing his paranoia and disdain about the world to anyone who will listen. This narrative gives readers a look into the mind of a character whose world is crumbling around him, and his crumbling with it. It also gives voice to the impact and symptoms of mental illness. Holden's breakdown highlights the importance of getting the necessary help for children who are dealing with grief.
Student Activities for The Catcher in the Rye
Essential Questions for The Catcher in the Rye
How does experience affect one's perspective and observations of the world around them?
What are some of the side effects of grief?
What are some reasons why a person might isolate themselves from the world around them?
Why is childhood innocence so important?
What are some reasons why a person might be afraid of change?
What are some obstacles children and teenagers face as they transition into adulthood?
What is a "phony"? Why is it so important for people to be honest in who they are?
A Quick Summary of The Catcher in the Rye (Contains Spoilers)
The novel opens with the narrator, Holden Caulfield, apparently relating a story that happened to him the previous Christmas. He was kicked out of Pencey Prep for failing every subject except English. This is the fourth elite boarding school that Holden has flunked out of. Holden is supposed to be going home in three days for Christmas break, but after an altercation with his roommate Stradlater, he decides to leave early and hang out in New York City before breaking the news of his expulsion to his parents.
Stradlater asks Holden to write his English composition for him, while he goes out on a date with a girl that Holden knows and seems to respect. Holden writes a composition about his little brother Allie's baseball glove, which had poems written all over it. It is revealed that Allie died three years earlier, after losing a battle to Leukemia. Holden has not fully dealt with his grief over Allie's death, although he did break all of the windows in the garage of his family's summer house on the night Allie died.
Holden takes off for New York City. Once in his hotel, he decides to go down to a nightclub, the Lavender Room. He dances with three girls in the club, but he thinks they are all morons, and they end up ditching him later on.
Holden leaves the Lavender Room and starts thinking about Jane Gallagher again. He remembers one particular day very fondly. They were up in Maine, and playing checkers at her house. Her drunken stepfather came out of the house to ask Jane if there were any cigarettes, but she refuses to answer him. When he goes back inside, Holden sees that she is crying. He later asks her if her stepfather has ever tried to get "wise" with her, but she says no.
Holden decides to take a cab down to a nightclub in Greenwich Village called Ernie's. Along the way, he asks the cab driver where the ducks in Central Park go during the winter. The driver becomes confused and then incensed by the question, talking about fish instead.
Holden continues to wonder about the ducks. In his eyes, they are a lot like him: without a home, or a place to belong. At Ernie's Holden runs into a girl his brother used to date. Once he finds out she's there with a date, he decides not to waste anymore time at the club and walks back to his hotel. He finds the club filled with Ivy-League "jerks" anyway.
Back at his hotel, he is propositioned by the elevator operator, Maurice, a pimp for prostitutes who frequent the hotel. He tells Holden that he'll send a girl up to him. When Sunny, the prostitute, arrives, Holden realizes how nervous he is. He is a virgin, and has very little experience at all with girls. He tries to have a conversation with her, stalling. She is annoyed that he is taking up so much of her time. Holden offers to pay her anyway, and he hands her a $5 bill, which is what Maurice had told him the cost would be. She argues that her price is $10, which annoys Holden.
Sunny leaves, and Holden sits for awhile, thinking about Allie. He remembers when he and a friend up in Maine, were going to go shoot their BB guns. Allie wanted to come along, but Holden told him he was too young. It's clear that Holden is working through some unresolved guilt over not having spent more time with Allie before he died.
Maurice comes back with Sunny to collect the other $5 Holden "owes" him. Sunny gets Holden's wallet and takes $5 out of it, but Maurice doesn't leave without first punching him in the stomach. Holden fantasizes about going down in the elevator to get revenge on Maurice, but he just takes a bath and falls asleep.
Holden wakes up and calls Sally Hayes, a girl he still keeps in touch with from one of his old schools. He makes plans with her to go to a matinee downtown. He checks out of the hotel and checks his luggage at Grand Central Station. While at the station, he gets lunch and strikes up a conversation with two nuns. Holden makes a $10 donation to them, and they talk about English, which is Holden's best subject. This encounter is one of the few times Holden does not find fault with people he is interacting with. When they leave, he regrets not having more money to give them.
Holden decides to see if his little sister Phoebe might be rollerskating in the park. Along the way, he sees a little boy walking in the street and humming a song that goes, "If a body catch a body coming through the rye." Suddenly, Holden is not so depressed anymore, something that happens often whenever Holden is around children.
Holden buys a record for Phoebe and goes to the park. He runs into a little girl there and asks if she knows where Phoebe might be that day. The girl mentions the Museum of Natural History, but realizing it's Sunday, retracts the suggestion. Holden loves thinking about the museum, because everything there stays the same. Nothing ever changes, and it's all still as he remembers it when he took school trips there as a child.
Holden's date with Sally doesn't go well. They go to see a show, but Holden is not very impressed. They go ice skating and Holden tells Sally that they should run away together to a cabin in the woods. He grows frustrated when Sally doesn't see the charm of such an impulsive move. Holden is bordering on manic and she can't seem to calm him down. He eventually insults her, Sally cries, and they end the date early. Holden calls Jane a couple of times, but he doesn't get a hold of her.
After going out to meet an acquaintance, Carl Luce, and getting drunk, Holden eventually returns home. He sneaks into the apartment and into Phoebe's room. Phoebe figures out that Holden has been kicked out of yet another school, and is upset with him. She calls him out on not liking anything, since he is always complaining.
Holden wracks his brain, and finally comes up with the fact that he likes Allie, even though he is dead, and he likes talking to Phoebe. Phoebe asks him what he would like to be. Holden remembers the song from earlier. It's based on a poem by Robert Burns, and Phoebe corrects him on the wording: "If a body meet a body coming through the rye."
Holden tells her that he thinks about all these little kids playing in a big field of rye, and he is the only "big" person in the field. He has to catch the children if they're running and not looking where they're going, because there's a big cliff at the end of the field. He says he knows it sounds crazy, but really, the only thing he wants to be in life is a catcher in the rye.
Before Holden leaves to go see an old teacher of his, Mr. Antolini, Phoebe gives him some of her Christmas money so that he can take care of himself over the next few days. She is scared that their father might actually kill him when he finds out he's been kicked out of another school. Her kindness causes Holden to begin crying, and he gives her his red hunting hat. Holden visits Mr. and Mrs. Antolini, and they offer to put him up for the night. Mrs. Antolini goes to bed, and Mr. Antolini and Holden stay up talking. Mr. Antolini offers Holden advice, and Holden finally begins to feel tired. Holden falls asleep on the couch, but wakes up to find Mr. Antolini on the floor next to him, stroking his head. Holden gets so freaked out that he leaves and spends the rest of the night in Grand Central.
Holden walks around the city the next morning, and becomes scared as he notices that each time he comes to a curb, he suddenly thought he was going to drop into an abyss. He starts to pray to Allie, telling him, "Allie, don't let me disappear." As he walks, Holden decides to hitchhike out West and get a job at a gas station. He'd pretend to be deaf-mute so that he wouldn't have to talk to anyone. He'd build a cabin for himself and marry another deaf-mute and live a happy life. He decides that he's going to tell Phoebe good-bye, and return her Christmas money to her. He writes her a note to meet him at the museum he loves so much.
When Phoebe shows up, she has a suitcase with her; she's going with him. She begs him not to leave and begins to cry. Holden tries to walk her back to school, but she refuses, so he walks to the zoo and she follows him, on the other side of the street.
After leaving the zoo, they go to a park across the street that has a carousel. Holden buys Phoebe a ticket and he watches her ride around and around. As he's watching, it begins to rain, and Holden finally breaks down into tears. This is ends his recollection of last year, and returns the story to the present.
Holden is telling this story from an institution. He has psychoanalysts asking him if he's going to apply himself at his new school next September, but Holden isn't interested in the subject. He ends by saying, "Don't ever tell anybody anything. If you do, you start missing everybody."

Other The Catcher in the Rye Activity Ideas
The Catcher in the Rye is a classic example of a Bildungsroman novel. Have students keep track of the different elements of Bildungsroman literature through storyboarding! Students can create a storyboard chart with illustrations and descriptions of each Bildungsroman stage.


Create a storyboard to depict one chapter or section at a time.


Create a storyboard that shows precise causes and effects of events.


Add a presentation to any storyboard project.


Buy The Catcher in the Rye on Amazon
Why Use Storyboard That?
Storyboard That is the perfect tool for novel lesson plans and activities because it's so easy to use and extremely versatile. With Storyboard That, you can create a wide variety of storyboards such as the story from the main character's perspective, or any other character's point of view.
You can also use Storyboard That to create a summary of the book, a movie poster, or analyze themes and events. Plus, our printable worksheets make it easy to take the fun offline.
Why is Storyboarding a Great Method of Teaching?
Storyboarding is an incredibly powerful tool for educators because it helps students process and understand the information in a deep, meaningful way. When students storyboard, they are actively engaged in the learning process and can make connections between the text and their own lives.
Storyboards also promote higher-level thinking by encouraging students to synthesize information and think critically about what they have read. Finally, storyboards are a great way to assess student understanding because they provide a visual representation of student learning.