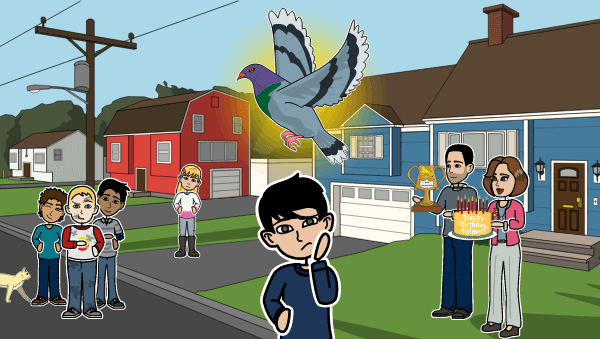 Wringer is a Newbery Honor winning book written in 1997 by the beloved and prolific middle-grade author, Jerry Spinelli. It is the unique and fascinating story of a young boy named Palmer LaRue who has been dreading the day he turns 10. In his town, 10-year-olds get the job of "wringer" at the town's annual family festival, Pigeon Day, where 5,000 pigeons are released from crates and shot down in a competition for a sharpshooter award. Spinelli models the festival after a real Labor Day shoot that was held in Hegins, Pennsylvania every year from 1934 through 1998. "Wringers" run around the field and wring the necks of pigeons to ensure they're dead and "put them out of their misery" - a concept Palmer finds very confusing. The story follows Palmer's journey from a life driven by fear and the longing to be accepted to one where he gains the confidence to stand up for what he believes.
Student Activities for Wringer
Essential Questions for Wringer
Who are some of the main characters and what challenges do they face?
What are some of the symbols and motifs present in the novel? How does the symbolism help you better understand the characters and their motivations?
What are some of the themes present in the novel?
What messages, lessons, or morals does the author try to impart to the reader?
How does one's values and beliefs influence their choices? Is it difficult to stay true to one's values and beliefs? Why or why not?
Wringer Summary
The small town of Waymer, Pennsylvania is steeped in traditions, some of which make little sense to young Palmer LaRue. At the beginning of the story, we meet Palmer as he turns 9-years-old. He is thrilled that the neighborhood gang is finally willing to initiate him, something that involves giving him trash for presents and a new nickname: "Snots". Having a birthday in Waymer also means that you get "the treatment" from an older boy named Farquar, which involves him giving you punches in the arm for every year old you are, extra punches for crying. Palmer takes all of these rites of passage in stride because he longs to be a part of the gang so badly. It is led by a boy named "Beans" (real name Arthur) and includes "Mutto" (Billy) and "Henry" (George). Beans has a mean streak and enjoys bullying others, especially Palmer's neighbor and former friend, Dorothy Gruzik. Palmer succumbs to their peer pressure and goes along with all of the gang's cruel antics.
The malice-driven Beans is especially excited about turning 10 and becoming a "wringer", something that Palmer has been dreading his whole life, ever since he saw his first Family Fest Day at 4-years-old. Family Fest is a decades old tradition where the town gathers for food, fun, and festivities that include a Pigeon Shoot. They capture 5,000 pigeons in crates and release them a few at a time to be shot down by marksmen. The winner of the competition earns the coveted Sharpshooter Award. Palmer's own father won the Sharpshooter Award in 1989 and it sits proudly on their mantel. Palmer learns that "wringers" have the special job of wringing the necks of fallen pigeons in order to make sure they are dead and "put them out of their misery". Young Palmer grapples with the attitudes and customs that he is presented with. He doesn't understand the glee that the gang feels at one day becoming wringers. He finds the idea abhorrent. However, he keeps all of his fears and feelings buried deep inside of him.
One day, a big problem arises when a pigeon lands on Palmer's windowsill. The feisty bird enters Palmer's room and makes himself quite at home. He roosts in Palmer's closet, eats the snacks Palmer provides, and even nips at his ears. Palmer names his secret pet Nipper. Palmer knows that in his town, having a pigeon for a pet is a bad idea. He steals books from the library to learn all about pigeons but doesn't dare tell anyone about Nipper. In his research, Palmer learns that pigeons are fascinating and beautiful creatures. Nipper becomes a beloved pet and friend and Palmer is fiercely protective of him. Palmer knows that Nipper would be in great danger if the gang, especially Beans, ever found out about him. The only person Palmer can confide in about Nipper is Dorothy Gruzik.
He finally apologizes for his treatment of her and confesses that he has a secret pet pigeon. Dorothy is a true friend and accepts and supports Palmer. She is also an advocate of non-violence and against the Pigeon Shoot. She encourages Palmer to stand up for what he believes in. She says if he doesn't want to be a wringer, "then don't". It's something that Palmer finds easier said than done. However, Palmer does things to protect Nipper that he would never have dreamed of doing before. He lies to the gang to avoid hanging out with them. Palmer even pretends to spit on the floor in class so that his teacher will make him stay after school for a week rather than face the gang.
However, Nipper can't stay a secret forever. The gang figures out that Palmer has a pet pigeon and Palmer is desperately afraid that Beans will come and kill it. Dorothy is leaving for a family vacation at the seaside and Palmer asks her to take Nipper and set him free at the beach. Palmer is devastated to lose his beloved pet but feels he must do it to protect him. The dreaded Pigeon Day arrives and Palmer asks Dorothy where she released Nipper. When she says she did it by the train tracks, Palmer is appalled! That is the exact place people capture and crate pigeons for the shoot! Palmer has to decide whether to keep quiet and protect himself or defy tradition and save Nipper!
Palmer rushes to the shooting range and searches the crates for Nipper. He finally sees the bird being released and shot out of the sky in the air! Nipper falls onto the field. Palmer races to save his friend to the shock of the crowd. He scoops Nipper up in his arms and carries him through the field to safety, disregarding the danger. The crowd looks on in awe, some intrigued. Palmer has finally overcome his fears and in doing so saved Nipper's life. Nipper had a hurt wing but he survived. As Palmer walked off the field with Nipper cradled in his arms, another child reached out to pet the wounded bird and asked his father if he could have one. The story ends with the article in the Waymer newspaper about Pigeon Day saying that it was a successful event which raised $34,000 for the public park. It also mentions that there was an unexpected episode where one lucky pigeon was rescued by a "reckless lad".