https://www.storyboardthat.com/lesson-plans/bill-of-rights/5-ws
Activity Overview
Students create a spider map that represents the essential background information for the Bill of Rights. Students are required to create five questions surrounding the document using the "5 Ws: Who, What, When, Where, and Why". This introductory activity will allow students to see the Bill of Rights from a holistic perspective before they study details of the rights guaranteed through each amendment.
Bill of Rights 5 Ws Example
Bill of Rights Projects
Extended Activity One
Students can create an alternative 5 Ws of another country that offers their citizens a Bill of Rights or something similar. Students can use the same questions from the previous activity or create original questions for this extended activity.
Extended Activity Two
After students have researched these two different Bill of Rights, they can create a T-Chart storyboard that compares and contrasts them. Students may look for similarities of individual liberties, or display how some of the protections or limitations of government vary from country to country.
Student Instructions
Create a storyboard outlining the 5 Ws (who, what, when, where, and why) for the Bill of Rights.
Use the template provided by your teacher
In the title of each cell, ask one of the 5 Ws
In the description boxes, answer the question
Create an illustration that demonstrates or explains each of the 5 Ws using appropriate scenes, characters, and items
Save and submit your storyboard

Lesson Plan Reference

Grade Level 6-12

Difficulty Level 2 (Reinforcing / Developing)

Type of Assignment Individual or Partner

Type of Activity: 5 Ws of Social Studies and History

Common Core Standards

[ELA-Literacy/RH/9-10/1] Cite specific textual evidence to support analysis of primary and secondary sources, attending to such features as the date and origin of the information.
[ELA-Literacy/RH/9-10/2] Determine the central ideas or information of a primary or secondary source; provide an accurate summary of how key events or ideas develop over the course of the text.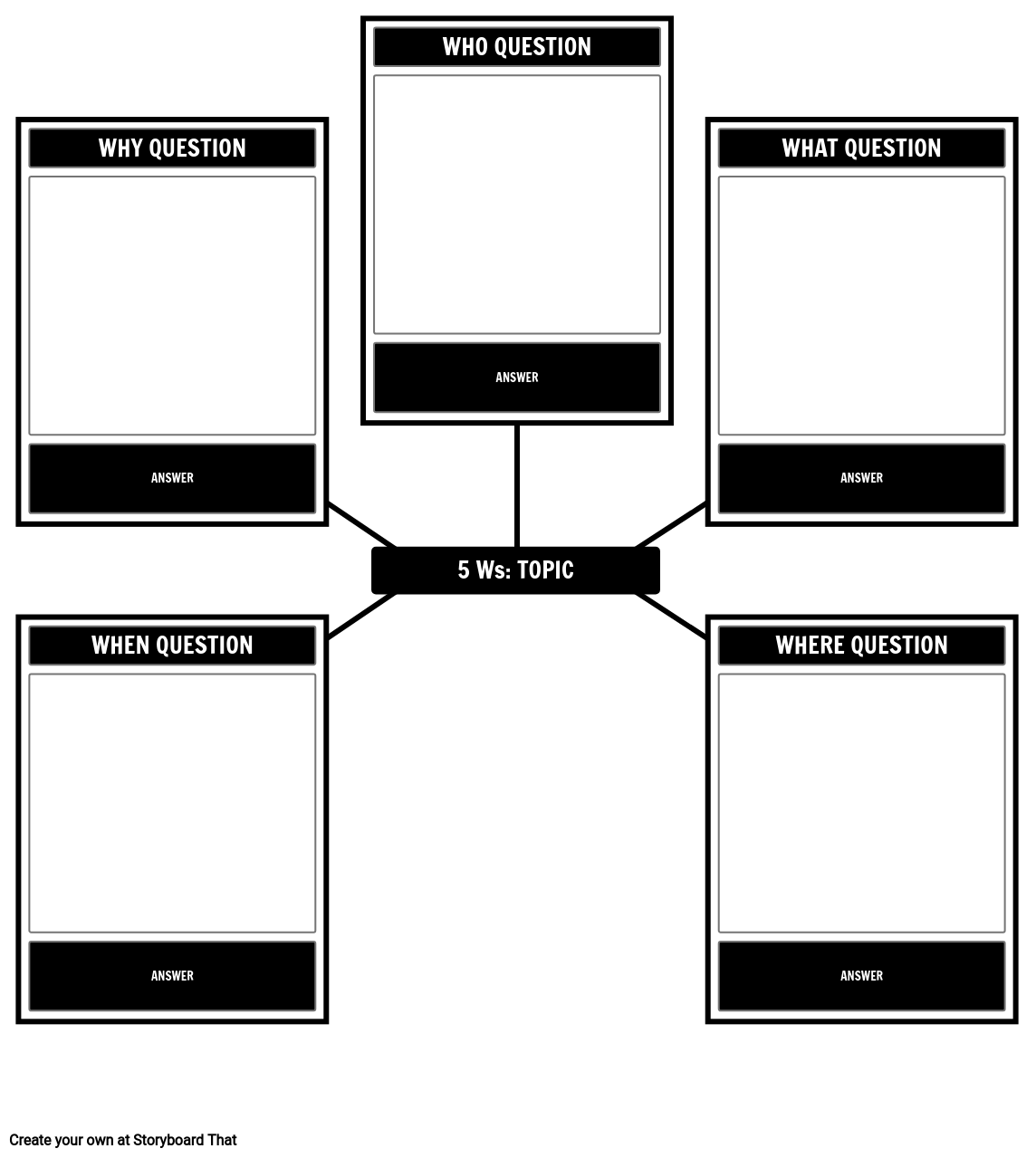 Image Attributions
Federal Hall • Phil Roeder • License Attribution (http://creativecommons.org/licenses/by/2.0/)
Taft Inauguration • DC Public Library Commons • License No known copyright restrictions (http://flickr.com/commons/usage/)
*(This will start a 2-Week Free Trial - No Credit Card Needed)
https://www.storyboardthat.com/lesson-plans/bill-of-rights/5-ws
© 2021 - Clever Prototypes, LLC - All rights reserved.