https://www.storyboardthat.com/lesson-plans/i-have-a-dream-by-martin-luther-king-jr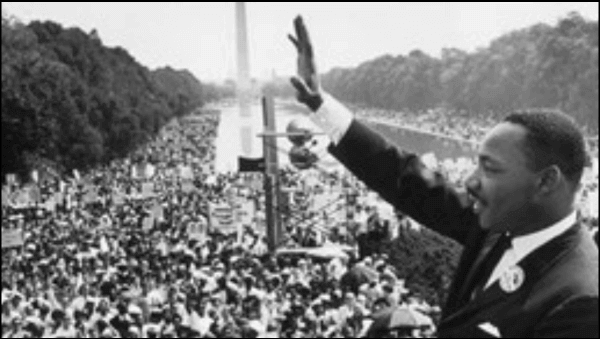 Reverend Martin Luther King Jr.'s "I Have a Dream" speech is a powerful message to the African American community to be strong and persevere during a time of great inequality in the United States. Martin Luther King Jr. was one of the most iconic figures of the Civil Rights Movement. For this speech, he addressed 200,000 Americans in Washington D.C and famously desired an America where his children "will not be judged by the color of their skin, but by the content of their character."
Student Activities for I Have a Dream
A Quick Synopsis of the "I Have Dream" Speech
King's "I Have a Dream" speech begins by referencing the Emancipation Proclamation as a "great beacon light of hope" for slaves who were experiencing injustice; despite this hope, King pointed out further work was required for African Americans to be truly free in their own country.
King uses the metaphor of a bad check to describe how America has mistreated African Americans, despite the words in the U.S Constitution and Declaration of Independence that grant all people the rights of life, liberty, and the pursuit of happiness.
King tells the audience that now is the time to fight for democracy and for brotherhood. There cannot be any quitting because it is just the beginning of the struggle. He reminds his listeners that the fight must be accomplished with dignity and non-violence; people should not resort to violent actions, but remain disciplined and continue to move forward with the ultimate goal in mind.
King urges people to continue to have faith and not "wallow in the valley of despair". He states that even though we experience great troubles, he has a dream that this nation will rise up and become truly equal. One day, all across the United States, there will no longer be injustice or oppression.
Essential Questions for "I Have a Dream"
How did Martin Luther King Jr. impact the future of the United States of America?
Why are non-violent protests more powerful than violent ones?
Why is perseverance an important quality for humans to have?
Find more storyboarding activities like these in our
Elementary School
and
Middle School ELA
Categories!
Schedule a free Guided Session with us to become a Storyboard That pro!
*(This will start a 2-Week Free Trial - No Credit Card Needed)
https://www.storyboardthat.com/lesson-plans/i-have-a-dream-by-martin-luther-king-jr
© 2021 - Clever Prototypes, LLC - All rights reserved.