https://www.storyboardthat.com/lesson-plans/stamped-by-jason-reynolds-and-ibram-x-kendi/character-map
Activity Overview
While reading Stamped, students will encounter historical figures they've heard about, and some that they may not have known about before. In this activity, students will create a map of the historical figures mentioned in the book paying close attention to their impact on the history of racism in America. Students can choose 4 or more historical figures, research their birth, death, place, occupation, accomplishments, and most importantly the positive or negative impact they have had on upholding or fighting to eradicate racism.
The example for this activity contains 24 historical figures mentioned in Stamped along with brief descriptions of each person. These could be printed out as single pages or shown in slideshow mode digitally and used as a preview or recap of the book.
Historical Figures Mentioned in Stamped
Gomes Eanes de Zurara
John Cotton
Richard Mather
Cotton Mather
Thomas Jefferson
Phillis Wheatley
William Lloyd Garrison
W.E.B. Du Bois
Booker T. Washington
Ida B. Wells
Marcus Garvey
Jack Johnson
Muhammad Ali
Angela Davis
Zora Neale Hurston
Lyndon B. Johnson
Ma Rainey
James Baldwin
Audre Lorde
Ronald Regan
George Bush
Bill Clinton
George W. Bush
Barack Obama
Michelle Obama
Due Date:
Objective: Create a chart for the major historical figures mentioned in Stamped.
Student Instructions:
Identify 4 or more major figures in Stamped: Racism, Antiracism, and You and type their names into the different title boxes.
Choose a Storyboard That character to represent each of the historical figures.
Select colors and a pose appropriate to the story and character traits.
Choose a scene or background that makes sense for the character.
Fill in Textables for "birth, death, location", "occupation/accomplishments", and "impact (positive or negative) on the history of racism in America"
Save and submit the assignment.
Lesson Plan Reference
Grade Level 9-12
Difficulty Level 2 (Reinforcing / Developing)
Type of Assignment Individual
Type of Activity: Character Map
Common Core Standards
[ELA-Literacy/RL/4/3] Describe in depth a character, setting, or event in a story or drama, drawing on specific details in the text (e.g., a character's thoughts, words, or actions).
[ELA-Literacy/RL/5/3] Compare and contrast two or more characters, settings, or events in a story or drama, drawing on specific details in the text (e.g., how characters interact).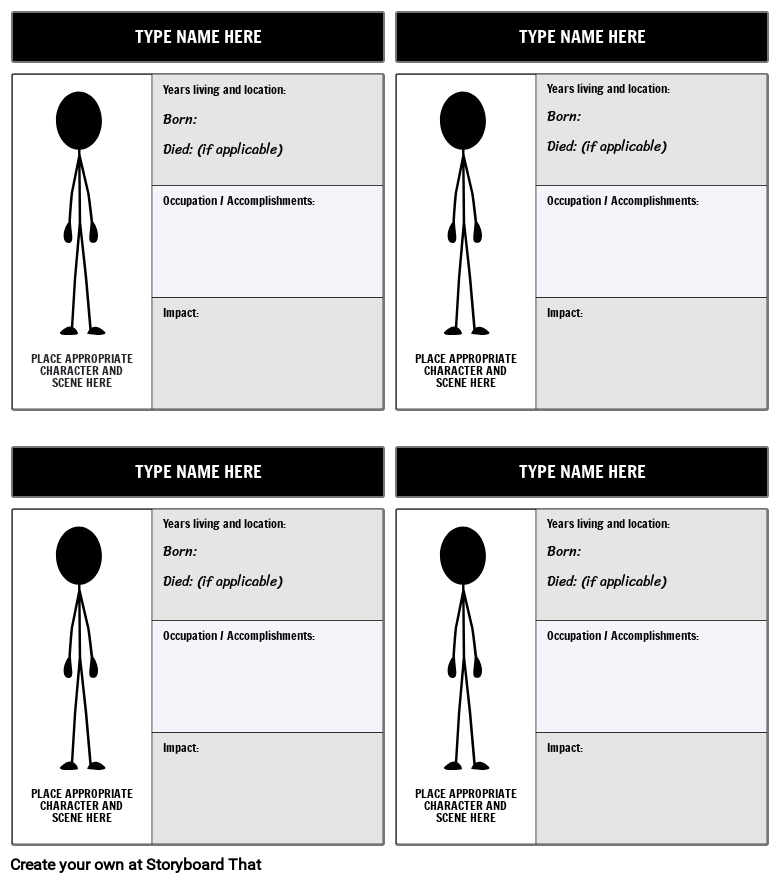 *(This will start a 2-Week Free Trial - No Credit Card Needed)
https://www.storyboardthat.com/lesson-plans/stamped-by-jason-reynolds-and-ibram-x-kendi/character-map
© 2021 - Clever Prototypes, LLC - All rights reserved.