Student Activities for Black History K-5
Classroom Exercise for Grades K-5
Teach students about an important African American in U.S. history and how they impacted later civil rights movements through stories, videos, and other lessons. Have students create a storyboard that shows why this person is significant. See the example below.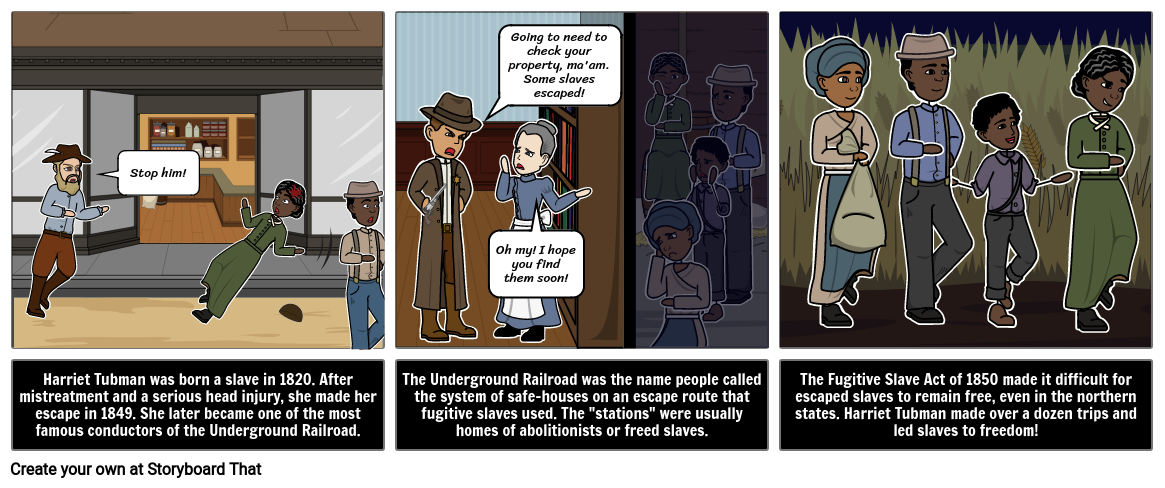 Older students in this range can also independently research or read books about the Atlantic Slave Trade, Underground Railroad, or the civil rights movements. After students create their own storyboards about a particular person or about an important event in Black History, let them share their work and have a rich class discussion.
Additional Black History Month Activity Ideas for K-5
Create biography posters of a figure that students research. See more biography activities.
Teach students the song "This Little Light of Mine", a civil rights movement song.
Read and discuss "Follow the Drinking Gourd". Have students create their own storyboard for the song/book.
Have students choose a famous African American person from history and write a bio-poem about them and illustrate it using Storyboard That.
Have students write a thank you letter to one of the people researched in storyboard form. Students can focus on telling them how they feel about their struggle.
Have students storyboard a public service announcement or propaganda regarding the abolition of slavery.
Related Storyboard That Resources
Find more storyboard activities like these in our
Elementary School
Category!
*(This Will Start a 2-Week Free Trial - No Credit Card Needed)