Hvis du tildeler dette til dine elever, skal du kopiere regnearket til din konto og gemme. Når du opretter en opgave, skal du bare vælge den som en skabelon!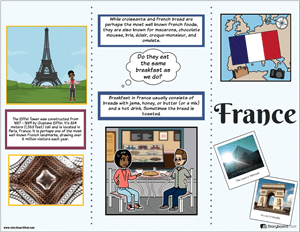 What is a Brochure?
Brochures can be used to provide students, parents, and other stakeholders with important information about a school, program, or educational resources.
A well-designed educational brochure should provide clear and concise information that is easy to understand and visually appealing. This may include details about the school's academic programs, extracurricular activities, campus facilities, faculty and staff, admissions requirements, company marketing, and tuition costs. A brochure generator can be used to make a brochure for specific purposes.
Brochures are an effective way to showcase the unique qualities of a school or program and to communicate its value to potential students and parents. They can be distributed at school fairs, open houses and other events, or shared online through a school's website or social media channels.
The goal of an educational brochure is to provide the information that students and parents need to make informed decisions about their educational options. By providing a clear and compelling message, brochures can help schools attract and retain students, build strong relationships with parents and the community, and promote a culture of learning and growth.
Brochure Worksheet
Similar to a pamphlet, brochure worksheets are templates used by students to help them create a brochure that is well-organized and informative. They have sections for defining the purpose and audience, planning the design and layout, outlining the content, organizing the information, and reviewing and revising the final product. They provide a structured framework to help students create effective brochures and encourage creativity and critical thinking, thus reaching a wider audience.
Tips For Designing Brochure Templates
Designing an effective brochure template can be a challenging task, but there are a few tips that can help you create templates that are visually appealing, informative, and easy to use:
Keep it Simple: Avoid cluttering the template with too much information or design elements. A clean and simple design can be more visually appealing and easier to read.
Use Clear and Legible Fonts: Choose fonts that are easy to read, even at a small size. Stick to no more than two or three fonts through the template.
Include High Quality Images: Use high quality images that are relevant to the content of the brochure. Avoid using images that are pixelated or low resolution.
Use Color Wisely: Choose a color scheme that is visually appealing and reflects the content of the brochure. Use color sparingly to highlight important information.
Use a Grid System: Use a grid system to help you align text and images, and ensure that your brochure template is visually balanced.
Provide Ample White Space: Leave plenty of white space in the design to help make the brochure easier to read and to create more professionally designed templates.
Consider the Fold: Keep in mind the fold of the brochure when designing the layout. Ensure that important information is not lost in the fold.
By following these tips, you can design brochure templates that are visually appealing, informative, easy to use for your intended audience.
What are Custom Brochures?
Custom brochures are brochures that are designed and created according to specific requirements and preferences of an individual or organization. Unlike pre-made brochures that are already designed and available for purchase, custom brochures are created from scratch based on the unique needs and branding of the customers. There are also brochure maker free templates that are customizable.
Custom brochures can be created in a variety of sizes, styles, and formats, and can include a wide range of content, such as information about institutions or organizations. They can also be printed on different types of paper or cardstock.
Online Brochure Examples
There are many online brochure examples that you find on the internet, ranging from simple designs to more complex and interactive ones: here are a few examples of platforms to design a brochure online:
Storyboard That: Storyboard That provides a range of pre-designed templates, graphics, and visual elements that could be used to create a visually engaging and interactive brochure. Users can customize the layout, add texts, your own images, and incorporate interactive elements like links and videos to create a compelling digital brochure.
EdX: EdX is an online learning platform that provides courses from top universities around the world. The EdX website features an online brochure template that showcases their programs, including information on course topics, instructors and pricing.
Khan Academy: This example is a platform that provides free online educational resources. The platform features an online brochure that provides an overview of their courses, including information on topics, grade levels, and languages.
What is a Brochure Maker?
A brochure maker is a software tool or online platform that enables users to design and create brochures without requiring extensive design skills. A brochure maker typically provides users with a variety of pre-designed templates, design elements, formatting options to choose from, making it easier for them to create professional brochures. With a brochure maker, you can easily make your own brochure.
A brochure maker can be used for a wide range of purposes apart from educational functions, it can also be used as business brochure or organizations brochure, etc. users can typically customize the contents, layout, and design of the brochure to meet their specific needs and preferences. They are also brochure creators that allow users to create and design brochures without prior experience or design skills.
Creating a Brochure
Making a brochure involves several steps, including planning, designing, and printing. Here is a general overview of the steps involved in making a brochure:
Determine the Purpose and Audience of your Brochure: Decide on the purpose of your brochure and identify your target audience. This will help you determine your content and design of your audience.
Choose a Format and Layout: Decide on the format and layout of your brochure, including the size, orientation and number of panels. Consider the fold of the brochure and how it will impact the layout and design.
Plan your Content: Plan the content for each panel of your brochure, including headings, subheadings, body text, and images. Keep your content concise and informative, and consider the visual hierarchy of your content.
Design your Brochure: Use a graphic design brochure software or an online brochure maker to create your brochure design. Choose a color scheme, fonts, and images that reflects your brand and message, and ensure that your design is visually appealing and easy to read. The brochure creator tools can be used for designing your brochure.
Add your Content: Add your content to your brochure design, ensuring that it is organized and easy to follow. Use your own images and graphics to break up the text and make your brochure more visually engaging.
Proofread and Edit: Proofread your brochure carefully to check for any errors or typos. Edit your contents as needed to ensure that it is clear, concise, and informative.
Print your Brochure: Choose printing services or print your brochure in-house. Select the paper, stock, finish, and quantity that best suits your needs.
Sådan Laver du et Brochureark
1
Vælg en af de Færdiglavede Skabeloner
Vi har masser af skabeloner at vælge imellem. Tag et kig på vores eksempel for inspiration!
2
Klik på "Kopier skabelon"
Når du har gjort dette, vil du blive dirigeret til storyboard-skaberen.
3
Giv dit Regneark et Navn!
Sørg for at kalde det noget relateret til emnet, så du nemt kan finde det i fremtiden.
4
Rediger dit Regneark
Det er her, du vil inkludere anvisninger, specifikke spørgsmål og billeder og foretage de æstetiske ændringer, du ønsker. Mulighederne er uendelige!
5
Klik på "Gem og afslut"
Når du er færdig med dit regneark, skal du klikke på denne knap i nederste højre hjørne for at forlade dit storyboard.
6
Næste Skridt
Herfra kan du printe, downloade som PDF, vedhæfte det til en opgave og bruge det digitalt og meget mere!
Additional Template to Check Out
Newspaper poster templates: Newspaper poster templates are pre-designed layouts or designs that are used to create posters in a style similar to that of a newspaper. These templates usually come with pre-defined placeholders for text and images that can be easily edited and customized according to the user's needs.
Poster templates: Poster templates are pre-designed layouts or designs that can be used as a starting point for creating posters. These templates typically come with pre-designed placeholders for texts and images that can be easily edited and customized. They may also include backgrounds, borders, and graphics that can be used to create an appealing and effective poster.
Brochure poster templates: Brochure poster templates are pre-designed layouts that can be used to create a brochure or posters. The template also includes text, images, and other visual elements, as well as a variety of design elements such as colors, fonts, and graphics.
Glad skabelse!
Ofte Stillede Spørgsmål om Brochurer
Hvad er en brochureskaber?
En brochureskaber er et softwareværktøj eller en onlineplatform, der giver brugerne mulighed for at designe og skabe brochurer uden at kræve omfattende designviden og færdigheder. Det giver typisk brugerne en række foruddesignede skabeloner, designelementer og forskellige formateringsmuligheder at vælge imellem, hvilket gør det nemmere for dem at skabe professionelt udseende brochurer.
Hvordan kan jeg få mit brochuredesign til at skille sig ud?
For at få dit brochuredesign til at skille sig ud, skal du overveje at inkorporere unikke designelementer, såsom brugerdefinerede illustrationer eller grafik, der afspejler dit brand og dit budskab. Brug et karakteristisk farveskema og typografi til at skabe et sammenhængende udseende og fornemmelse, og sørg for, at dit design er tiltalende og let at læse. Overvej at bruge højkvalitetspapir og trykteknikker for at forbedre det overordnede udseende og fornemmelse af din brochure.
Er der nogen gratis brochure skabeloner tilgængelige?
Ja, der er mange gratis brochureskabeloner tilgængelige online, som du kan bruge som udgangspunkt for dit design. Disse skabeloner kommer typisk frit i en række forskellige formater og stilarter og kan tilpasses til dine specifikke behov og præferencer.
Hvilken størrelse er brochurer?
Brochurer kommer i en række forskellige størrelser, men de mest almindelige størrelser er 8,5''' x 11'', 8,5'' x 14'' og 11'' x 17''. Størrelsen på din brochure bestemmer mængden af indhold, du skal inkludere, og det format, du vælger. Det er vigtigt at vælge en størrelse, der passer til dine behov og gør, at dit indhold er let læseligt og tilgængeligt for din målgruppe.