What is UBD?
Understanding By Design, or UBD, is a framework and accompanying design process for thinking decisively about unit lesson planning. The concept was developed by Jay McTighe and Grant Wiggins, and as part of their principles they state that UBD "…is not a philosophy of education". It is not designed to tell teachers what or how to teach; it is a system to help them teach more effectively. In fact, its flexibility is one reason it has gained so much acclaim. With UBD, the ultimate goal is to think backward, focusing on the big picture: at the end of a unit what is the essential question your students should be able to answer?
What are the Stages of UBD?
The UBD design process is organized into three stages:
Identify Desired Results
Determine Acceptable Evidence
Create the Learning Plans
Stage 1: Identify Desired Results or Outcome
Parts of Stage 1
Establish Goals
Construct Understandings
Write Essential Questions
Determine: Students will know ______________
Determine: Students will be able to ______________
As an educator, you can begin stage one by asking a few key questions. I like to simplify this and think of it as what you want your students to UNDERSTAND. What relevant goals (such as Common Core State Standards, objectives, and learning outcomes) will this address?

Stage 1: How to Write Essential Questions
Your essential questions are the base of your UBD unit, so it is important that you know what essential questions are. To keep it simple, the questions are open-ended, thought-provoking, and engaging. These are often characterized by a call for higher-order thinking which points towards transferable ideas. They are not simple questions; they need support and justification, and often require that the student ask other questions before getting an answer. Most importantly, an essential question recurs over time. Without a strong essential question, you cannot move forward in your design and implementation. To assist you, see the examples below.
Stage 1 Worksheet
Stage 1 - Identify Desired Results/Outcome
Goals:



Understandings:



Essential Questions:



Students will know ...



Students will be able to...



Completed Stage 1 Worksheet
Stage 1 - Identify Desired Results/Outcome
Goals:
Students' goal is to: read, write, and determine what makes a well-developed essay; with an introduction, a conclusion, and body paragraphs that use transitioning words, and proper spelling and grammar.
Understandings:

Writing is a way to express your knowledge of a topic and show your interest in it.
Writing allows you to express multiple levels of color, including connotation, mood, and tone.
Writing is a process to strengthen ideas and clarify perceptions.
Becoming a better writer helps you to become a better reader.
Writing is a powerful form of communication where you can express ideas in a systematic fashion.

Essential Questions:

Why is writing important?
Why are the different types of composition important to learn?
How do you become a good writer?

Students will Know ...

The components of an essay
What transitions are
Effective ways to write an introduction and conclusion
What a paragraph must include to convey a message

Students will be able to...

Construct a multi-paragraph essay on their own, without a graphic organizer
Use transition words
Introduce and conclude an essay
Construct topic sentences
Cite evidence to back up their answers
Stage 2: Determine Acceptable Evidence
Parts of Stage 2
Performance Tasks
Other Evidence
For the second stage, you need to think of how you see Stage One taking place. Simplified again: what your students will DO to understand the concept, and how they will do it. Examples could be performance tasks, where students demonstrate their understanding, or evidence like tests and quizzes, homework, prompts, and reflections.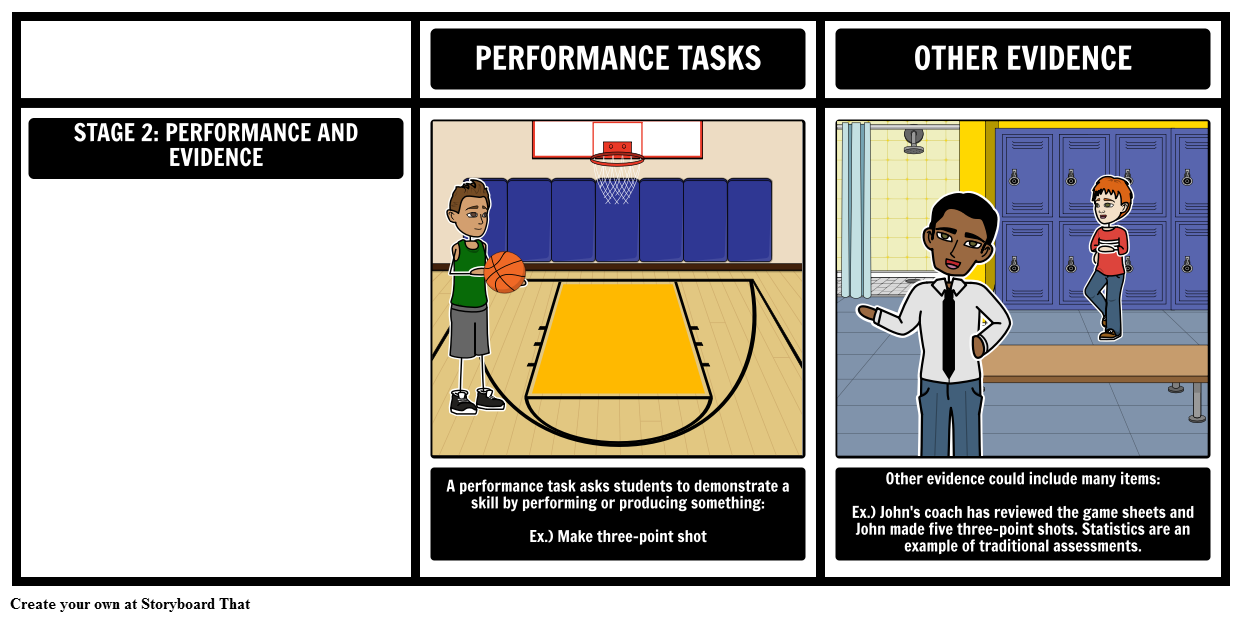 Stage 2: Important Questions to Answer
What performances and products will reveal evidence of meaning-making and transfer?
What additional evidence will be collected for other desired results?
Stage 2 Worksheet
Stage 2 - Assessment Evidence
Performance Tasks:



Other Evidence:



Completed Stage 2 Worksheet
Stage 2 - Assessment Evidence
Performance Tasks:

Draft writing
Open responses
Reflections and question on the writing process
Self editing
Peer editing

Other Evidence:

Tests/quizzes on knowledge: parts of an essay
Grading rubrics addressing specific target areas of an essay
Ability to follow direction
Adaptation to constructive criticism and working towards correcting errors
Stage 3: Create the Learning Plans
Parts of Stage 3
Learning Plan (Instruction)
Learning Activities (Experiences)
For the third stage, think about what specific lesson plans and assessments will you need to measure the progress of the process? How will your lessons get students to understand the desired results from stage 1? What learning experiences and instruction will enable students to achieve the goals you set in the previous stages?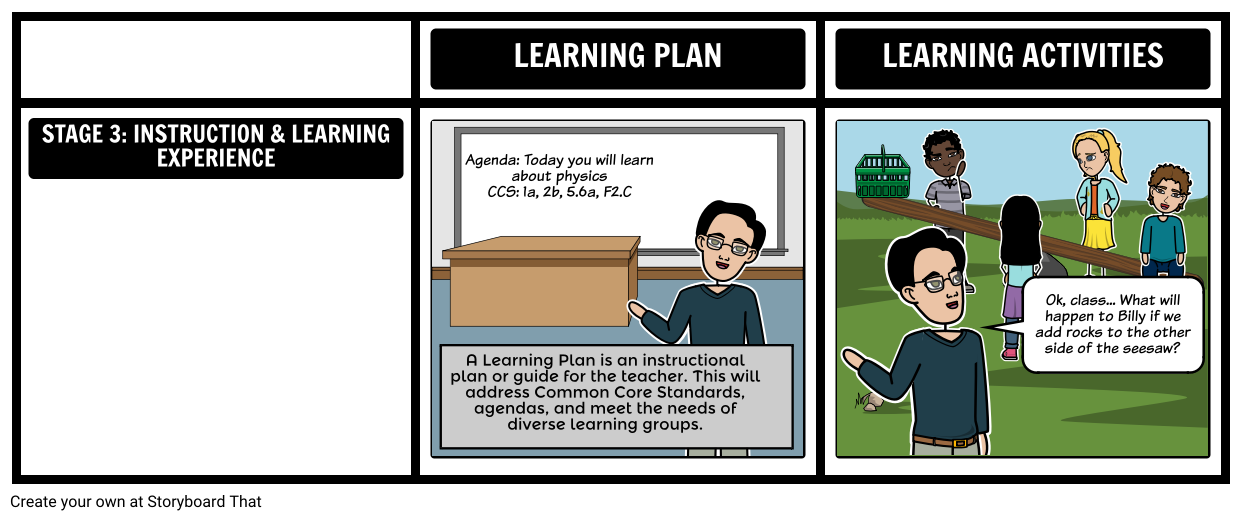 Stage 3: Important Questions to Answer
What activities, experiences, and lessons will lead to achievement of the desired results and success in the assessments?
How will the learning plan help students acquisition, evaluation, and transfer?
How will the unit be sequenced and differentiated to optimize achievement for all learners?
Stage 3: W.H.E.R.E.T.O.
WHERETO is an acronym to help execute Stage 3 and is explained below. (Another acronym to help with the process of writing Stage 3 is GRASPS) When considering your unit you must recognize what is expected of your students throughout the process. This table includes how will they be evaluated, judged, and graded:
| | |
| --- | --- |
| W | WHERE is the unit going and WHAT is expected? |
| H | HOOK all students, and HOLD their interest? |
| E | EQUIP students, help them EXPERIENCE the key ideas and EXPLORE the issue. |
| R | Provide opportunities to RETHINK and REVISE their understandings and work. |
| E | Allow students to EVALUATE their work and its implications. |
| T | TAILOR the unit to the different needs, interests, and abilities of learners. |
| O | ORGANIZE to maximize engagement, as well as effective learning. |
Stage 3 Worksheet
Stage 3 - Learning Plan
Learning Activities and Planned Lesson Instruction:
Stage 3 Completed Worksheet
Stage 3 - Learning Plan
Learning Activities and Planned Lesson Instruction:
Each of the Following Lessons Contains
Sources
Front Loading
Activities - Worksheets and Handouts
Lessons
Lesson 1 - What is an Essay?
Lesson 2 - What are Different Styles of Essays?
Lesson 3 - Taking a Peek at an Essay
Lesson 4 - The Bing, Bang, Bongo Method: 5 Paragraph Essay
Lesson 5 - Check Out My Body…Type
Lesson 6 - MCAS/PARCC
Lesson 7 - Audience Importance
Lesson 8 - Introducing the Introduction
Lesson 9 - "Girl, Look at the Body…I Work Out": Writing SEXI Body Paragraphs
Lesson 10 - Conclusion Confusion
Lesson 11 - IYOW (Write Your Own)
Lesson 12 - Self Editing
Lesson 13 - Peer Editing
Lesson 14 - Final Draft
Lesson 15 - Reflection
Works Cited
Ray, Rebecca L. CURRICULUM UNIT Composition Writing 10th Grade English Language Arts. 14 July 2012. Lesson Plan. Fitchburg State University, Fitchburg, Massachusetts.
Wiggins, Grant P., and Jay McTighe. The Understanding by Design Guide to Creating High-Quality Units. Alexandria, VA: ASCD, 2011. Print
Ofte stillede spørgsmål om Understanding by Design
Hvad er fordelene ved at bruge Understanding by Design i klasseværelset?
Brug af Understanding by Design-rammen kan hjælpe lærere med at designe undervisning, der er fokuseret på de vigtigste begreber og færdigheder, og som fører til dyb forståelse og overførsel af læring. Det kan også være med til at gøre undervisningen mere engagerende og meningsfuld for eleverne, da den tilskynder lærere til at planlægge aktiviteter og vurderinger, der er autentiske og relevante for elevernes liv.
Hvordan kan lærere sikre, at deres Understanding by Design-lektioner er strenge og udfordrende for alle elever?
Lærere kan sikre, at deres Understanding by Design-lektioner er strenge og udfordrende ved at stille høje forventninger til alle elever, give eleverne muligheder for at anvende deres læring på autentiske og meningsfulde måder og tilbyde passende stilladser og støtte til elever, der kæmper. De kan også bruge formativ vurdering til at overvåge elevernes fremskridt og justere undervisningen efter behov.
Kan Understanding by Design bruges inden for alle fagområder?
Ja, Understanding by Design-rammen kan bruges i alle fagområder, da den er fokuseret på at designe undervisning, der fører til dyb forståelse og overførsel af læring, snarere end på specifikt indhold eller færdigheder.
Hvilken rolle spiller arbejdsark i Understanding by Design?
Arbejdsark kan være et nyttigt værktøj i Understanding by Design, hvis de er designet til at understøtte det ønskede læringsudbytte og forståelse. De bør dog ikke være det primære fokus for undervisningen og bør bruges sammen med andre typer læringsaktiviteter og vurderinger.