If you're a parent, teacher, or homeschooler, Storyboard That, an online tool for making storyboards, comics, and other visual aids, might be just the educational tool you're looking for. It has templates, text bubbles, and all the other items you'll need to effectively communicate with the children in your life. It allows you to create beautiful and educational worksheets faster, and more effectively than ever before. Let's find out how!
Some of the key benefits I have found while using are being able to:
Create media-rich and visually stunning educational resources for kids of all ages.
Invite students to work on their templates using the tool online, encouraging creativity and artistic expression.
Save time by utilizing premade templates that are handy for teachers and include things like dotted lines, grid layouts, and more.
Worksheet Ideas
The sky is the limit when it comes to the possibilities of what you can create using Storyboard That. Here are some ideas of what you can put together, with or without the help of your children. In many of these instances, I would recommend asking your child to help with the creative process so they will be more invested in the project you are creating it for.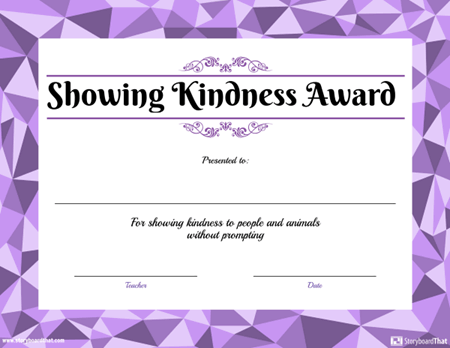 A chore chart: To help your children learn responsibility by giving them household chores, you can use fun visual reminders as to what that chore is, which can help any young non-readers stay on point.


Weekly rewards: If you are trying to reinforce good character in your child, you could draft up an award whenever they go above and beyond usual expectations to help someone else out. The certificate might just say something like "Showing Kindness Award", but your child may feel like they've just been bestowed a great honor when they receive your award.


Create comics with or for your child: The comics can be just for fun for your child, or they can have a social or educational undertone to them. If your child is struggling to fit in at school, you can use the comics to create social scenarios they might encounter at school and proper responses to them. For instance, one of the characters could be cutting in the lunch line and your child can see through your characters how to best handle that situation.


Traditional worksheets for the classroom: Things like alphabet tracing, word-to-picture matching, spot-the-difference, arithmetic exercises, describe the character, and full-on storyboards are just a few examples of what can be achieved in a matter of minutes using Storyboard That.
Tips for Creating Worksheets
If you're new to using Storyboard That, there is a bit of a learning curve attached. When you have a few minutes, take your time to explore the tool's options and settings. If you're the type who would like instructions instead of figuring it out on your own, I highly suggest checking out the useful resources and tutorials on the blog. Here are some quick tips to help you get going.
Start with choosing your layout. They have multiple customizable options, including A4, storyboard grids, poster sizes, and more.


Use the pre-made drag and drop templates. They are a time saver and are easy to use even if you're new to this. Under the "Worksheets" category you have multiple options such as Science, Math, Elementary, Dotted Lines, Grid Layouts and more.





Keep exploring to unlock the full potential of this tool. As your skills advance, you'll be able to do much more than the basics.


For younger children, if you're doing things geared toward them specifically, like a chore chart, consider uploading your own images. That will help each child know right away which of the chore charts is theirs when they see their image on the chart.


For elementary school-aged children, teachers and parents can put together their own worksheets to reinforce subject matter or to teach new concepts.


For upper elementary students, you can use your work as a template and let the kids continue to work on it, without overriding the original. That will let them see what they can do with the site as well and it gives them the opportunity to unlock their creativity without fear of erasing your original template.


Utilize the flexible download options, which allow you to download your storyboard as a high-resolution image, optimized for social media, as an animated GIF, or even a PowerPoint presentation. Knowing how you intend to use your storyboard beforehand gives you the flexibility to export your media in the format that will best fit your setup in the classroom or at home.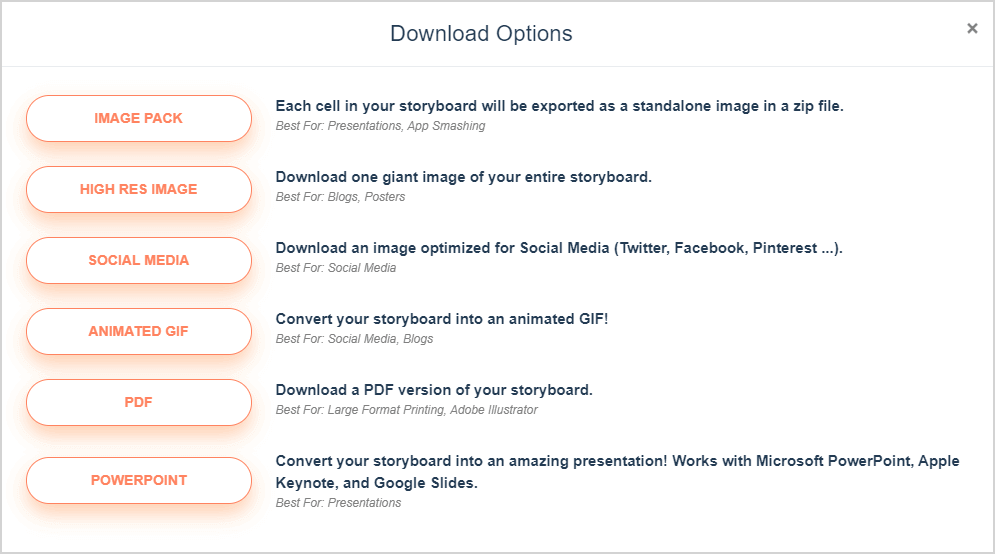 Start Creating!
Examples of Worksheets I Made
As a former ENL (English as a New Language) teacher, I wanted to put Storyboard That to the test and see how easy it would be to create the kind of traditional "printable worksheets" I used to give my elementary-aged school kids.
Example 1: Basic Letter Match
The letter match is a classic activity for young children who are starting to learn the alphabet for the first time. Using Storyboard That I was able to throw together the template by snapping the pre-made grid onto the page, and simply filling in the text boxes. All I needed to do next was insert a dotted line to give an example, and add some instructions. While basic, the entire worksheet took less than 5 minutes to put together from scratch.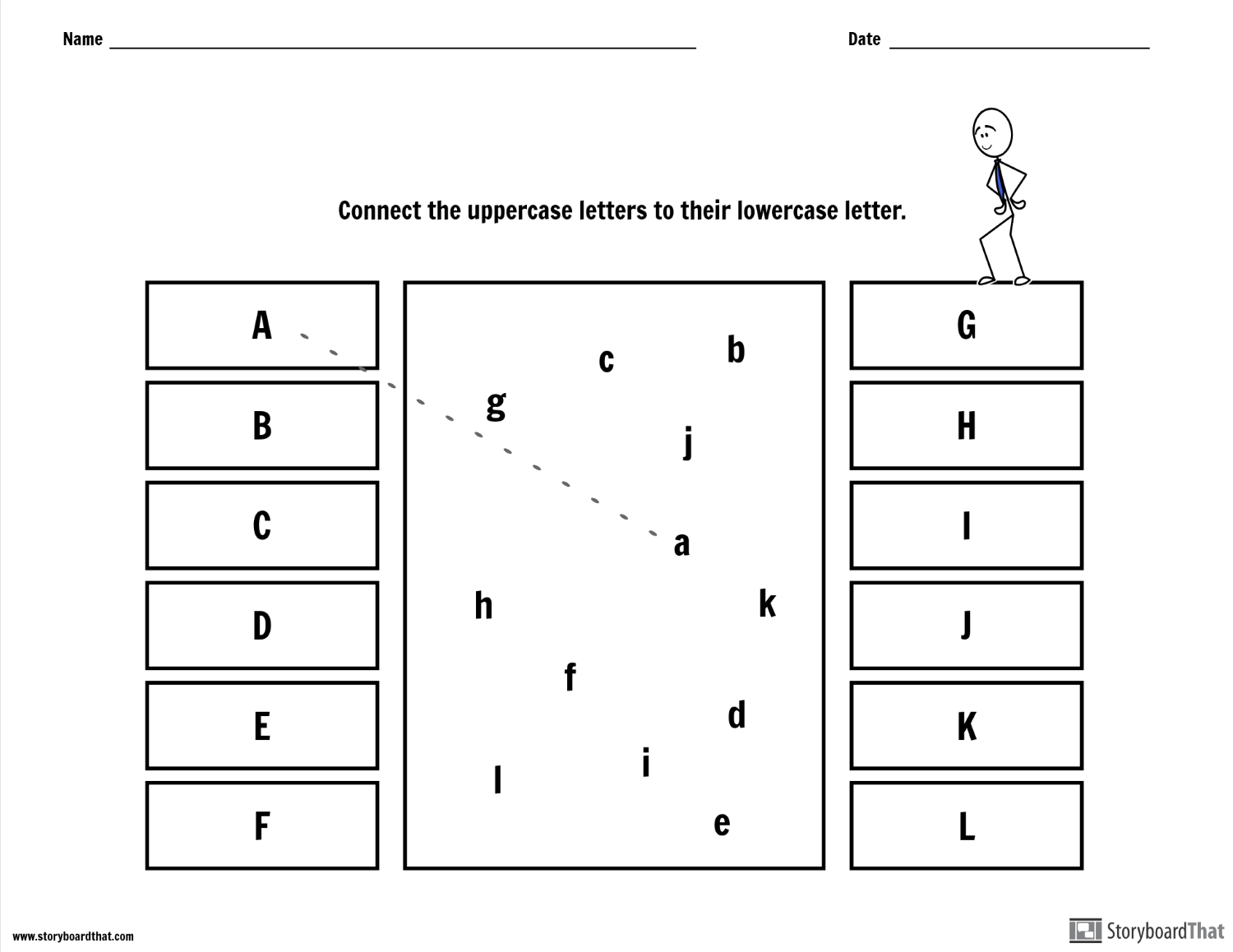 Example 2: Basic Writing Activity
Storyboard That comes with an extensive library of characters that can be fully customized. Using the pre-made grid, and dotted lines, I was able to create a basic writing activity in under 3 minutes by simply dragging and dropping the elements onto the page and choosing the characters I wanted to use.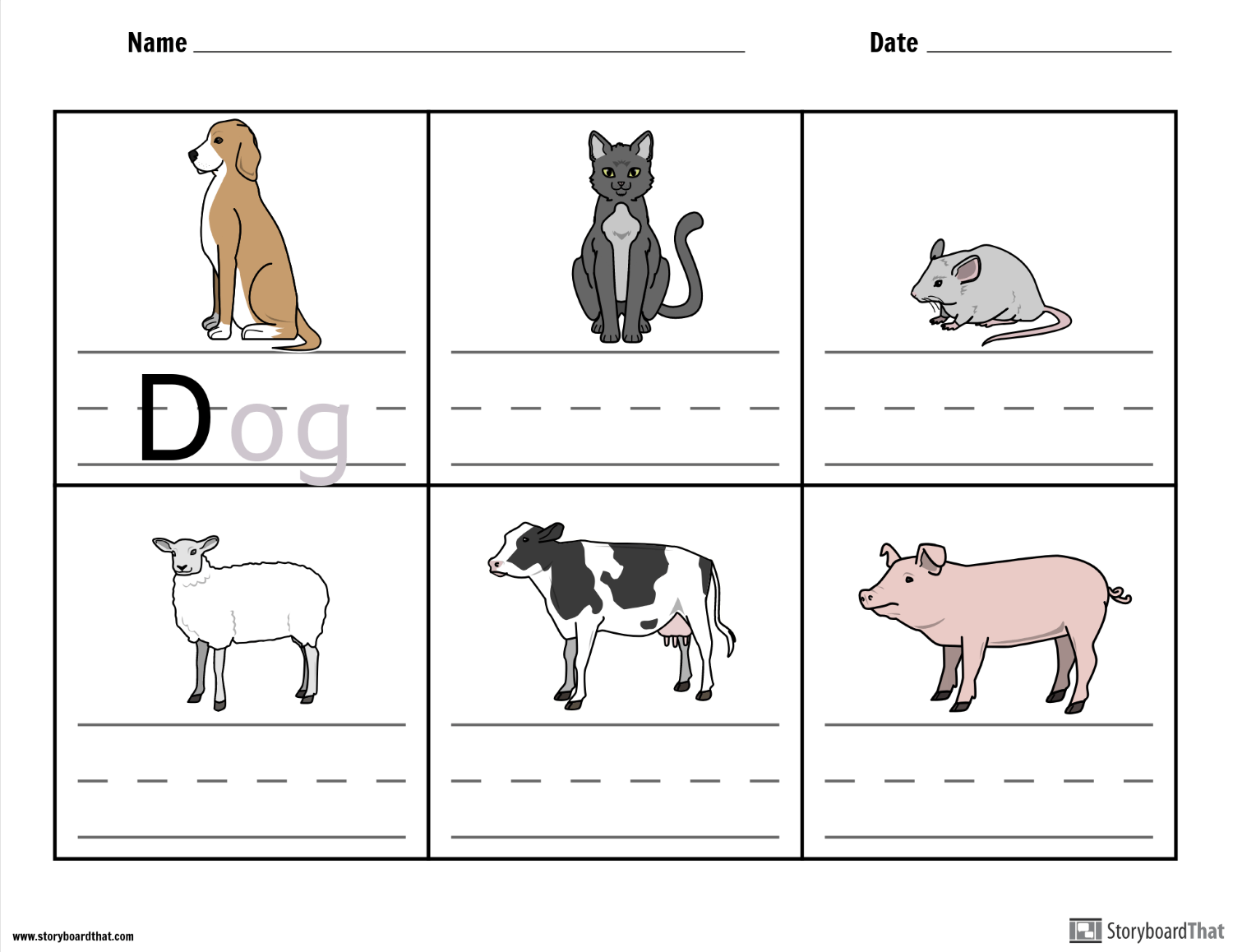 Example 3: Getting Started with Storyboards
While Storyboard That is an excellent time-saver for creating traditional worksheets like the examples I showed above, the tool truly excels in its ability to help you create complex and unique storyboards together with minimal effort.
Using the pre-made storyboard art, you are able to customize the backgrounds with a beautiful array of scene options ranging from outdoors, to school, historical places, and more.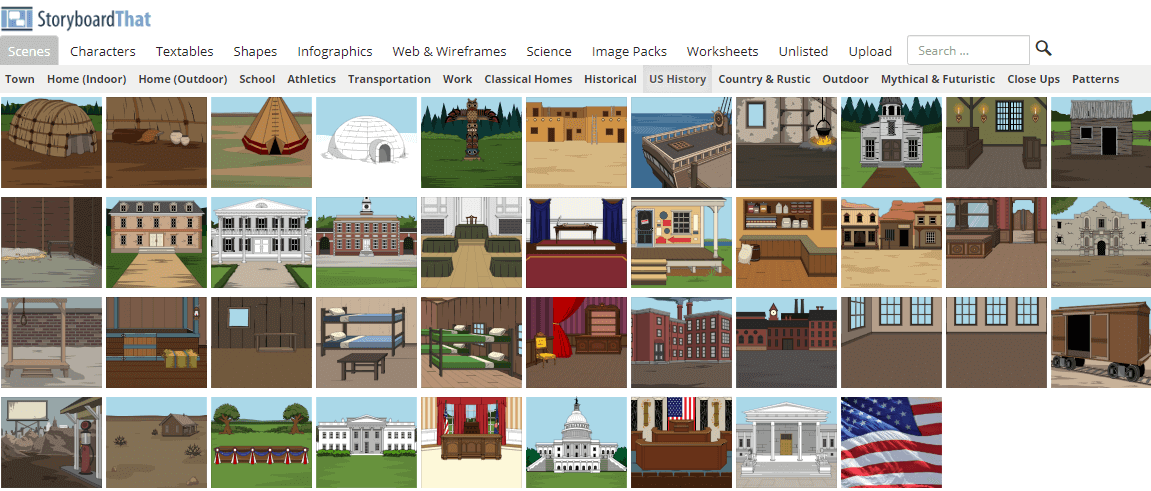 Once you've selected your scene(s), it's time to drop the characters in. There's an ample library of characters to choose from, for which every last detail can be adjusted including the facial expressions and the pose of the characters, giving infinite possibilities and allowing the imagination to run wild.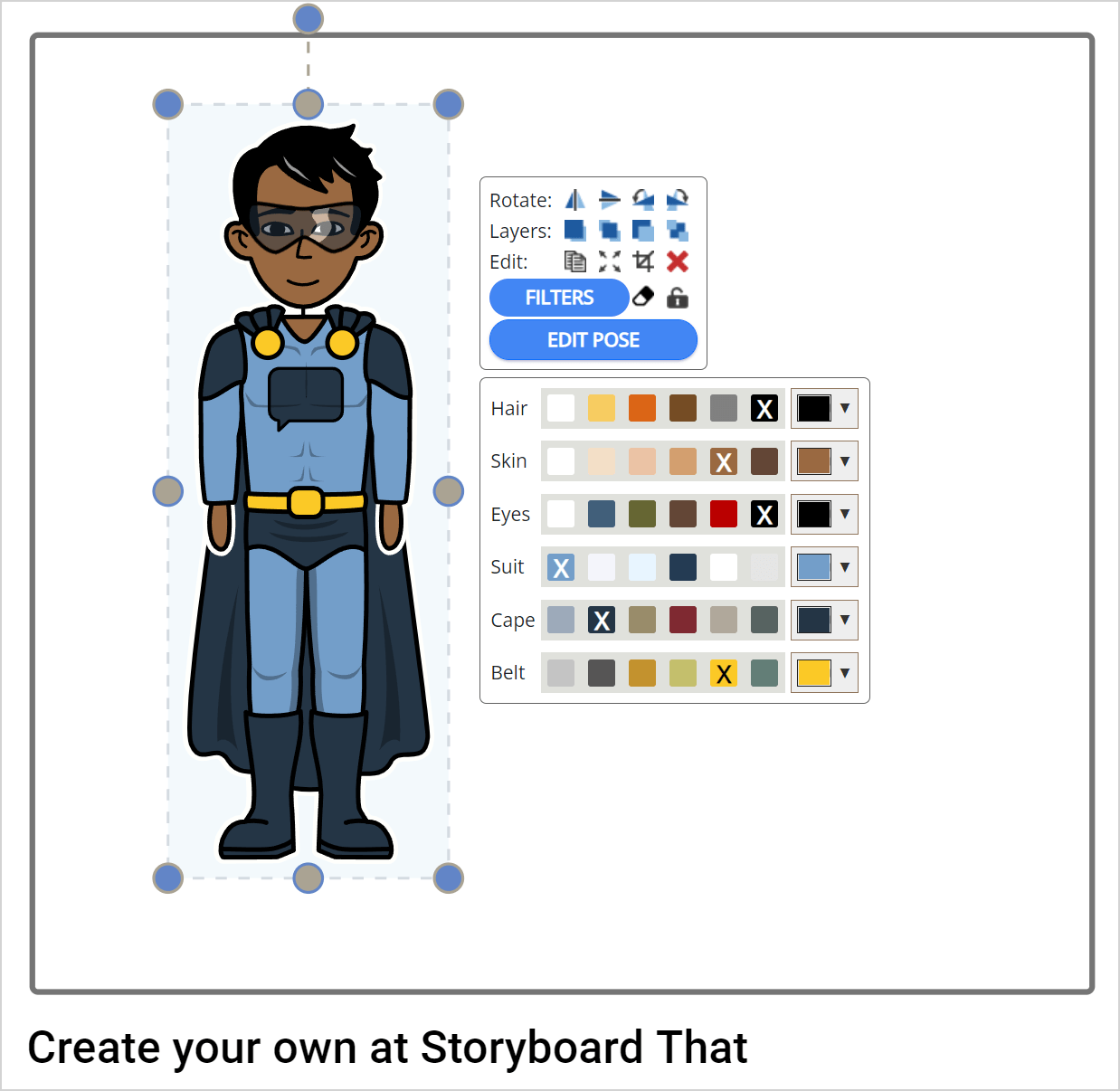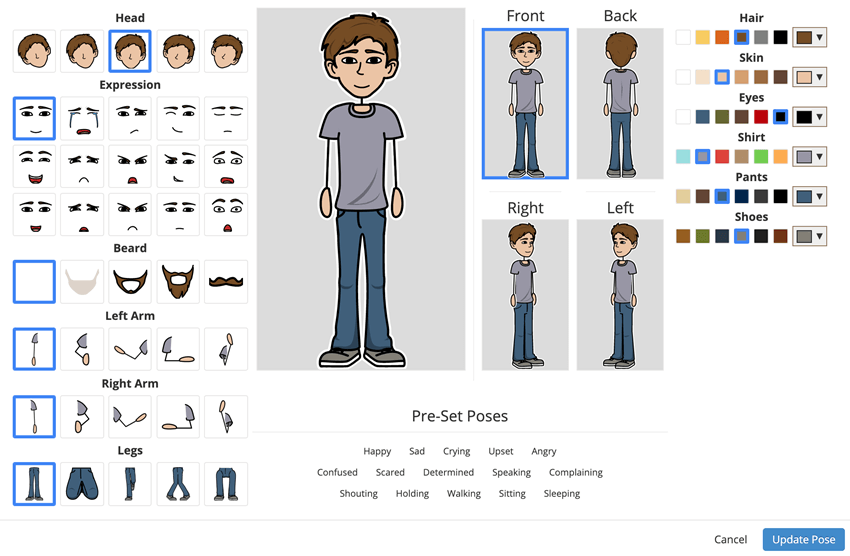 The only thing left to do now is to add some speech bubbles, and download, print, or invite your students to work on the template. It's really that simple to create visually stunning and educational storyboards to help your kids practice their creative writing and reading skills.

If you would like to learn more about some of the amazing things you can do with Storyboard That, I recommend checking out these guides next:
Start My Teacher Trial
---
About the Author
Jenny Silverstone is the mother of two beautiful kids, an author at Study clerk, and an editor for the popular parenting blog Mom Loves Best. Jenny is passionate about sharing tips to help encourage reading, creativity, and self-expression among children. As an ENL teacher in her younger years, Jenny understands first-hand the power of being able to quickly put together educational and fun resources and worksheets.
Related Activities
How To Use Worksheets For Skill Practice: Discover Methods For Using Worksheets As Targeted Practice Tools To Reinforce And Strengthen Specific Skills, Such As Math Calculations, Grammar Rules, Or Vocabulary Acquisition.
1
Identify the Target Skill
Determine the specific skill you want students to practice and reinforce using worksheets. This could be math calculations, grammar rules, vocabulary acquisition, or any other skill relevant to the subject.
2
Select Appropriate Worksheets
Choose worksheets that align with the targeted skill and provide appropriate practice exercises. Ensure the worksheets are at an appropriate difficulty level for your students, offering a range of exercises to cater to different learning needs.
3
Provide Clear Instructions
Clearly explain the purpose of the worksheet and the specific instructions for completing each exercise. Break down complex tasks into manageable steps and provide examples or models to guide students' understanding.
4
Scaffold the Practice
Introduce the skill gradually and scaffold the practice by starting with easier exercises and gradually progressing to more challenging ones. This allows students to build their confidence and competence as they advance through the worksheet.
5
Encourage Self-Assessment and Reflection
Prompt students to review and assess their own work upon completing each exercise. Provide opportunities for reflection, self-correction, and identification of areas that require further practice or improvement.
6
Provide Feedback and Reinforcement
Offer timely and constructive feedback on students' completed worksheets. Highlight correct answers, address misconceptions, and provide explanations or additional examples as needed. Reinforce learning by discussing common mistakes or challenges and guiding students towards the correct approach.
Frequently Asked Questions about Homeschool - Create Worksheets
How can Storyboard That help in creating worksheets for kids?
Storyboard That provides templates, text bubbles, and customizable options to create media-rich and visually appealing educational worksheets for kids of all ages.
What are some worksheet ideas I can create with Storyboard That?
You can create chore charts, weekly rewards, comics, and traditional worksheets such as alphabet tracing, word-to-picture matching, spot-the-difference, and arithmetic exercises.
Any tips for using Storyboard That to create worksheets?
Start by exploring the tool's options and pre-made templates. Customize layouts, consider uploading your own images, and use the flexible download options to export your worksheets in various formats.