Take a look at the "script" below, and then compare it to the storyboard of the same information. For the best view, check out the slide show!
BEACH - LATE MORNING
STELLA walks along the beach and finds a spot.
STELLA
It is such a beautiful day!
BEACH - LATE MORNING
Stella lies on the sand and starts to read. Children play nearby.
MUSIC: Relaxing melody
BEACH - AFTERNOON - CLOSER
Cut to Stella asleep on the beach.
MUSIC: Relaxing melody, volume swells.
BEACH - SUNSET
Stella wakes up feeling groggy. She sits up and rubs her head.
MUSIC: Cymbals crash and music stops.
CLOSE-UP ON STELLA
Stella jumps when she sees the sun setting.

STELLA
Oh no! How could I fall asleep?
PAN OUT
Stella scrambles to gather her things to leave. Sun starts to disappear behind horizon.

STELLA
I can't believe this! I was supposed to meet Mags three hours ago! I am in for it now!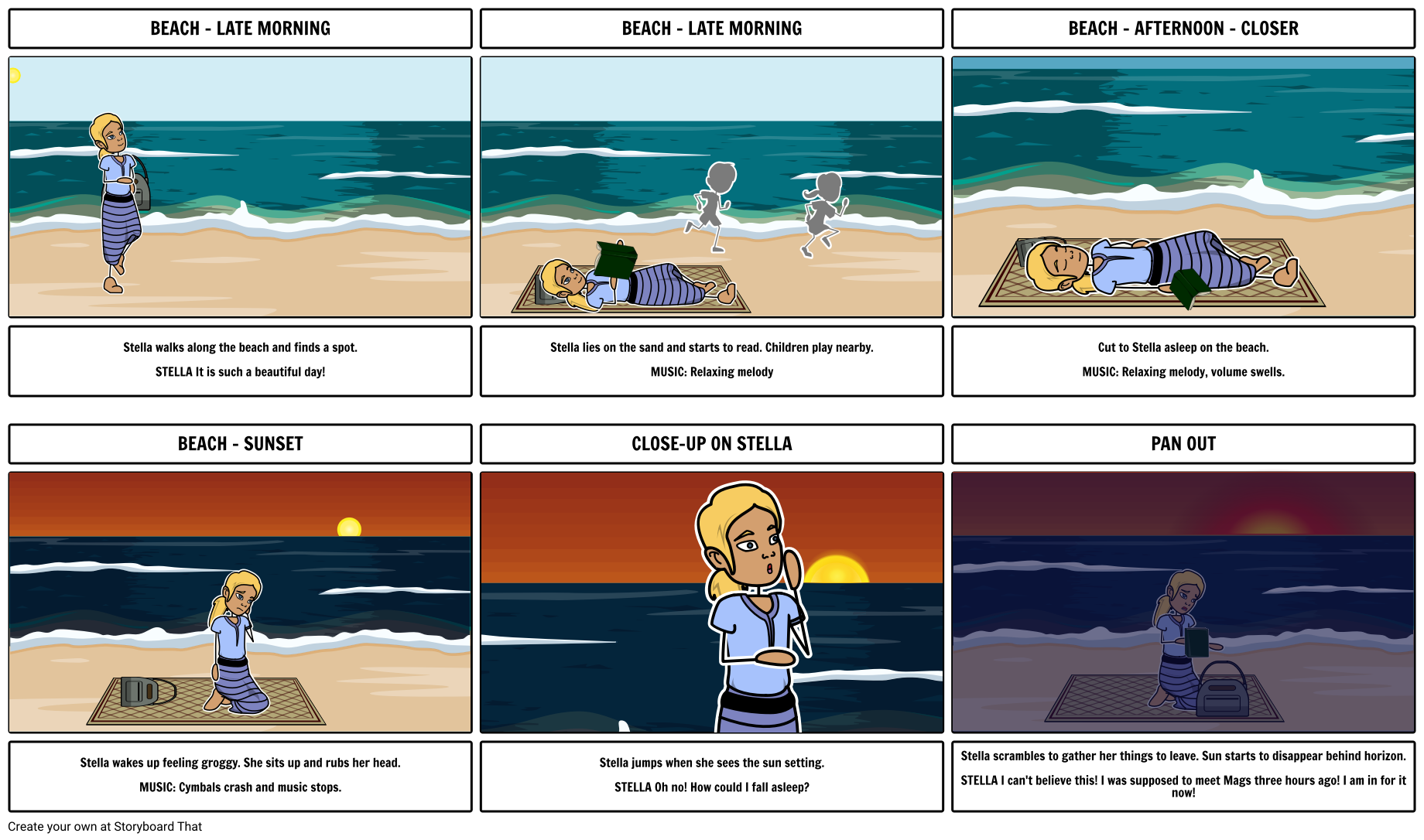 ---
For more ideas on how to use storyboards in your classroom, look through some of our lesson plans for activities, template storyboards, and more!
---
Applications for Special Education
Storyboard That is a fun tool for everyone in the classroom, but may be particularly useful for students on IEPs and 504 plans. Graphic organizers serve as a way to structure or guide a student's thinking.
Storyboard That allows the creators to incorporate pictures, colors, and text into their graphic organizers; not all students have stellar handwriting or drawing abilities. Incorporating a storyboard-style format into digital storytelling allows handwriting abilities and drawing talents to become irrelevant. All students end up with a graphic organizer they can look back on later and still be able to understand it.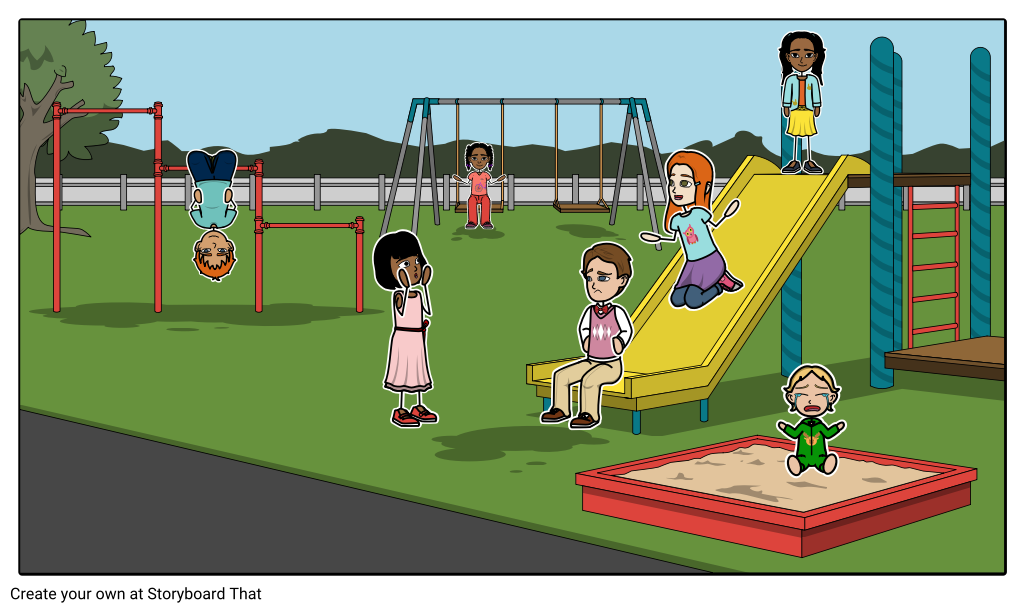 Educators can use Storyboard That to create their own customized digital assignments, print-outs, or posters. Here are a few additional ideas on when to use a storyboard for special education:
Create visual vocabulary boards
Use Storyboard That instead of a pencil and paper assignment
Brainstorm on a topic
Take notes
Plan a piece of writing
Modify research assignments to record information on a topic
Create a board for options (games, rewards, communication needs)
For more ideas on integrating storyboards in special education, please see our other articles related to special education.
Related Activities
---
Please note that the 16:9 Layout is one of the premium features.
Frequently Asked Questions about 16:9 Layout in Storyboards
Are there any disadvantages to using the 16:9 aspect ratio in storyboards?
One potential disadvantage of using the 16:9 aspect ratio in storyboards is that it may not be compatible with older devices that use a different aspect ratio. Additionally, some visual information may be lost when adapting the storyboard to a smaller size, such as on a mobile device. However, in most cases, the benefits of using the 16:9 aspect ratio outweigh these potential drawbacks.
Can I use the 16:9 aspect ratio in other types of visual aids, such as worksheets or presentations?
Yes, the 16:9 aspect ratio can be used in a variety of visual aids, including worksheets, presentations, and infographics. However, it is important to consider the specific needs and limitations of each medium when designing your visual aids. For example, a presentation may require larger text and more images than a worksheet, which may be more text-heavy.
How can I ensure that my visual aids are accessible to all students, regardless of their abilities?
To ensure that your visual aids are accessible to all students, consider using alt text to describe images and providing transcripts or captions for any audio or video content. Additionally, use a clear, legible font and high-contrast colors to improve visibility for students with visual impairments. You may also consider using assistive technologies like screen readers or text-to-speech software to help students who have difficulty reading.
Find more storyboard activities like these in our
Special Education
Category!
*(This Will Start a 2-Week Free Trial - No Credit Card Needed)
https://www.storyboardthat.com/articles/e/16x9-storyboard-examples
© 2023 - Clever Prototypes, LLC - All rights reserved.
StoryboardThat is a trademark of Clever Prototypes, LLC, and Registered in U.S. Patent and Trademark Office