Description Box
The description box is really helpful for describing what happens in the shot, noting audio (dialogue, music, sound effects) and specific camera directions.
Example:
Action: Clark walks up towards the house as the door opens, revealing Adele in her fancy dress.


Audio: Crickets in the background, the sound of passing cars


Camera: Follows behind Clark, but then focuses on Adele.
Take a look at the "script" below, and then compare it to the storyboard of the same information. For the best view, check out the slide show!
BEACH - LATE MORNING
STELLA walks along the beach and finds a spot.
STELLA
It is such a beautiful day!
BEACH - LATE MORNING
Stella lies on the sand and starts to read. Children play nearby.
MUSIC: Relaxing melody
BEACH - AFTERNOON - CLOSER
Cut to Stella asleep on the beach.
MUSIC: Relaxing melody, volume swells.
BEACH - SUNSET
Stella wakes up feeling groggy. She sits up and rubs her head.
MUSIC: Cymbals crash and music stops.
CLOSE-UP ON STELLA
Stella jumps when she sees the sun setting.

STELLA
Oh no! How could I fall asleep?
PAN OUT
Stella scrambles to gather her things to leave. Sun starts to disappear behind horizon.

STELLA
I can't believe this! I was supposed to meet Mags three hours ago! I am in for it now!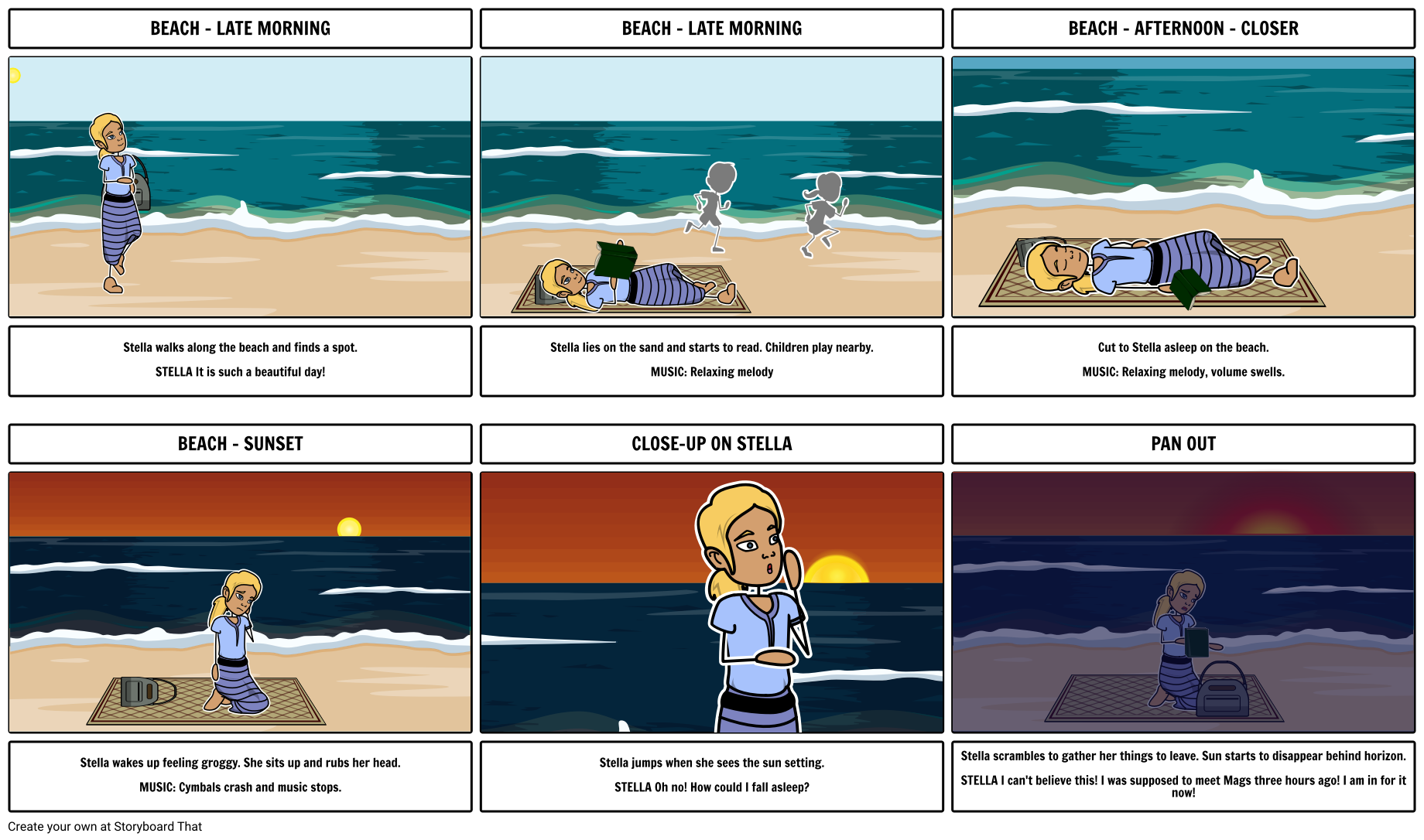 ---
For more ideas on how to use storyboards in your classroom, look through some of our lesson plans for activities, template storyboards, and more!
---
Applications for Special Education
Storyboard That is a fun tool for everyone in the classroom, but may be particularly useful for students on IEPs and 504 plans. Graphic organizers serve as a way to structure or guide a student's thinking.
Storyboard That allows the creators to incorporate pictures, colors, and text into their graphic organizers; not all students have stellar handwriting or drawing abilities. Incorporating a storyboard-style format into digital storytelling allows handwriting abilities and drawing talents to become irrelevant. All students end up with a graphic organizer they can look back on later and still be able to understand it.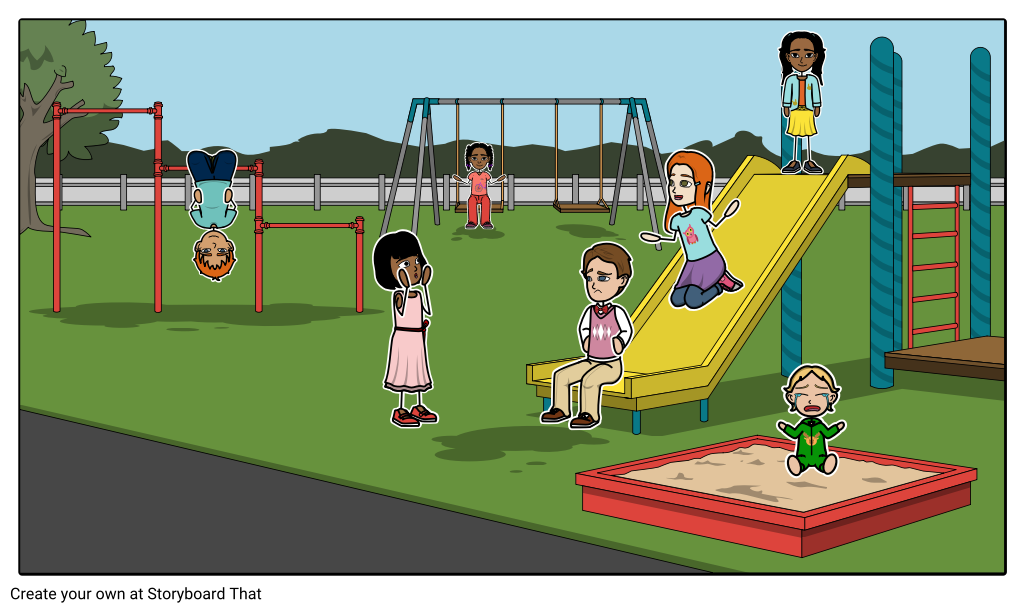 Educators can use Storyboard That to create their own customized digital assignments, print-outs, or posters. Here are a few additional ideas on when to use a storyboard for special education:
Create visual vocabulary boards
Use Storyboard That instead of a pencil and paper assignment
Brainstorm on a topic
Take notes
Plan a piece of writing
Modify research assignments to record information on a topic
Create a board for options (games, rewards, communication needs)
For more ideas on integrating storyboards in special education, please see our other articles related to special education.
---
Please note that the 16:9 Layout is one of the premium features.
Find more storyboard activities like these in our
Special Education
Category!
*(This Will Start a 2-Week Free Trial - No Credit Card Needed)
https://www.storyboardthat.com/articles/e/16x9-storyboard-examples
© 2022 - Clever Prototypes, LLC - All rights reserved.