Why Teach World Religion?
Teaching about various world religions is a vital component to the study of world history, geography, and culture. Many educators avoid teaching religions for fear of inadvertently offending someone, misrepresenting a religion, or to avoid the appearance of promoting one set of religious beliefs over another, which would be inappropriate in a secular education. However, when taught in a respectful, unbiased, and academic manner, the study of religion is a powerful way for students to learn more about world history and the belief systems that have influenced human culture for millennia.
It is estimated that 85% of the world's population practice some form of religious tradition. Students should learn why people around the globe practice various religions, why it matters to them, and what celebrations, festivals, and types of worship are embedded in their culture. Religions have impacted every aspect of human history from philosophical ideas, art, music, architecture, societal and family traditions, to politics and law. Therefore, studying different types of religions can help students understand the beliefs and motivations of people around the globe, breaking down stereotypes and leading to increased cultural awareness.
One important reason to dismantle religious-based stereotypes through education is to combat bigotry and hate directed at people of different religious beliefs. In 2020, the United States saw its highest level of hate crimes in more than a decade, most of which were motivated by race or religion. There have been an increase in hate crimes targeting our Jewish, Muslim, and Sikh neighbors. Sadly, many of these incidents are found in schools. Another important reason to include the study of different religions is to ensure that all of our students of various cultures and religious backgrounds feel safe, seen, respected, and included. Learning about different religions is helpful for students to understand the beautiful diversity as well as the many commonalities that exist. We have a duty to educate our students to encourage understanding, respect, and tolerance to create a more peaceful world for all.

We have six lesson plans that focus on the six largest world religions: Christianity, Islam, Hinduism, Buddhism, Sikhism, and Judaism. These lesson plans include activities on the main facts about each religion, vocabulary, popular holidays as well as a literature connection and biography research project to help students further connect with history and their education. They can also serve as inspiration to teach about other religions if there is room in the curriculum.
Basic Information
The lesson on the main facts about each religion include its place and date of origins, founders, holy book, items or sacred objects, main beliefs or tenets, houses of worship, religious leaders, and population. This is an effective way for students to record the main ideas about each religion using imagery and descriptions. It is especially helpful for students to reference later, when they are analyzing the similarities and differences between each religion.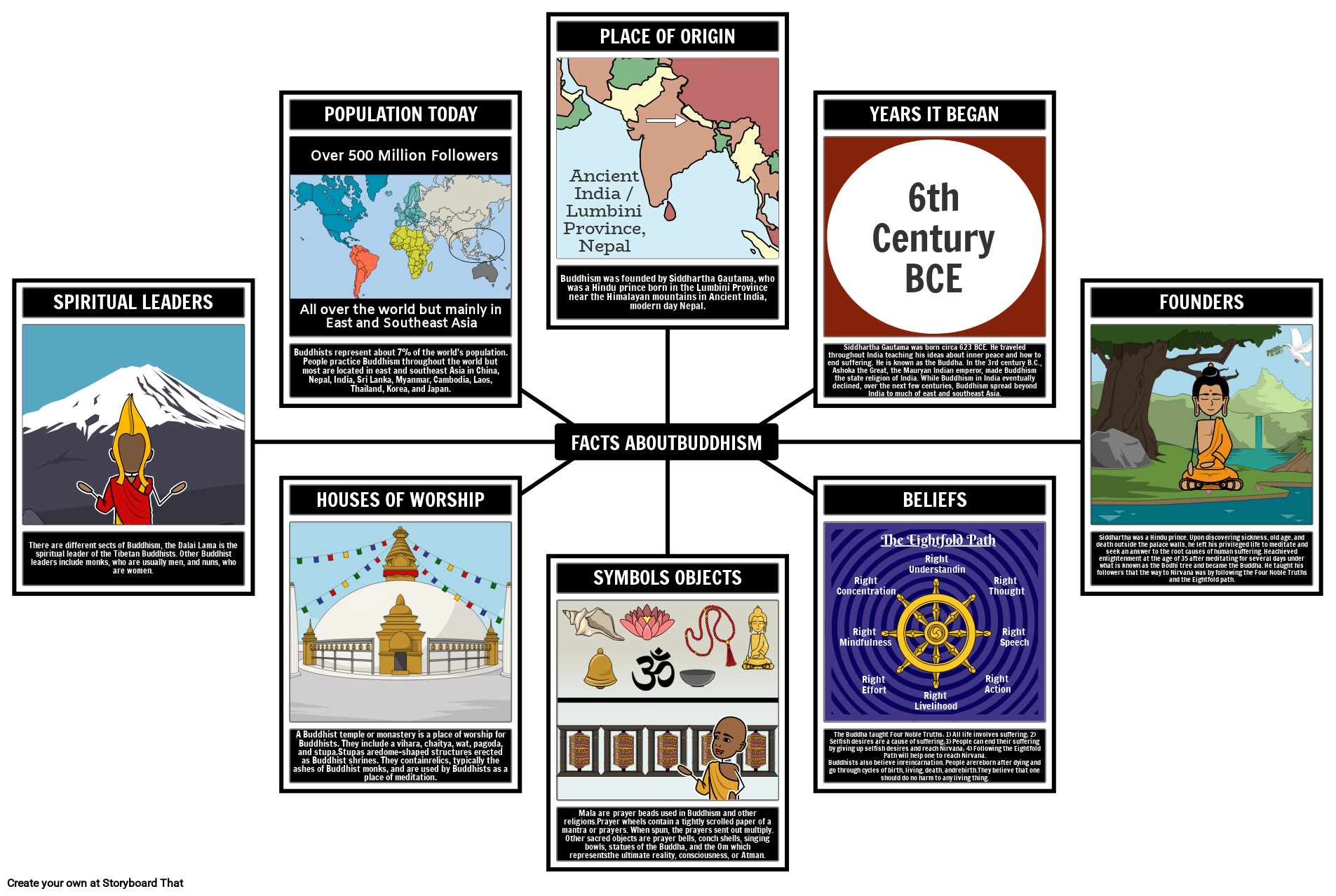 Holidays and Festivals
Holidays and festivals play an important role in religious traditions. They often are based on seasons, historical events, myths, and important people within the belief system, and they can impact the cultures in which a religion is practiced, especially if it is the main religion in a region. After researching the main holidays celebrated within a particular religion, students can record their findings in a spider map.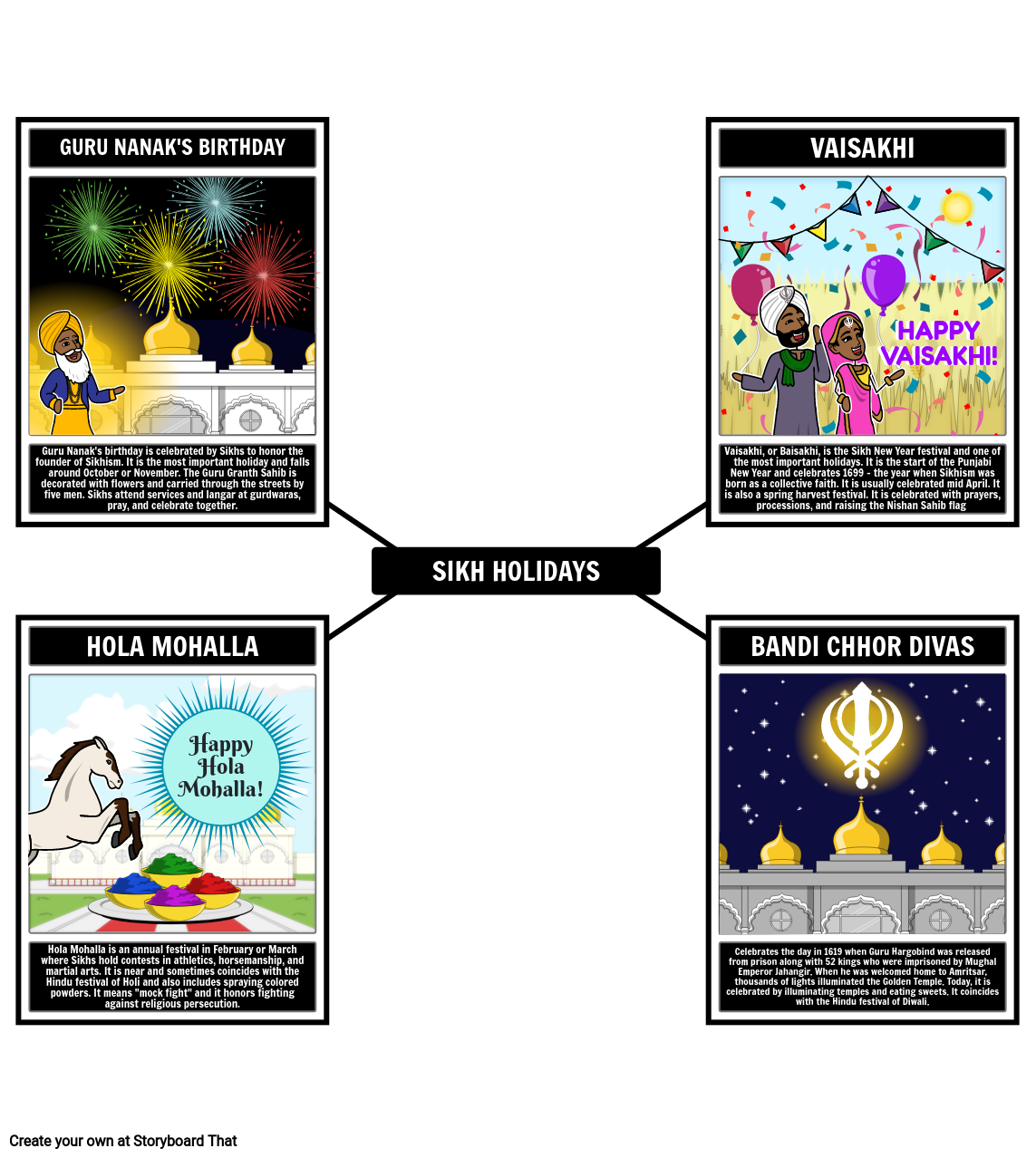 Religious Vocabulary
When delving into history, new places, and cultures, previewing vocabulary is a helpful way to increase student understanding. Some terms may be similar across regions and religions, while others are specific to each practice. As students become familiar with the vocabulary related to the religion they are studying, they can record important terms in a spider map, which allows them to also visualize the word for better retention. These can also be printed out as flashcards or hung on the wall as part of a word wall.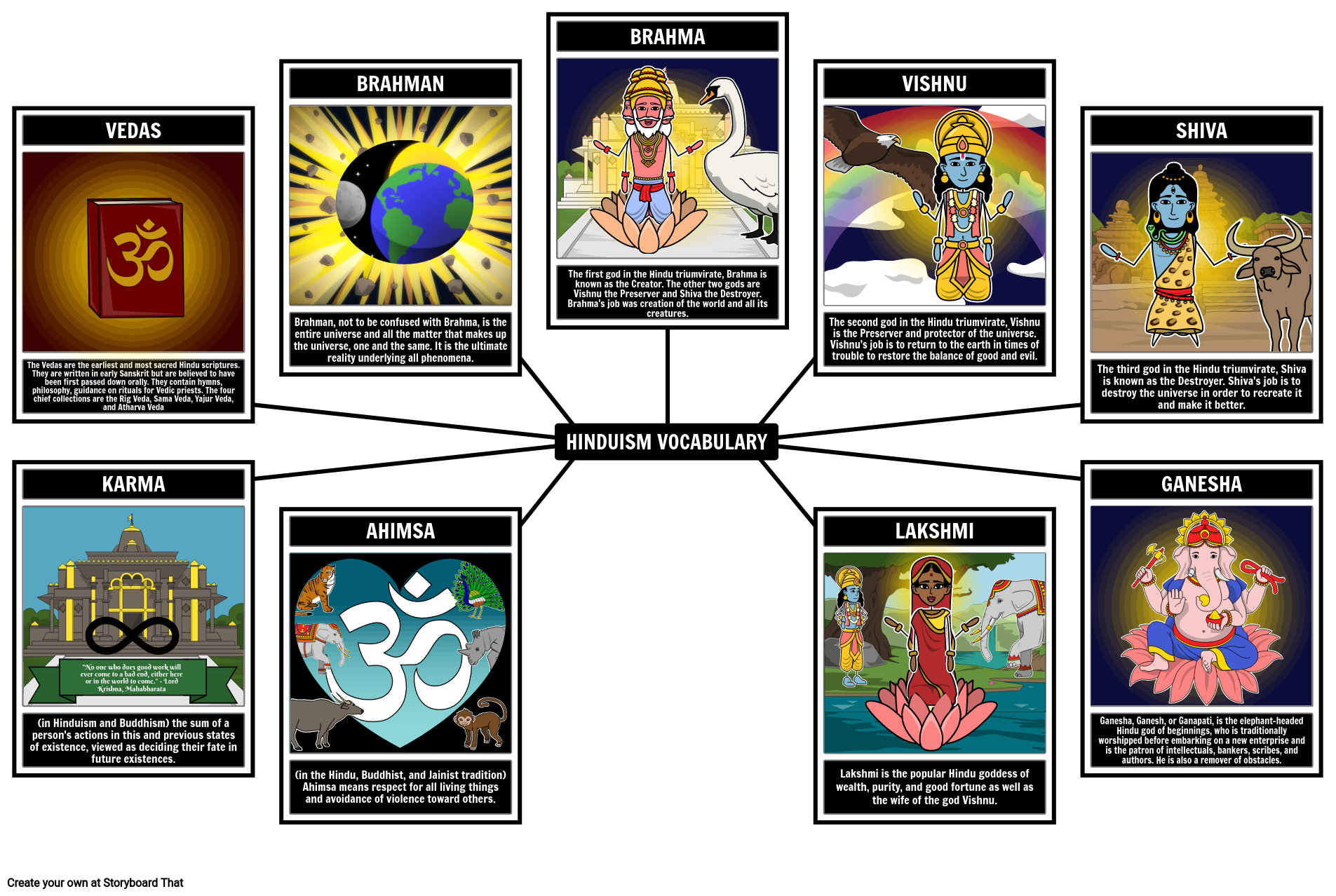 Making Literature Connections
Using read alouds and literature is a powerful way for students to become familiar with the central stories of a particular faith and to gain a deeper understanding of its founders and followers. Additionally, exposing students to literature about people who are different from them can also foster empathy and understanding. Students are better able to connect to a diverse group of people. Using a narrative storyboard, students can create a graphic novel that illustrates and describes the major events of the story in sequential order. It allows them to make connections between subjects as well, combining literature with history. Stories can be pulled from religious texts, biographies, picture books, and folktales from the region the religion is from.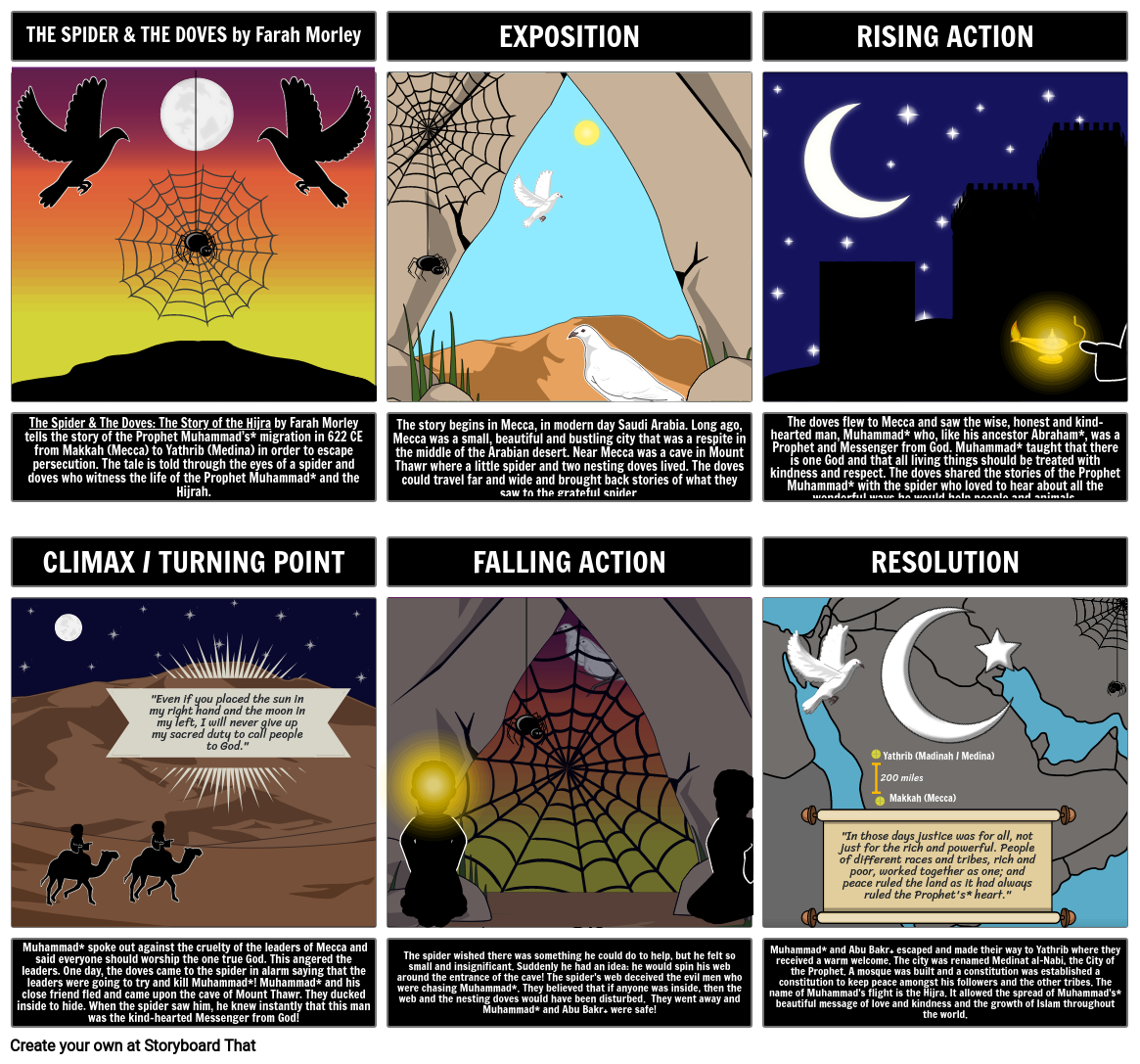 Creating Biographies
Biographies are an essential part of any history or social studies unit. Researching real people from a religious tradition helps students gain greater insight that goes beyond simply memorizing dates and names and allows them to acquire a more substantial view of a particular religion and its followers. Students can research and create a biography poster that can be presented to the class. A biography can also cover a wide range of figures. Students can choose or be assigned to research people from a religious text, historical figures, and even modern day practitioners who have influenced the faith.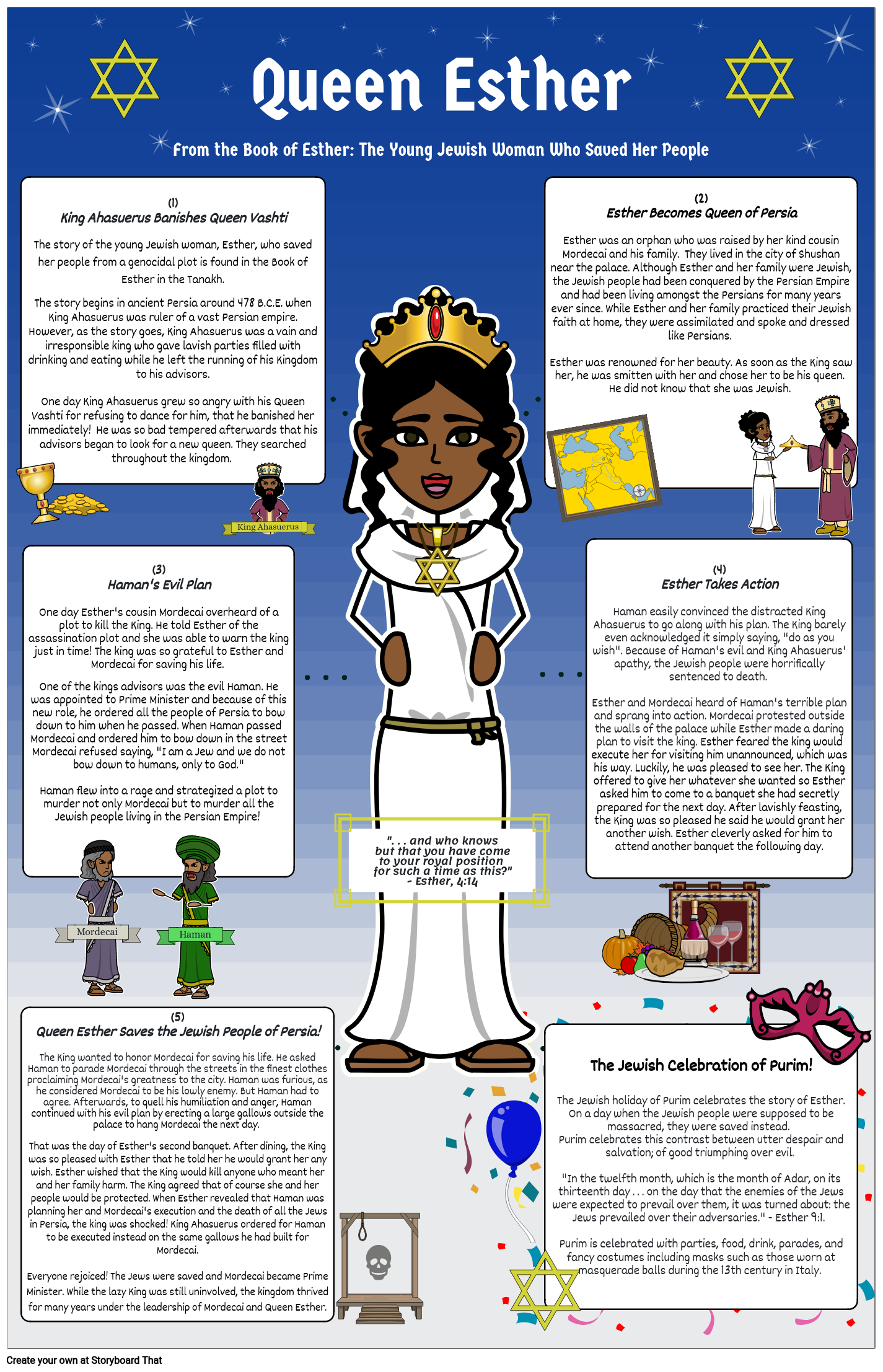 Comparing and Contrasting
After students have studied about the various major world religions such as Christianity, Islam, Hinduism, Buddhism, Judaism, and Sikhism, they can create a compare and contrast chart that highlights their diversity and commonalities. This can be an effective way for students to track what they learn throughout a unit, or, it could be used as a final assessment. This following example uses text and illustrations to highlight when each religion originated, where their followers are located around the world, how many followers each religion has today and what some important imagery and beliefs are related to each. Students can even get more granular, and compare and contrast only two or three religions using a poster. This type of assignment may require more research, and can be a helpful base for a larger report.
World Religion Lesson Plans
By teaching world religion in conjunction with history and social studies, students are able to gain a better understanding of the history and region they are studying. It also allows them to become greater and more compassionate world citizens and engage with a diverse array of cultures and people. For focused lesson plans, check out the following resources!