What is a Graphic Organizer?
A graphic organizer is a tool or framework that allows you to collect, relate, and/or present information visually. They can take many forms, and include favorites such as the Venn diagram, story webs, and concept maps. Information presented in an easy-to-read format can enhance thinking, spark new ideas, and maintain focus on the topic or task at hand. A graphic organizer is intended to provide structure to ideas or concepts, making it easy to collect or add information. Once completed, it serves as a presentation or study model.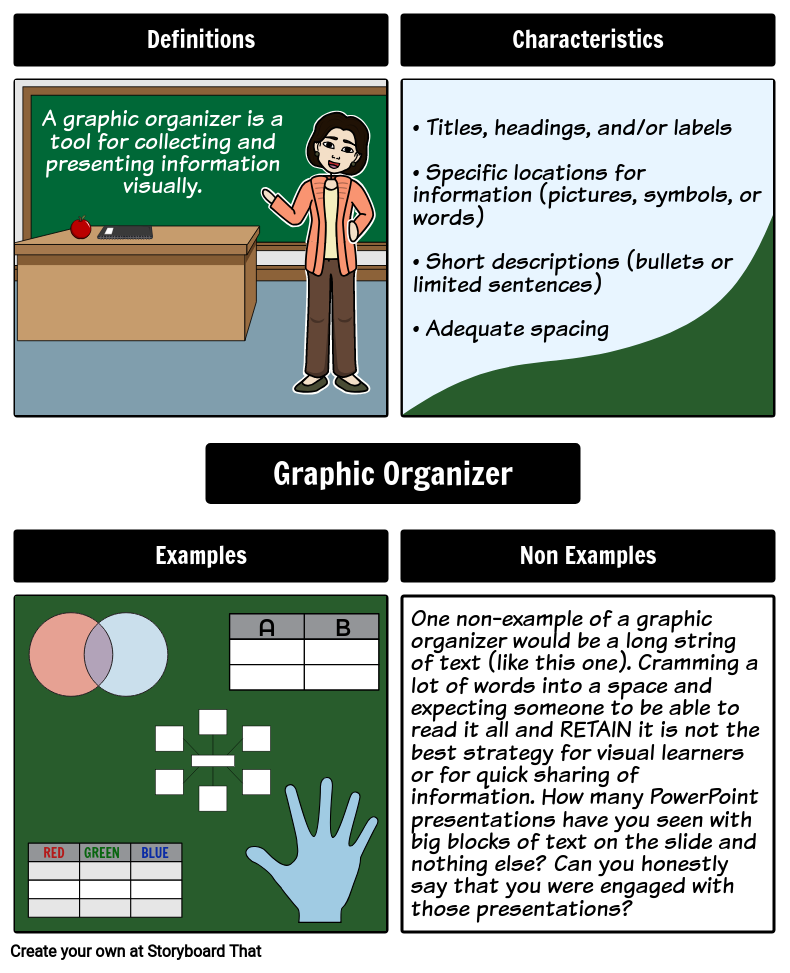 Types of Graphic Organizers on Storyboard That
Storyboard That has designed versatile layouts for you to use for creating amazing storyboards and comic strips. Make your graphic organizer template custom for your lesson, by adding guidelines for your students and even the amount of cells you want them to use!!
Take a look at the graphic organizer layouts Storyboard That offers!
Changing your storyboard layout within the Storyboard Creator is simple:
Click on "Storyboard Layout" at the bottom of the Storyboard Creator. A pop-up window will appear.
Click on the image of your desired layout.
The pop-up window will automatically close after you have made a selection.
Storyboard That Layouts
Layout
Image
Best For
Not Ideal For
Traditional

Presenting Information without a Hierarchy

T-Chart

Grid

Frayer Model

Examples of a Central Topic

Linear Narratives
Sequencing

Spider Map

Examples of a Central Topic

Linear Narratives
Changes Over Time

Timeline

Examples of a Central Topic
Character Map

16x9

Narratives with Greater Detail

Presenting Information without a hierarchy

Cycle

Chart

Worksheet

Poster

Large Scale Diagrams
Presentations
Wall Decorations
---
There are many ways to use Storyboard That's various layouts beyond just making a graphic organizer template! Check out our other graphic organizer articles for more in-depth information and ideas.
Find more storyboard activities like these in our
Special Education
Category!
*(This Will Start a 2-Week Free Trial - No Credit Card Needed)