What is a Graphic Organizer?
A graphic organizer is a tool or framework that allows you to collect, relate, and/or present information visually. They can take many forms, and include favorites such as the Venn diagram, story webs, and concept maps. Information presented in an easy-to-read format can enhance thinking, spark new ideas, and maintain focus on the topic or task at hand. A graphic organizer is intended to provide structure to ideas or concepts, making it easy to collect or add information. Once completed, it serves as a presentation or study model.
Types of Graphic Organizers on Storyboard That
Storyboard That has designed versatile layouts for you to use for creating amazing storyboards and comic strips. Make your graphic organizer template custom for your lesson, by adding guidelines for your students and even the amount of cells you want them to use!!
Take a look at the graphic organizer layouts Storyboard That offers!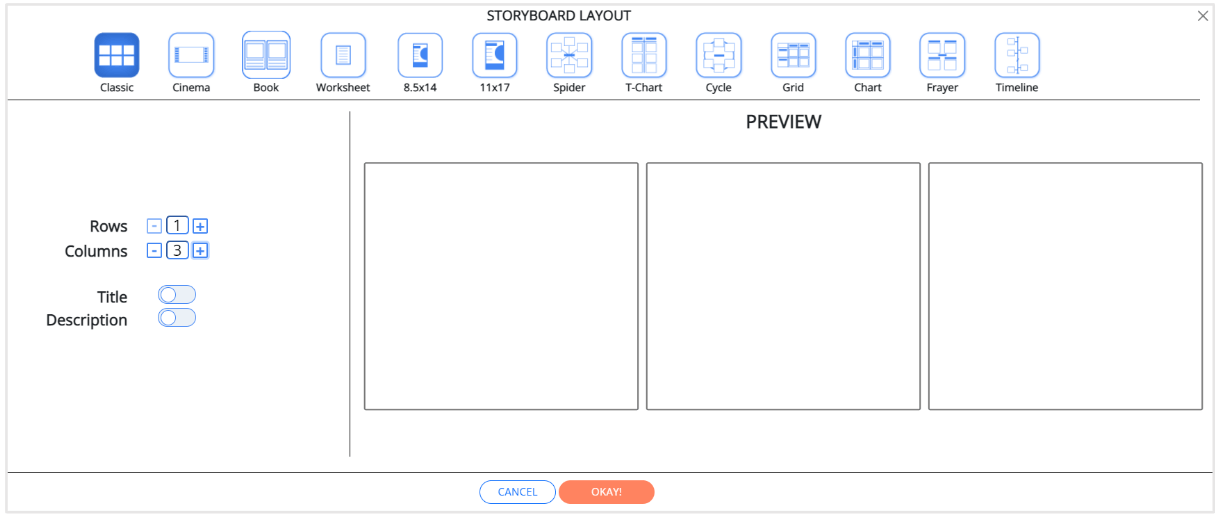 Changing your storyboard layout within the Storyboard Creator is simple:
Click on "Storyboard Layout" at the bottom of the Storyboard Creator. A pop-up window will appear.
Click on the image of your desired layout.
The pop-up window will automatically close after you have made a selection.
Storyboard That Layouts
Layout
Image
Best For
Not Ideal For
Traditional

Presenting Information without a Hierarchy

T-Chart

Grid

Frayer Model

Examples of a Central Topic

Linear Narratives
Sequencing

Spider Map

Examples of a Central Topic

Linear Narratives
Changes Over Time

Timeline

Examples of a Central Topic
Character Map

16x9

Narratives with Greater Detail

Presenting Information without a hierarchy

Cycle

Chart

Worksheet

Poster

Large Scale Diagrams
Presentations
Wall Decorations
---
There are many ways to use Storyboard That's various layouts beyond just making a graphic organizer template! Check out our other graphic organizer articles for more in-depth information and ideas.
Related Activities
Check out these graphic organizer examples from our guides on Life Cycle of a Star, Ancient Greece, and Canadian History.
Why Use Storyboard That?
Storyboard That is the perfect tool for novel lesson plans and activities because it's so easy to use and extremely versatile. With Storyboard That, you can create a wide variety of storyboards such as the story from the main character's perspective, or any other character's point of view.
You can also use Storyboard That to create a summary of the book, a movie poster, or analyze themes and events. Plus, our printable worksheets make it easy to take the fun offline.
Why is Storyboarding a Great Method of Teaching?
Storyboarding is an incredibly powerful tool for educators because it helps students process and understand the information in a deep, meaningful way. When students storyboard, they are actively engaged in the learning process and can make connections between the text and their own lives.
Storyboards also promote higher-level thinking by encouraging students to synthesize information and think critically about what they have read. Finally, storyboards are a great way to assess student understanding because they provide a visual representation of student learning.
How to Choose a Graphic Organizer for Group Work in a Collaborative Classroom Activity
1
Determine the Learning Objective
The first step in choosing a graphic organizer is to identify the learning objective for the collaborative activity. What do you want your students to achieve by working together, and what kind of graphic organizer will best support this goal?
2
Consider Group Dynamics
Think about the size and composition of the groups, as well as the students' individual strengths and weaknesses. For example, if some students are visual learners and others are more verbal, you might choose a graphic organizer that incorporates both text and images.
3
Choose a Format
Based on the learning objective and group dynamics, select a format for the graphic organizer. There are many different types of graphic organizers to choose from, including mind maps, Venn diagrams, flow charts, and concept maps.
4
Plan the Activity
Once you have selected a graphic organizer format, plan the group activity and how the graphic organizer will be used. Will each group work on a single graphic organizer or will they combine their ideas into a larger one? Will they present their work to the class or discuss their findings within their group?
5
Provide Guidance and Support
Be sure to provide your students with clear instructions on how to use the graphic organizer and how it relates to the learning objective. Offer guidance and support as needed to ensure that all students understand the purpose of the activity and how to use the graphic organizer effectively.
6
Evaluate the Results
After the activity is complete, evaluate the results to determine whether the graphic organizer was effective in achieving the learning objective. Did the students work well together? Did they understand how to use the graphic organizer? Did they achieve the learning objective? Use this evaluation to refine your approach to using graphic organizers in future group work activities.
Frequently Asked Questions about Types of Graphic Organizers
What are graphic organizers?
Graphic organizers are a type of visual tool that can help individuals organize, process, and understand the information in a more effective way. They typically use diagrams, charts, or other visual elements to represent relationships, concepts, or ideas, which can make complex information easier to understand and remember.
How can graphic organizers be used in the classroom?
Graphic organizers can be used in the classroom in a variety of ways. They can help students to organize and understand information, brainstorm ideas, analyze texts, and plan writing assignments. They are versatile tools that can be used in a wide range of subjects to support student learning and engagement.
Can graphic organizers be used to teach critical thinking skills?
Yes, graphic organizers can be a useful tool for teaching critical thinking skills by encouraging students to analyze and synthesize information, identify patterns and relationships, and make connections between different ideas. Teachers can design graphic organizers that require higher-order thinking skills, such as evaluating arguments or solving problems, to challenge students and promote deeper understanding.