Do you want your students to understand the 3 types of irony in literature?
Do you want your students to be able to identify and explain irony on their own?
Do you want them to enjoy learning about irony?
Then you have come to the right place! Here at Storyboard That we have developed a few storyboards to help you teach the three types of Irony. If you really want your students to learn the concept, check out the activities below that will get them creating their own scenarios of irony or finding examples from your current unit!
What is Irony?
Irony is a literary device where the chosen words are intentionally used to indicate a meaning other than the literal one. Irony is often mistaken for sarcasm. Sarcasm is actually a form of verbal irony, but sarcasm is usually intentionally insulting. When you say, "Oh, great" after your drink has spilled all over your expensive new clothes, you don't actually mean that the incident is positive. Here, using the word 'great' ironically indicates a higher negative implication, even though the wording itself is positive.
3 Types of Irony
| | |
| --- | --- |
| Verbal Irony | The use of words to mean something different than what they appear to mean |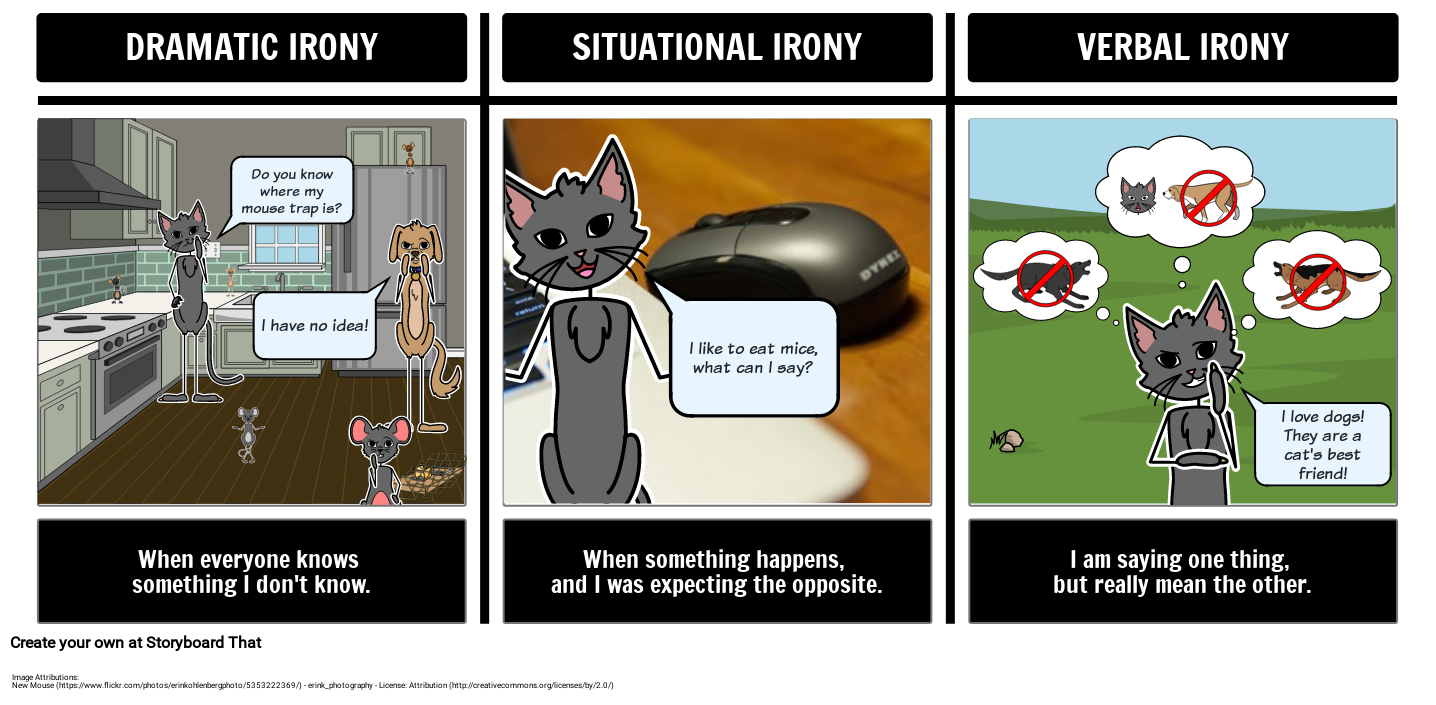 Classroom Applications and Uses
Students identify types of irony in literature by using a character likeness on their storyboard.

Students create storyboards that show and explain each type of irony as found in the work of literature; using specific quotes from the text which highlight the irony.

Students create a storyboard about something ironic in their own life.
Teachers can customize the level of detail and number of cells required for assignments based on available class time and resources.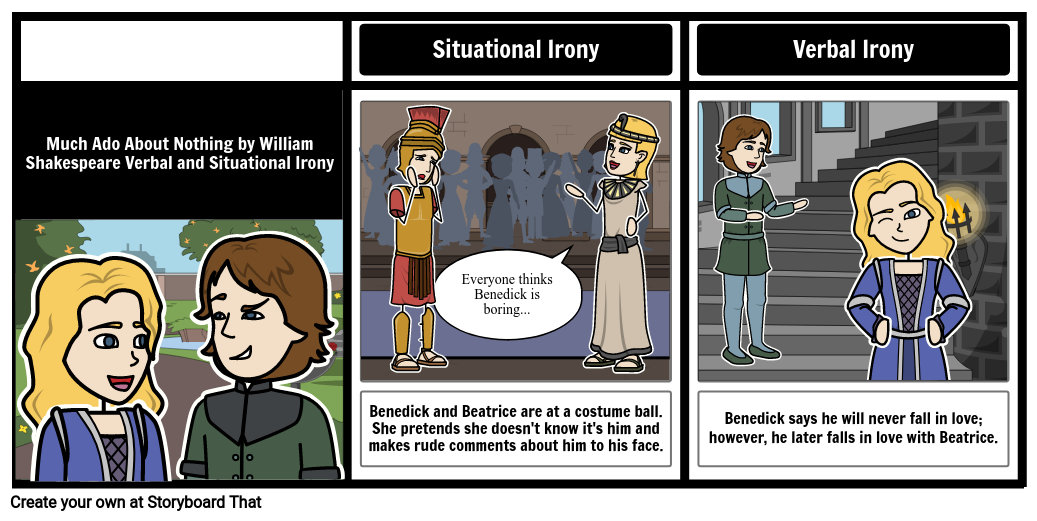 Irony Examples From Literary Classics
Verbal Irony in "The Cask of Amontillado"
A prime example of verbal irony in "The Cask of Amontillado" is when an unsuspecting Fortunato is being led to his death by his former acquaintance, Montresor. As Montresor lures him into the catacombs, he questions Fortunato about his well-being. Montresor notices Fortunato has a cough, which is growing more severe the further down the catacombs they travel. He asks if Fortunato would like to turn back. Fortunato replies, "I shall not die of a cough." Montresor knowingly replies, "True – true." The audience finds out at the end that this was in fact use of verbal irony. Montresor appeared to mean that the cough was harmless, but what he was also saying was that he planned to kill Fortunato.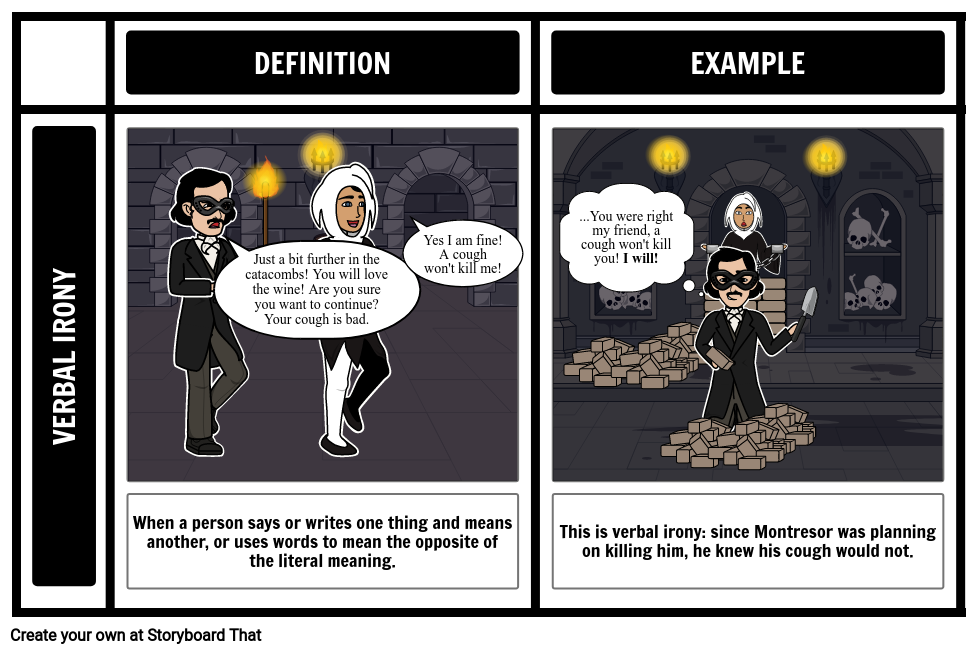 Situational Irony in Great Expectations
In Great Expectations, Pip and the audience both do not know who his benefactor is. Throughout the novel the reader is led to believe that the benefactor is indeed the rich Miss Havisham. Through her actions and the coincidences of Pip residing and being tutored by the Pockets, her cousins, the reader expects it to be her. Eventually, Magwich, the convict Pip showed kindness to at a young age, is revealed to be Pip's true benefactor. This revelation clashes with the expectations of Pip and the audience, generating situational irony.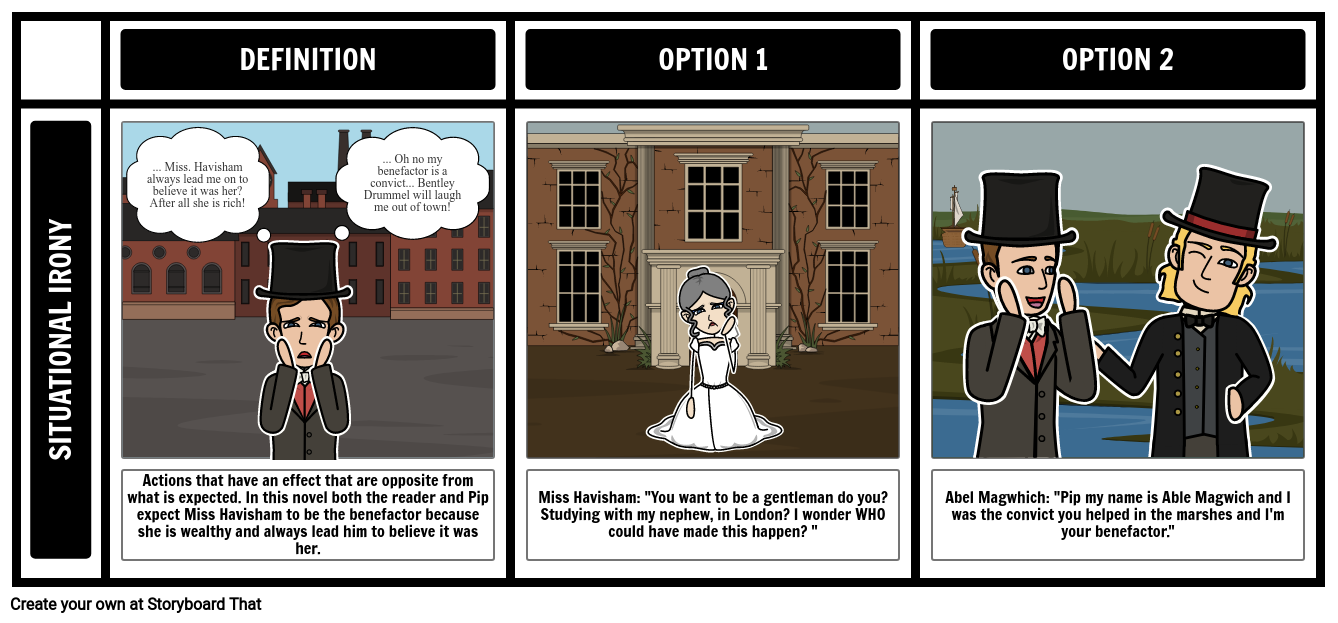 Dramatic Irony in The Tragedy of Romeo and Juliet
In Romeo and Juliet, Juliet is forced to take a sleeping potion to escape marrying Paris. She must do this because she is already married to the banished Romeo. When Romeo hears she is dead, the audience knows she is alive. He then kills himself and as Juliet wakes, she sees him dead and takes her life as well. The audience knows it all could have been prevented if the Friar's letter had gotten to Romeo, making the tale all the more tragic.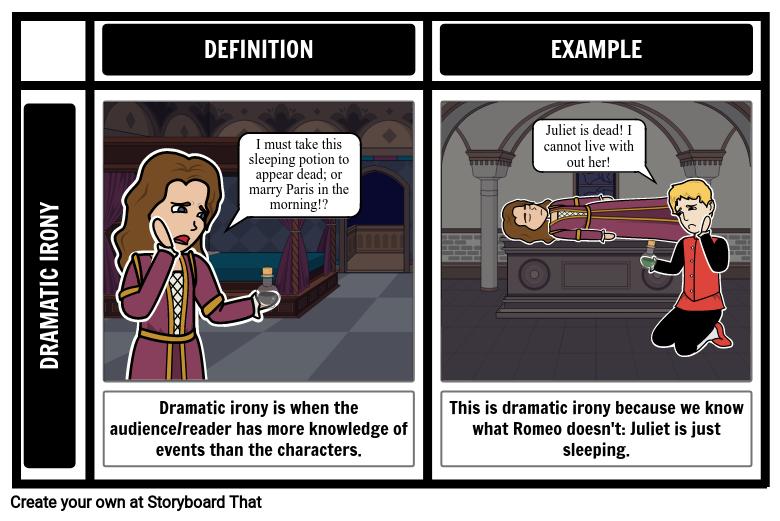 Relating to the Common Core
ELA Common Core Standards for Grades 9-12
Irony Rubric for Classroom Exercises
Excellent
25 Points
Proficient
21 Points
Emerging
17 Points
Try Again
13 Points

Student followed the task for this assignment. They included three different forms of irony, and correctly explained them.

Student has two forms of irony displayed and correctly explained.

Student only has two or three types displayed, but not correctly supported

Work attempts to show irony however, it's unclear or only presents one type.

The student has clearly provided the reader with three different examples of irony and they are clearly explained in an exemplary way.

Student clearly provided the reader with two examples of irony. However, the examples may not be exemplary.

Student has identified one or two weak example of irony.

Student has not identified irony in the story through use of direct quotations.

Student has provided a clear example of the effect of all three types of irony and explained in great detail.

Student has provided explanations of the effect of the irony for two or three examples of irony in sufficient detail.

Student has attempted to provide an explanation of the effect of one or two example(s) of irony in limited detail.

Student did not provide any explanations of irony from the reading.

Student has no errors and the work is commendable.

Student has very few errors. Good effort has been displayed.

Student has some mechanical issues; little effort is shown; somewhat appealing; partially incomplete.

Student has grammar, mechanic or correctness issues that prohibit the understanding of Irony; or incomplete; visually unappealing.