Social Stories are not just for younger students; they can be useful for all ages, including teenagers. The teenage years can be complicated, full of adult-type situations mixed with the awkwardness of still being an adolescent. Individuals on the Autism Spectrum really benefit from social stories, but adolescence is tough for everyone. Social stories can be helpful in preparing for a range of situations, including but not limited to:
Peer Pressure
Dating
Job Interview

Smoking
Fighting
Skipping School

Appropriate Expectations
Canceling or Rescheduling a Date
Saying 'No' to a Date

What to Wear
Appropriate Conversation
Accepting a Job Offer
Peer Pressure
Unfortunately, negative peer pressure is everywhere. Every time they turn around, a teenager is exposed to something that they may not like, want, or that they know is wrong. Adults play a role in mentoring and influencing their young, impressionable minds. Social stories for teenagers are a way to play out a common peer pressure situation in a way students will understand.

Peer pressure is not always negative, but it is the negative peer pressure that young people struggle with on a daily basis. Though there are many different instances of negative peer pressure, drinking is a common one. The example shows an abbreviated way a situation could play out if the teenager says no.
Other common negative peer pressure situations may include:
Direct Peer Pressure
Indirect Peer Pressure

Smoking
Fighting
Skipping School

Shoplifting
Sexual Behavior
Cheating

What to Wear
Inappropriate Language
Bullying
Dating
With adolescence comes an interest in dating. Teenage dating is a common occurrence, but does not necessarily come naturally. It is important that teenagers understand what dating does and does not involve.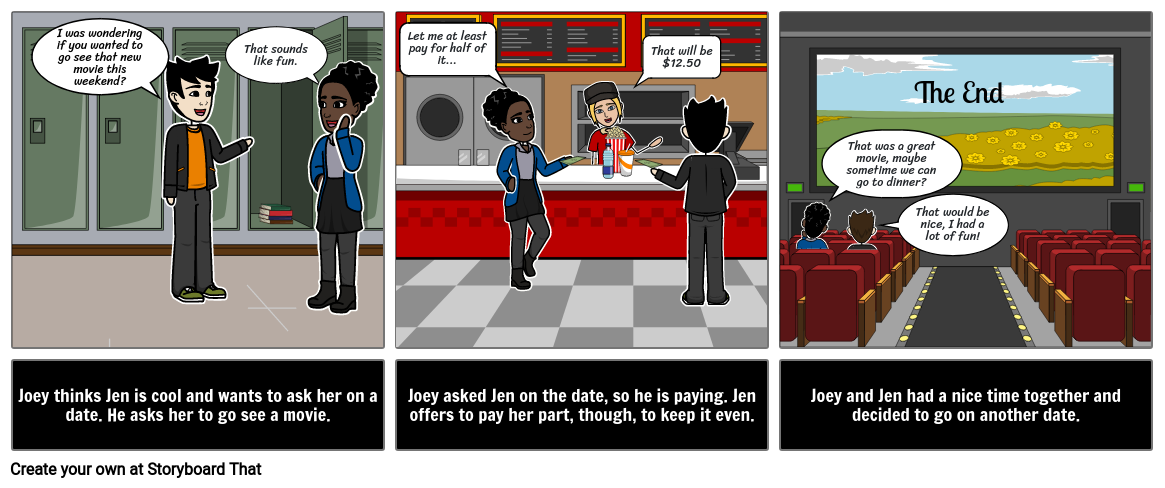 Dating should be fun and mutual. There should never be any expectations on either side. In the example, the boy paid, but the girl offered to pay her part. Neither person should expect the other to pay for the whole date. It is nice if one does, but both people should be prepared to pay their own way.
Some other dating scenarios that can be taught using social stories include:
Asking/Being Asked Out
On a Date
After a Date

Saying 'No' to a Date
Saying 'Yes' to a Date
Canceling or Rescheduling a Date

Topics of Conversation
Appropriate Expectations
Appropriate Touching

Setting up Another Date
Saying Good-bye
Discontinuing
Job Interviews
Once teenagers are around the ages of 15 or 16, when they can legally work in most states, they often become eager to find part-time jobs. Besides teaching students how to complete a job application, it is important that they know how to prepare for a job interview.
A job interview can be a nerve-wracking event, but preparing for it can help alleviate some of that stress and increase their chances of obtaining the job. Preparing for the interview starts with creating a good first impression. Many adolescents don't realize or care that what they wear and how they act reflects directly upon what other people think of them. Typically we try to teach our students that what other people think doesn't matter, but that isn't the case when it comes to potential employers.

Depending on the needs of your student, you may need to break down the interview process into smaller, more manageable chunks:
Preparation
At the Interview
Job Offer or Rejection

Dress for the Interview
Get to the Interview
Items to Bring

Making a Good First Impression
Appropriate Conversation
Asking Relevant Questions

Accepting a Job Offer
Declining a Job Offer
Receiving a Rejection
Incorporating the Social Stories
Starting a conversation about some of the adolescent-related social situations may be awkward. The social story can act as the conversation starter itself. Teenagers will look at it and it is almost guaranteed that someone will have a comment or question. This allows the students to initially guide the conversation. As the moderator, it will be easy to figure out what they may or may not already know about the topic and take the conversation in the necessary direction. This approach can be helpful in maintaining their interest in the conversation as well.
Adolescence can be a difficult age group to teach social situations to. Storyboarding social stories allows for a fun, yet age-appropriate representation of adolescent scenarios. The ever-growing library of scenes and categories on Storyboard That also allows for a wider range of situations to cover the needs of the users.
More Social Story Examples
If you are new to social stories, please read our introduction to social stories that covers the basics of social stories and how to make effective ones.
For a closer look, please see all of our social story articles: