What is a Grid?



Storyboard That has a few different layouts available for your storyboards. The grid layout is a format option that compares items across two axes. Grids are often the best choice for storyboards with lots of information, because grids are organized in a matrix. For simpler comparisons, we suggest you use a T-Chart.
Grids Help You:
Organize Information
Compare Multiple Characteristics of a Topic or Topics
Create Graphic Organizers for Reading
Make Visual Tables
---
Breaking Down the Grid Layout

Left-Hand Column with Row Titles
The grid layout distinguishes itself from the traditional layout by having separate boxes for titles in addition to the cells. All grid layouts have a column on the left-hand side that cannot be removed. Subjects, topics, or major important criteria should be named in the title bars of this column. The size and the position of the title bar cannot be changed, but you are free to choose the font and color. Leave the white space below the title bar blank, or use it to show an example or description of the word in the title bar.
While you can configure your grid however you choose, the grid was designed so that the main subjects occupy the row title bars, and the criteria or examples fill in the columns. For more advanced or more detailed storyboards, use the description boxes to explain the images in the cell.
---
Classroom Use: How Can I Use the Grid Layout in My Classroom?
The grid layout is perfect for presenting information in a chart format. Science experiment data collection, showing literary elements with examples, factors leading to war, math vocabulary, comparing two sides of an argument, and more are all possible with the grid.
Our teacher authors have come up with many additional possibilities for the grid layout. You will find that this layout is very useful for collecting and displaying information or charting progress, but maybe you will discover even more ways to use the grid. Take a look at our suggestions.
Use the Grid Layout For:
ELA
History
Foreign Language
STEM

Foreshadowing
Literary Theme
Irony

Change Over Time
Advanced Comparisons
Text Analysis

Vocabulary
Conjugation
Instructions for a Process

Observations
Sorting Boards
Charts for Collecting Information
---
English Language Arts
Chart information on characters or literary devices during or after reading long texts. The grid layout makes an excellent reference guide or study sheet.
Example Activities
Foreshadowing or Making Predictions
Literary Theme
Irony
---
History
Grids are excellent graphic organizers to use when comparing multiple characteristics of two or more subjects.
Example Activities
Change Over Time
Advanced Comparisons
Text Analysis
---
Foreign Language
When learning a new language, there are a lot of new words to keep track of! A grid is perfect for verb conjugations with visual examples on Storyboard That!
Example Activities
Vocabulary
Conjugation
Instructions for a Process
---
STEM (Science, Technology, Engineering, and Mathematics)
Planning, research, information gathering and more are ideal for the grid layout. You can also use manipulatives by organizing physical objects on a printed grid storyboard!
Example Activities
Reference Materials
Sorting Boards
Charts for Collecting Information
Applications for Special Education
Storyboard That is a fun tool for everyone in the classroom, but may be particularly useful for students on IEPs and 504 plans. Graphic organizers serve as a way to structure or guide a student's thinking. The grid layout is perfect for making charts and digital storytelling with a title cell.
Storyboard That allows the creators to incorporate pictures, colors, and text into their graphic organizers. Not all students have stellar handwriting or drawing abilities. Incorporating a storyboard-style format into digital storytelling allows handwriting abilities and drawing talents to become irrelevant. All students end up with a graphic organizer they can look back on later and still be able to understand it.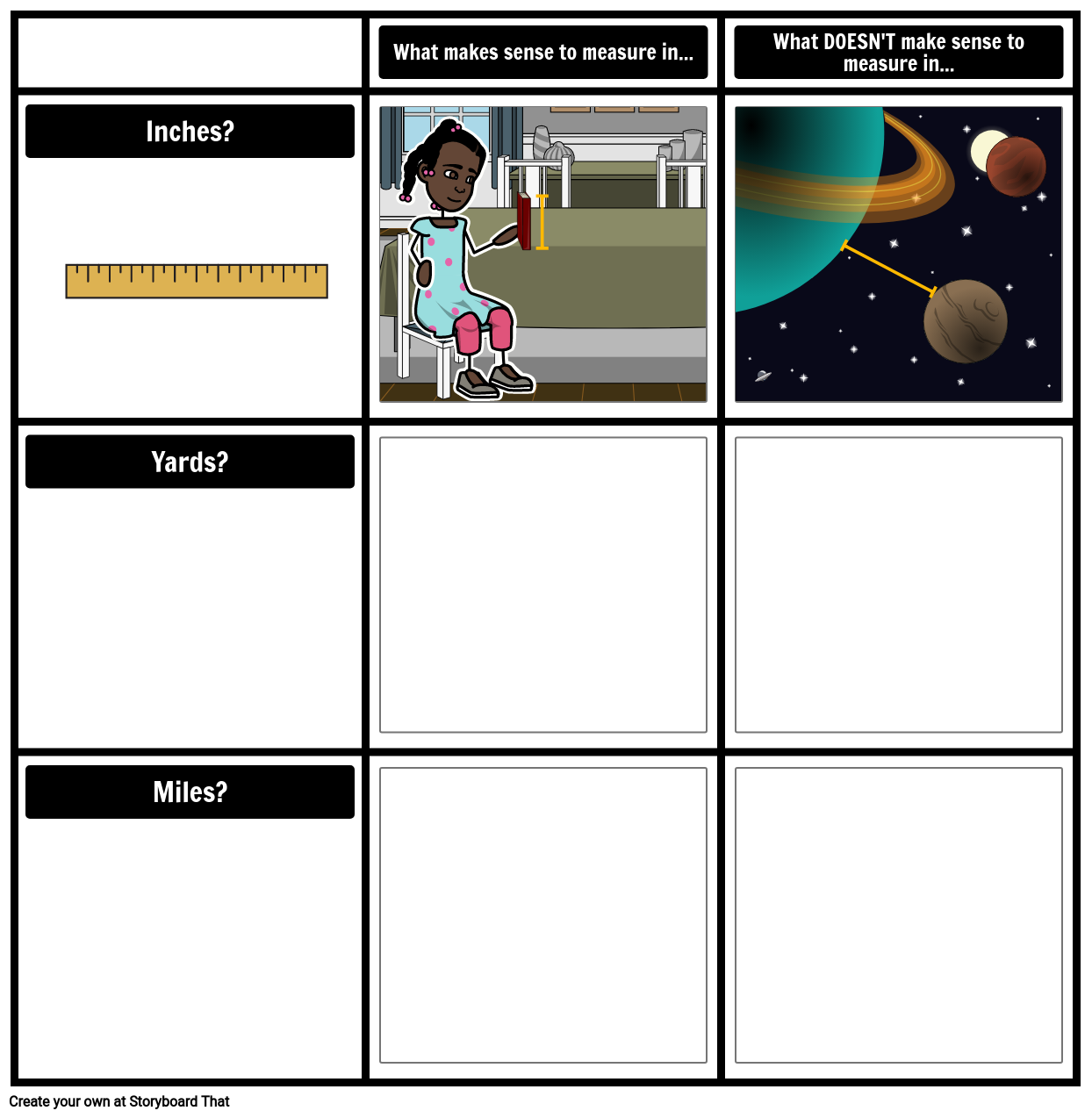 Here are a few additional ideas on when to use a grid storyboard for special education:
Keep track of characters in a story
Create visual vocabulary boards
Use Storyboard That instead of a pencil and paper assignment
Create boards for games, rewards, and communication needs
Track changes from day to day