The word "social" describes an activity that involves talking or interacting with others. Most people communicate and interact with other people numerous times on any given day. Recognizing social cues and expressions of emotion is not inherent to everyone. Many of us don't think twice about it, but for an individual with special needs, such as Autism Spectrum Disorder (ASD) or social anxiety, a social situation can be a difficult task.
Humans are a social species and it is impossible to avoid all interactions. Incorporating storyboard examples of social stories prior to events occurring can help ease individuals into the interactions by demonstrating what might happen.
School
Home
Community

Working with a Partner or Group
Eating in the Cafeteria
Trouble with a Peer

Having Guests Over
Answering the Telephone
Using the Telephone to Call Someone

Ordering Food at a Restaurant
Going to the Bank
Visiting the Doctor or Dentist
Social Situations at School
School-aged children will spend a large percentage of their waking hours in school, surrounded by their peers. During this time, there will be thousands of social interactions, both good and bad. All of theses interactions can be a learning experience.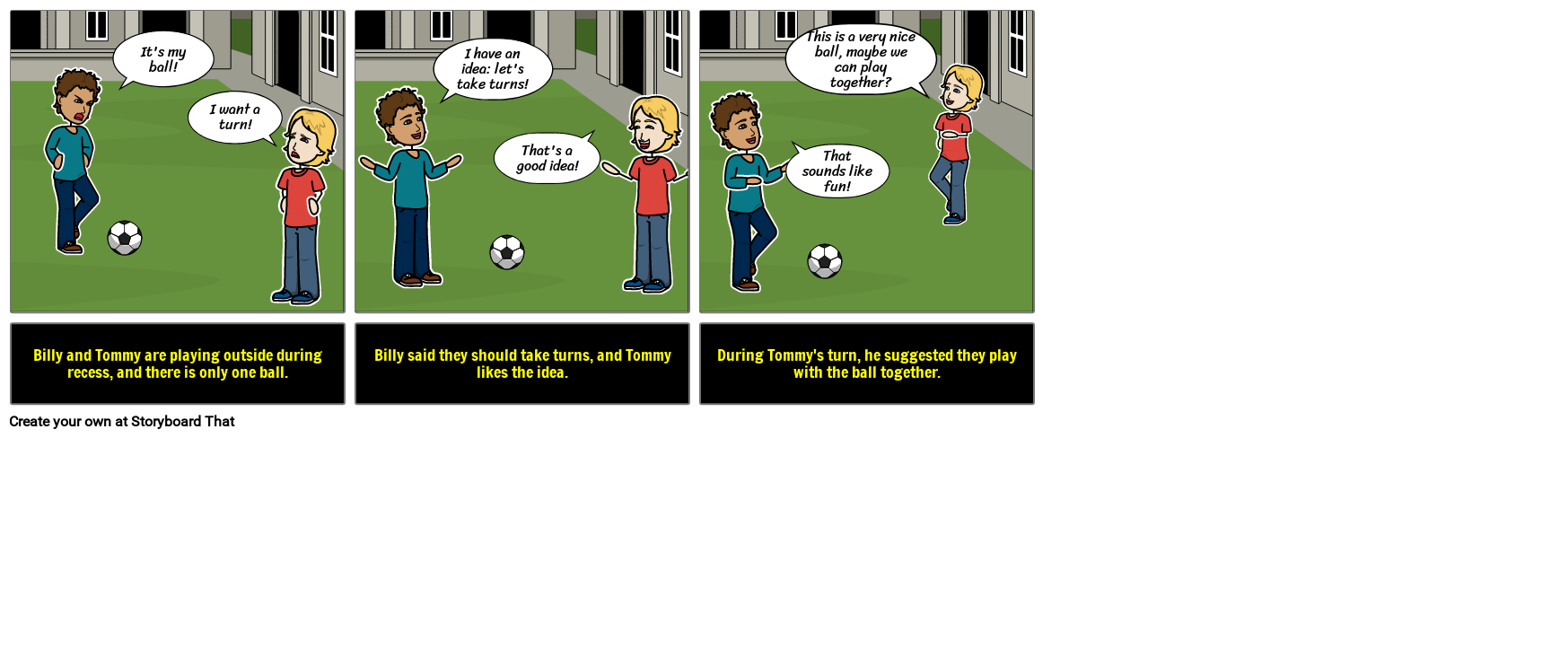 Students are nearly in constant contact with other students and teachers at school. The example social storyboard shows two boys playing during recess with one ball. Both boys want to play with the ball. The event can go a variety of ways, by using the storyboard as a teaching tool, the child is taught a way to positively resolve the situation.
Other social situation examples that may occur in school include:
Classroom
Recess
Cafeteria

Working with a Partner
Working with a Group
Class Discussion

Sharing Available Resources
Playing on a Team or with Others
Trouble with a Peer

Waiting in Line
Sitting with New People
Conversation with Peers
Social Situations at Home
Home is typically a safe zone for individuals, where there are minimal unfamiliar social situations. That doesn't mean that there won't be any. Using a storyboard, a teacher or family member can help teach a child what they should do when certain situations occur. When creating social storyboards at school regarding home situations, it is important that the educator is aware of the family's preferences regarding the situations.

Even in the safest and most familiar places, stress can happen due to social interactions. The sample social story demonstrates a potential sequence of events when a child hears a knock on their door at home. Instead of immediately opening the door, she asks who it is and then goes to get an adult.
Other social situations that may occur at home include:
Family
Friends
Other

Sibling Interaction
Extended Family Visit
Meeting a New Family Friend

Play Date
Dinner Guest
Birthday Party

Interacting with Neighbors
Using the Telephone
Email
Social Situations in the Community
Taking individuals with special needs into the community can provide a great experience for them, but is also full of possible social interactions. It is practically impossible to avoid all types of interactions while in public. The potential scenarios are endless, resulting in a multitude of possible social storyboards.
There are many events, resources, and services that we need in the community. The above storyboard is an example of a social story involving a trip to the grocery store. The individual went to the store for a specific item, red apples, and she could not find any. Instead of getting upset, she asked the store employee and was able to locate and purchase some.
Other social situations that may occur within the community include:
Service
Special Event
Outing

Visiting the Bank
Greeting a Store Clerk
Dental Appointment

Wedding
Funeral
Graduation

Sporting Event or Concert
Going to a Museum or Park
Ordering Food
More Social Story Examples
If you are new to social stories, please read our introduction to social stories that covers the basics of social stories and how to make effective ones.
For a closer look, please see all of our social story articles: