What is the Hero's Journey?
Related to both plot diagram and types of literary conflict, the "Hero's Journey" is a recurring pattern of stages many heroes undergo over the course of their stories. Joseph Campbell, an American mythologist, writer, and lecturer, articulated this cycle after researching and reviewing numerous myths and stories from a variety of time periods and regions of the world. He found that they all share fundamental principles. This spawned the Hero's Journey, also known as the Monomyth, archetype. The most basic version has 12 steps, while more detailed versions can have up to 17 steps.
Structure of the Monomyth
Part One - Call to Adventure
During the exposition, the hero is in the ordinary world, usually the hero's home or natural habitat. Conflict arises, which calls the hero to adventure, where they are beckoned to leave their ordinary world in search of something. They may refuse the call at first, but eventually leave, knowing that something important hangs in the balance.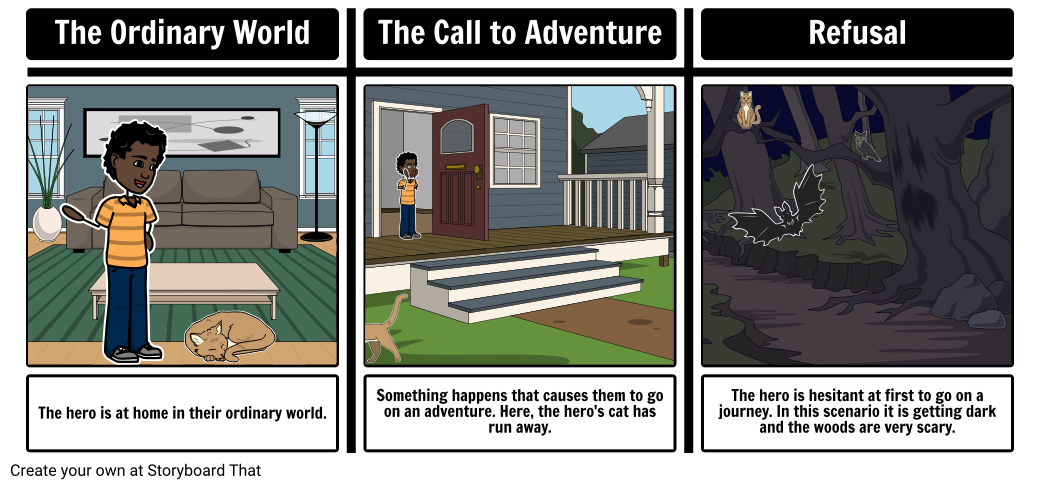 Part Two - Supreme Ordeal or Initiation
Once the hero has officially begun their journey, they will meet a mentor or helper (a sidekick in some genres) and together these two will cross the threshold. This is the point where turning back is not an option, and where they usually encounter tests, allies and enemies. Obstacles like tests and enemies must be overcome it to continue. Helpers, aid in their journey.
Part Three - Unification or Transformation
Having overcome initial obstacles, the hero and their allies reach the approach. Here they will prepare for the major challenge in this new or special world. During the approach, the hero undergoes an ordeal, testing them to point near death. Their greatest fear is sometimes exposed, and from the ordeal comes a new life or revival for the hero. For their efforts in overcoming the ordeal, the hero reaches the reward. The hero receives the reward for facing death. There may be a celebration, but there is also danger of losing the reward.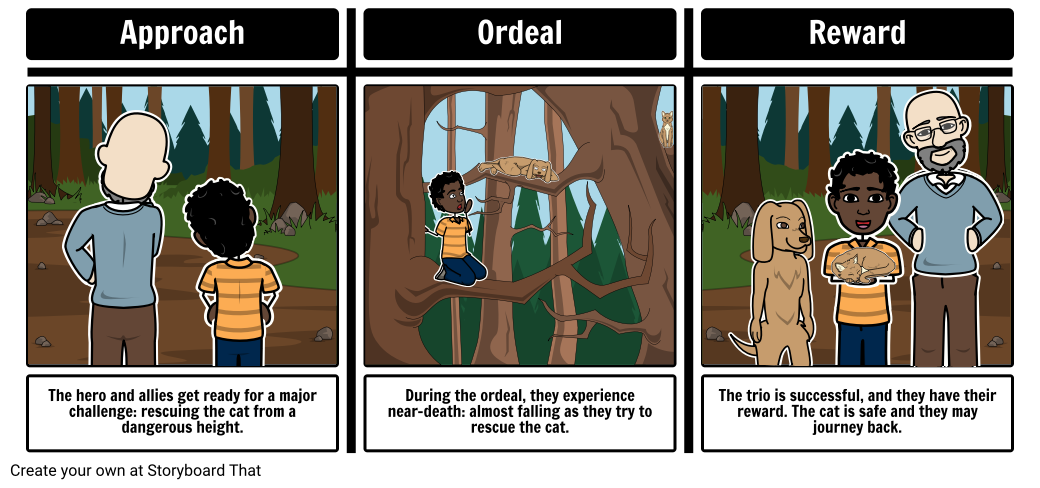 Part Four - Road Back or Hero's Return
Once the reward is won, the hero and companions start on the road back. The hero wants to complete the adventure and return to their ordinary world with their treasure. This stage is often referred to as either the resurrections or atonement. As they reach the threshold (returning from the unknown to their ordinary world), the reader arrives at the climax of the story. Here, the hero is severely tested one last time. This test is an attempt to undo their previous achievements. At this point, the hero has come full circle, and the major conflict at the beginning of the journey is finally resolved. In the return home, the hero has now resumed life in his/her original world, and things are restored to ordinary.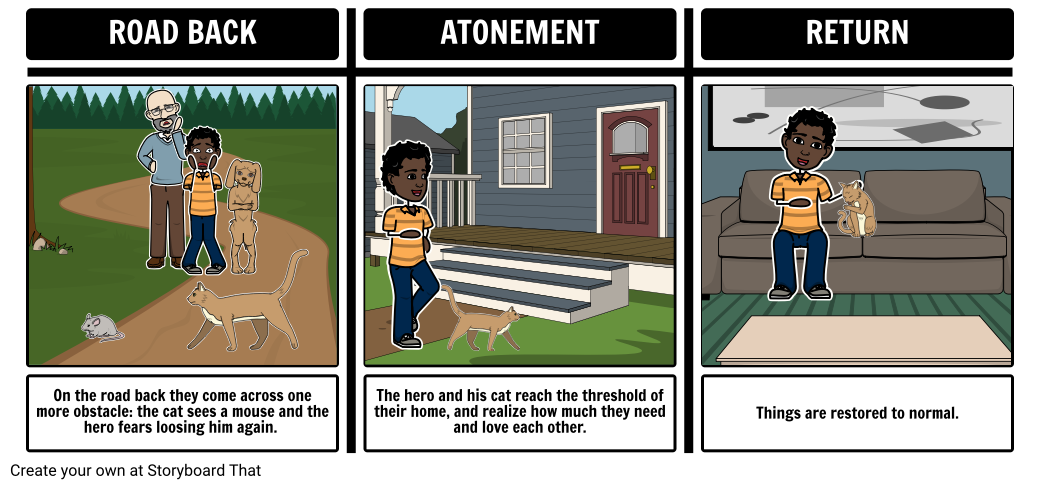 Popular Hero's Journey Examples
Homer's Odyssey
Homer's Odyssey (Note: this is one interpretation of the Heroic Journey from the abridged ninth grade version of the Odyssey. The original story is not linear, beginning in media res, Latin for "in the middle of things".)
STAGE
SUMMARY
Ordinary World
King Odysseus is at home in Ithaca, with his wife, Penelope, and newborn son, Telemachus.
Call to Adventure
Odysseus sets out for the war in Troy.
Refusal
He does not want to leave his family and sail to Troy; he knows it will be a long trip.
Mentor / Helper
Athena, the Goddess of wisdom, crafts, and battle is Odysseus' guide. She wants to help Odysseus, though she has been instructed not to. She takes pity on him while other gods forsake Odysseus, constantly saves him from death, and gives him guidance.
Cross the Threshold
After the war, the gods become angry with the Greeks for their prideful ways. A great storm emerges and throws them off course.
Test / Allies / Enemies
Odysseus is thwarted with many tests as he travels back to Ithaca:


Polyphemus
Circones
Lotus Eaters
Lastrygonians
Sirens
Scylla & Charybdis
Cattle of the Sun God

Approach
Odysseus nearly makes it home, but his crew opens a bag that had been given to Odysseus by Aeolus, god of the winds. When the bag is opened, it releases a wind that blows them far away from Ithaca.
Ordeal
Odysseus is sent to the underworld seeking information to guide him home. This quest brings him to the verge of death.
Reward
The King of Phaeacia gives Odysseus passage home.
Road Back
Unlike other heroes, Odysseus was not in search of treasure. Instead, he was desperately trying to reach his home. Once he returns, he finds out that his house has been overrun with suitors trying to steal his wife and palace.
Atonement
Instead of rushing in and killing the suitors, Odysseus is patient. He wishes to learn if his wife has been faithful. With the help of his son and a loyal swineherd, he devises a plan. Athena disguises him as an old beggar so he can enter his house undetected. Telemachus steals all the suitors' weapons, and a final test is proposed. Penelope will marry the man who strings Odysseus' bow and shoots an arrow through a line of small circles; a seemingly impossible task.
Return
Odysseus, still dressed as a beggar, completes the task and is restored to his original state. He and his son expel the suitors from their home by force. Penelope, seeing how Odysseus has changed, tests him to make sure it is actually him. She tells him she moved their bed. He replies, correctly, that this would have been impossible, and all is returned to normal.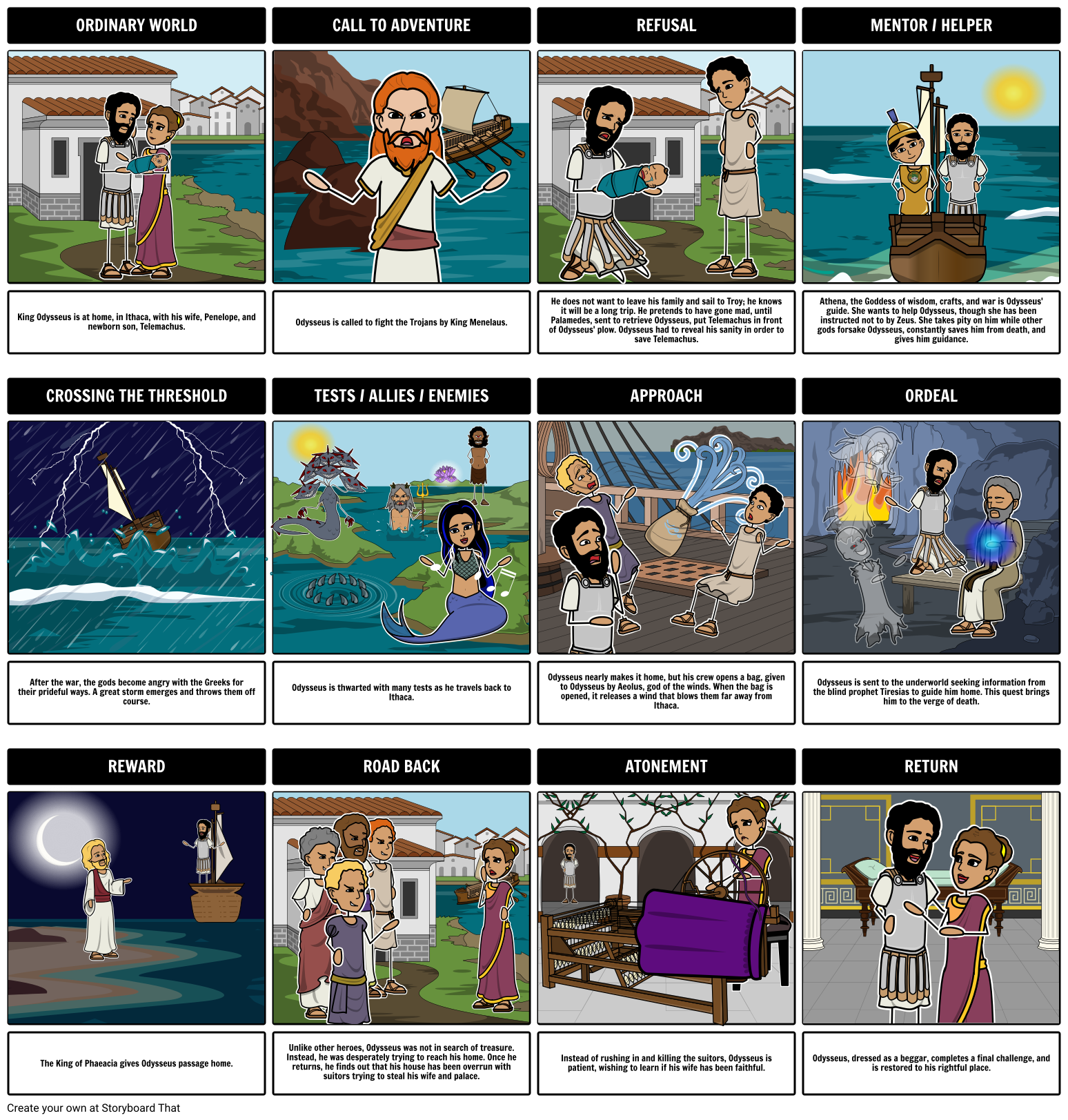 To Kill a Mockingbird Heroic Journey
Here is one interpretation of the Finches' Heroic Journey in To Kill a Mockingbird.


STAGE
SUMMARY
Ordinary World
Sleepy Maycomb Alabama, 1930s
Call to Adventure
Atticus is asked to defend Tom Robinson, a black man accused of rape.
Refusal
He realizes the attention that this case will bring, and that it will expose his family to the cruelty of society. The psychological journey of Atticus and his family begins as they battle morals vs. prejudice in the South.
Mentor / Helper
Calpurnia is often Atticus' helper. She is his black cook and disciplinarian for the children. She acts as the passage for the Finches into the black community. The Mentor of the novel is Miss Maudie, who, like Atticus, believes in Justice and becomes friends with the children.
Crossing the Threshold
As the trial begins, hostility towards the Finches grows. Although Atticus knows what the verdict will be, he promises to do everything he can for Tom.
Test / Allies / Enemies
Many of the townspeople become enemies during the trial. They allow their racism to cloud their judgment and morality:

Bob Ewell
Walter Cunningham Sr.
Walter Cunningham Jr.
The white community

Approach
The trial ends with a guilty verdict, but Scout's journey has not ended. She still faces hardships brought on by her father's involvement in the trial.
Ordeal
Sometime after the trial, Scout and Jem are walking home. Bob Ewell attacks them. Boo Radley, who is agoraphobic, leaves his home to save the children and kills Ewell in a fight.
Reward
Scout and Jem's lives are spared.
Road Back
Scout gains a moral education, their lives are saved, and her faith in the goodness of humanity is somewhat restored by Boo, who risked his life for them.
Atonement
The Sheriff rules Ewell's death accidental, saying that he fell on his own knife. "Let the dead bury the dead."
Return
The Sheriff's decision not to convict Boo restores Scout and Jem's faith in justice and humanity. While Atticus does not think this is right at first, Scout explains to him that sending Boo to jail would be like killing a mockingbird. These words prove Scout has learned a valuable lesson, and has come full circle in her journey.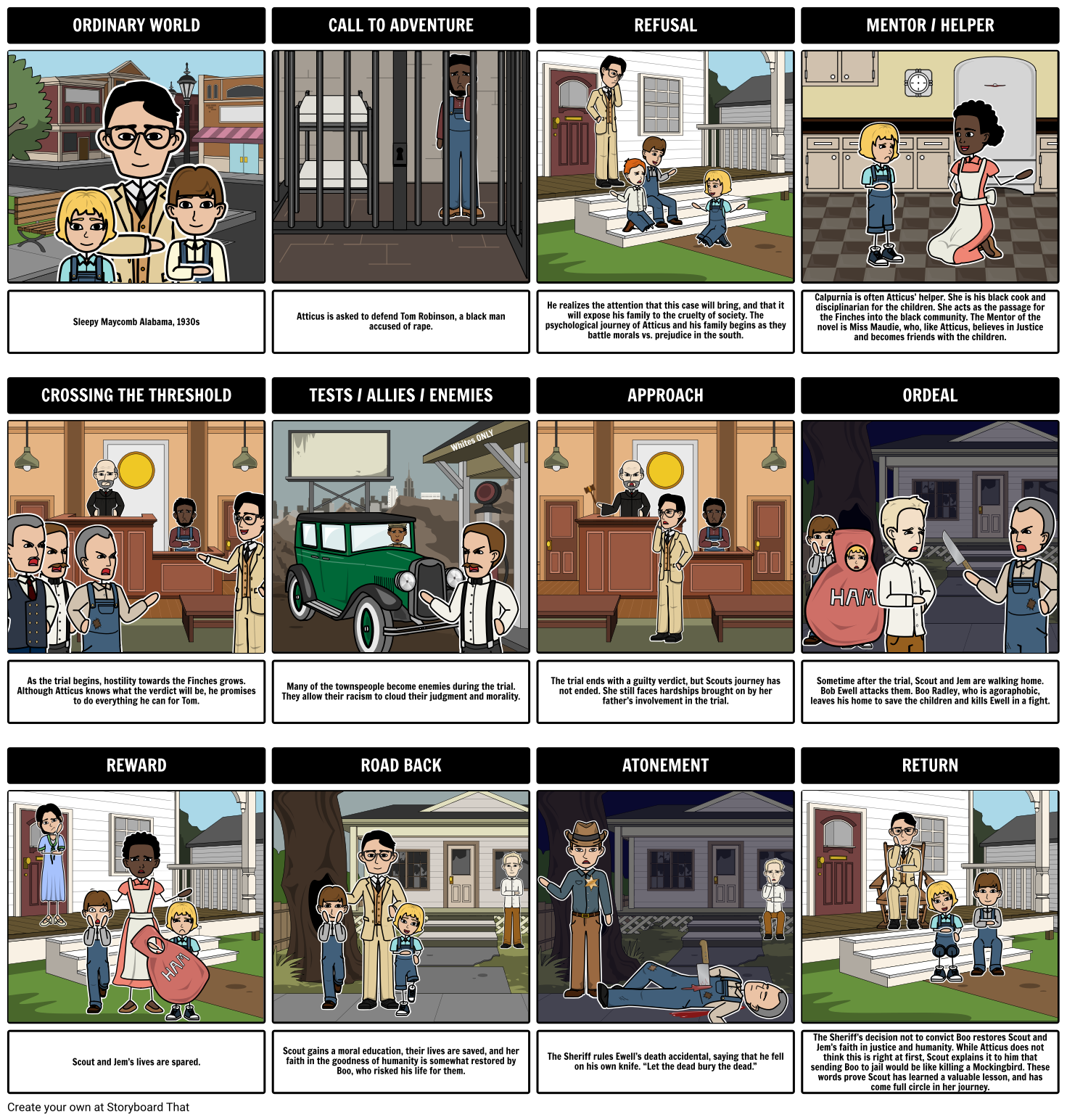 Classroom Applications and Uses
Example Exercises
Customize the level of detail and number of cells required for projects based on available class time and resources.
Students identify the stages of the heroic journey in a piece of literature by creating one cell depicting each of the twelve steps.
Students create storyboards that show and explain each stage found in the work of literature, using specific quotes from the text which highlight each part of the journey.
Students create an outline of their own original story that follows the monomyth stages.
Related Activities
Check out these hero's journey activities from our guides on Divergent, Tristan Strong Punches a Hole in the Sky, and The Lightning Thief.
Common Core
Hero's Journey Storyboard Rubric
Exemplary
20 Points
Proficient
17 Points
Commendable
13 Points
Try Again
10 Points

Stages and steps of the hero's journey are exemplary and applied to the hero clearly, precisely, and correctly.
Knowledge and examples of the archetypal hero are evident.
Abundant examples are used to support claims.

Most stages and steps of the hero's journey are accurately applied to the hero.
Strong knowledge of the archetypal hero is apparent, and some traits, but not all, are applied.
Many examples are used to support claims.

Some stages and steps of the hero's journey are accurately applied to their hero.
Some knowledge of the archetypal hero is evident and has been applied, but is not sufficient.
Some examples are used to support claims.

Stages and steps of the hero's journey are inaccurately applied to their hero, or not enough stages are incorporated.
A little knowledge of the archetypal hero is evident.
Few to no examples are used to support claims.

Stages and steps of the hero's journey are in a logical order
Elements are clearly labeled
Images are used and convey the idea perfectly

Many stages and steps of the hero's journey are in proper order.
Most picture panels are accurately labeled.
Some images may not be clear or complete representations

Some stages or steps of the hero's journey are out of order.
Many panels have NOT been labeled with the appropriate element of the journey.
Images are missing, unclear, or require explanation.

Many stages and steps of the hero's journey are confused or completely out of order.
Storyboard pictures have not been labeled with the elements of the journey.
Few images are used, or storyboard is disorganized.

All pictures demonstrate effort, are attention-grabbing, and clearly communicate visually the corresponding element of the hero's journey.

Many pictures show effort and clearly communicate how an element of the hero's journey is present in the story.

Some pictures appear rushed, or are uninteresting. Connections to elements of the hero's journey are non-obvious, or unclear.

Few pictures appear. The storyboard appears rushed, or unfinished. The connections and elements are very unclear.

There are only minor errors in grammar, punctuation, spelling, or usage, if any.

There are few errors in grammar, punctuation, spelling, or usage.

There are many errors in grammar, punctuation, spelling, or usage.

There are abundant errors in grammar, punctuation, spelling, or usage that detract from the work.

This Storyboard could be used as an exemplary model, and is one of the most outstanding projects produced.

Creativity is evident, and the finished product is admirable.

Creativity and effort are lacking. Extra help was needed.

Creativity and effort are lacking. Extra help was needed.