We are always looking for ways to engage our students, including catering to their interests or introducing completely new interesting information. Many younger students have not yet had the exposure to different sporting events and different countries across the world. The Olympics are an excellent chance to promote cultural awareness, sportsmanship, fitness, hard work, and more.
Introducing the Olympics to Students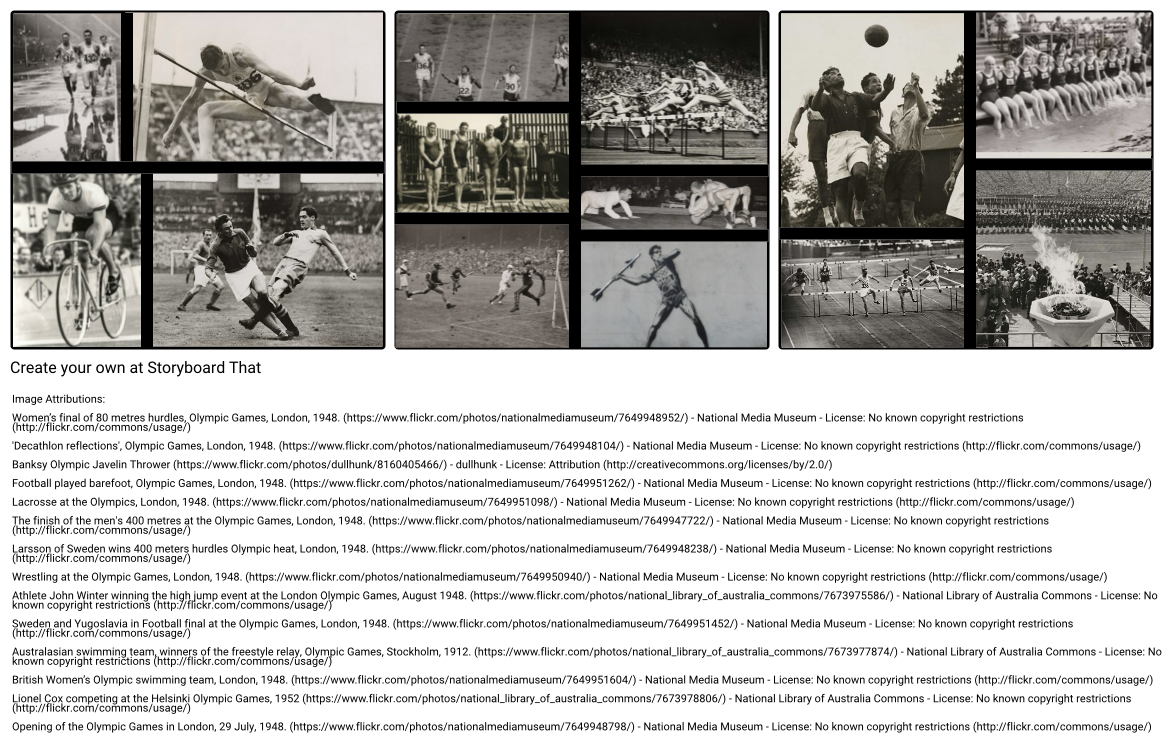 Summer Olympic Sports Include:
Gymnastics
Swimming
Fencing
Rugby
Judo
Shooting
Tennis
Rowing
Track and Field
Golf
Water Polo
Wrestling
Soccer
Basketball
Diving
Boxing
Archery
Canoe
Cycling
Handball
Field Hockey
Sailing
Tae Kwon Do
Trampoline
Weightlifting
Beach Volleyball
Equestrian Events
The Olympic Games are very exciting, especially for those who have never experienced them. Athletes come together from all over the world to compete and test their skills in sporting events. The Olympics are a great chance to encourage global unity. The world comes together during the Olympic games. Have students "sponsor" specific athletes, countries, or events. Research different ones and present information. Whether you focus on summer games or winter games, there are many activities that you can do to engage your students.

Take your Olympic lesson plans to the next level! You can have Olympics for kids too. The Storyboard Creator has several characters and scenes that are specifically for different sporting events. The sports characters even have special positions and props for playing their various sports. If the item you want isn't under the "Sports" character tab, type what you want in the search bar!
Our characters are customizable, so you can show many different "people colors" and match clothing colors to a country's flag. Type "flag" into the search bar to see our available flags, or make your own flags with our shapes and pattern backgrounds! Photos for Class comes in handy when looking for the right flag too, but it is perfect for digging up safe-to-use photographs of previous Olympic Games.
What are you working on in your class? Trying to build character, promote leadership, encourage cooperation, instill tolerance and cultural appreciation, develop research skills, practice presentation skills, learn about decimals, show the benefits of discipline, write a sports story? There are lots of things you can do to incorporate the Olympics into different areas of your curriculum.
Check out the following topics and ideas for a little inspiration for using the Olympics in your classroom!
Countries of the world
Sporting events
Challenges of team events and individual events
Perseverance and determination
Planning of Olympic Games
Olympic/Sports poetry
History of the Olympics
Training regimen from student in school to Olympic athlete
Opening ceremonies
Anatomy and body movement
Stories/biographies of specific Olympians
Word problems (ordering numbers, simple arithmetic, more complicated physics problems)
Story/non-fiction article of a tense game or competition
Research Olympic Games that were disrupted, boycotted, or cancelled
Difference between professional and Olympic sporting events
Track the number of medals a country wins
Make sure you check out the Official Olympics Website for information about current, past, and upcoming Olympic Games!