Leading up to Halloween, it is always enjoyable to get a taste of the dark, macabre work of Edgar Allan Poe. Beyond the creepy subject matter, his work is highly celebrated for its use of language, imagery, symbolism, and more.
Author studies aren't limited to elementary school. Bring on the Poe!
What is an Author Study?
An author study is more than just reading stories by the same author. An author study requires researching the author and reading various works. Research the author before, during, or after reading the works. The goal is for students to make critical evaluations of the author's style, prevalent themes and characters, and compare these aspects across different pieces of literature and connect things to the author's life.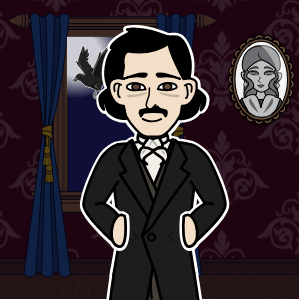 Selecting an Author
While it may seem silly to say, the focus of the author study should be the author: life and works. However, comparing the life or work of the author to another contemporary could be very illuminating regarding motivations or personal style or reactions to the same events in history.
American contemporary authors of Edgar Allan Poe include Henry David Thoreau, Nathaniel Hawthorne, Herman Melville, Ralph Waldo Emerson, and Henry Wadsworth Longfellow. Who were his friends, his rivals, his models, and how, if at all, did they influence his life and writing?
For biographical information on Edgar Allan Poe, check out
Read All or a Selection of Writing
You can't get to know an author well by reading only one poem or one book. See the range and the similarities between all of the poems, short stories, and essays. Much of Edgar Allan Poe's writing is in the style of Gothic Literature.
Below are the Storyboard That guides on poems and short stories by Edgar Allan Poe.
Reflection and response should happen concurrently with the reading of the works. Have students take notes, keep a response log, engage in frequent discussions, and/or short assignments.
Final Project
Create storyboards as part of a final project. Projects could consist of one presentation on multiple books/poems, or a focused presentation on a single book or poem. Allow students to showcase what they learned about Edgar Allan Poe!
Do a deep analysis of one of your favorite Poe tales.
Compare and contrast the development of plots of two (or more) short stories.
Identify and depict common literary elements across works.
Identify and depict recurring themes, topics, subjects, characters, or other aspects of style across works.
Create a storyboard with at least five symbols from different stories or poems.
Write a new graphic novel or visual narrative in the style of Edgar Allan Poe.

Don't forget to use shadows from search and the night time option on smart scenes!
Applicable Common Core State Standards
Grade 8
Grades 9-10
Grades 11-12