Dionysus is the god of wine and parties, and he is typically represented by a cup and grapevines or vineyards.
Dionysus was a demigod, or the son of a god and a mortal. His father was Zeus and his mother was a mortal woman named Semele. Hera discovered the affair and impending birth and tormented Semele with doubts about her unborn child's paternity. Semele demanded that Zeus reveal his godhood to her, which no mortal could look at and survive. She died, but Zeus saved Dionysus by sewing him into the skin of his thigh until he was ready to be born a few months later.
Dionysus is perhaps most well-known for granting King Midas the power to turn everything he touched into gold. This, of course, became a curse when Midas accidentally turned his own daughter into gold. Dionysus was also incredibly handsome, and carried on a long affair with Aphrodite, the goddess of love and beauty. Together, they had five children, including the three Charities. Dionysus is sometimes affiliated with excess, especially in regard to drunkenness and partying because of his realm of wine and fertility.
Dionysus Quick Reference
Parents
Zeus and Semele
Power / Domain
Symbols
drinking cup
grapevines or vineyards
thyrsus
Notable Myths
Birth and rebirth
Madness of Inos and Athamas
Blinding of King Lycurgus
Bring This to Your Classroom!
Our digital picture encyclopedia resources have easy to understand information with a visual in order to activate understanding and retention. Storyboard That is passionate about creating resources that inspire children to be storytellers, and we want students of all ages to have the ability to showcase what they have learned.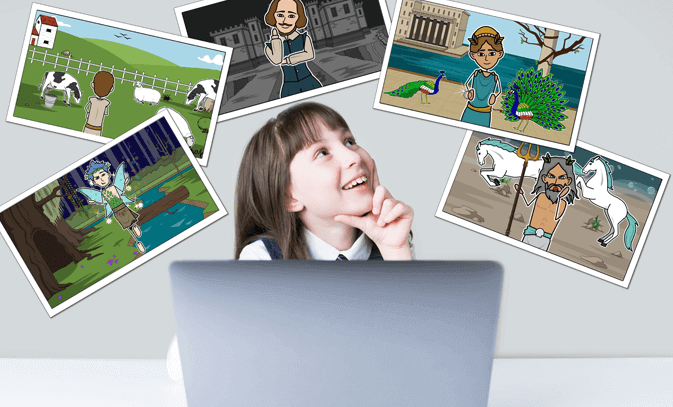 Assign a term/person/event to each student to complete their own storyboard.
Create your own picture encyclopedia of a topic you are studying.
Create a picture encyclopedia of the people in your class or school.
Post storyboards to class and school social media channels.
Copy and edit these storyboards and encyclopedia pictures and use them as references or visuals.
Learn more about Egyptian, Norse, and Greek
mythology
!
*(This Will Start a 2-Week Free Trial - No Credit Card Needed)