Sobek is the crocodile god of the Nile River, the patron god of the military, and the protector of pharaohs. He is typically depicted with a crocodile head and human body, an ankh, and a Hemhem crown with a uraeus, feathers, and a sun disc.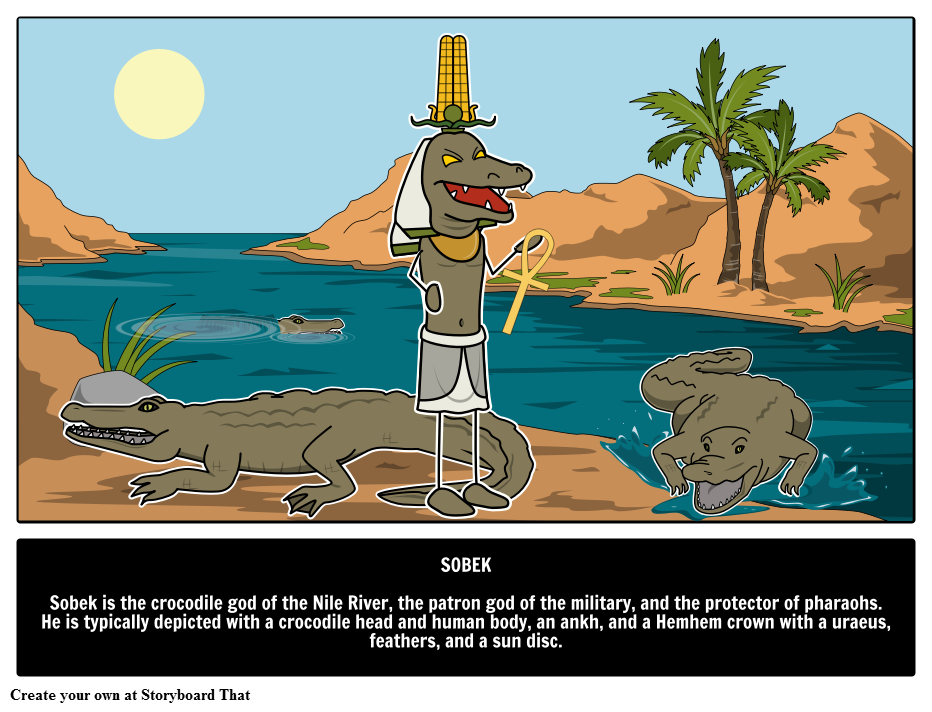 Sobek was the crocodile god of the Nile River. The people of Egypt both feared and respected the power of crocodiles, so Sobek soon came to be seen as a patron of the military and the protector of pharaohs. He was also a god that would restore souls damaged in battle or death to their previous physical health, including their sight and their senses. In some ancient Egyptian texts, he was a creator god, and he was believed to have created the earth. While he was creating, his sweat ran down his brow and back in a flowing stream which later became the Nile River.
In some myths, Sobek retrieved Horus' four sons from the Nile when they emerged from a lotus flower by catching them in a net. Horus' sons were the protectors of: the liver, the stomach, the lungs, and the intestines. He was usually closely associated with Horus. Sometimes he was mentioned as having helped deliver Horus when he was born; he was also associated with Horus because Horus turned into a crocodile to retrieve the pieces of his father, Osiris, when Set scattered them around the earth.
Sobek
Parents
Set and Neith
Domain
The Nile River; Pharoah's throne
Symbols
Crocodile
Hemhem Crown
Ankh
Notable Myths
Creation of the Nile River
Horus' Four Sons
Restored damaged dead in Duat
Bring This to Your Classroom!
Our digital picture encyclopedia resources have easy to understand information with a visual in order to activate understanding and retention. Storyboard That is passionate about creating resources that inspire children to be storytellers, and we want students of all ages to have the ability to showcase what they have learned.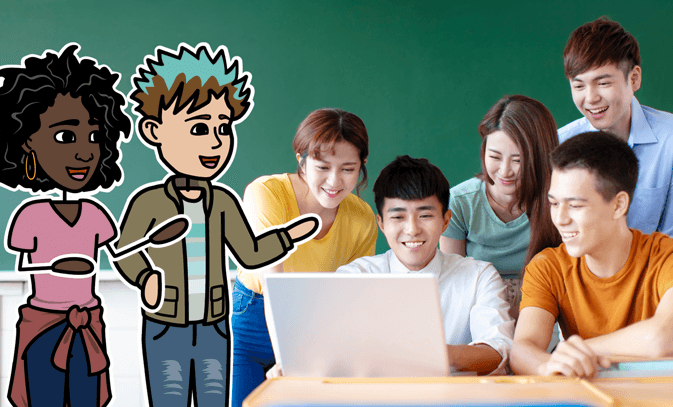 Assign a term/person/event to each student to complete their own storyboard.
Create your own picture encyclopedia of a topic you are studying.
Create a picture encyclopedia of the people in your class or school.
Post storyboards to class and school social media channels.
Copy and edit these storyboards and encyclopedia pictures and use them as references or visuals.
Learn more about Egyptian, Norse, and Greek
mythology
!
*(This Will Start a 2-Week Free Trial - No Credit Card Needed)