While Chrome does have a built-in spell check, spelling isn't the only thing that students are learning and practicing, especially when they're online. They might be reinforcing new vocabulary with storyboards or working on their grammar. It helps to have an easy way to look up words, find synonyms and antonyms, and check sentence structure. Extensions that fall into this category work well for native English speakers, as well as ESL students! They're great for aiding students along the way because they reinforce correct grammar.
Grammerly
Grammarly is an extension that provides help with grammar on top of spell checking. Because it requires an account to use, we don't recommend it for students under the age of 13, but you can check out Grammarly's terms of use. Its free version does just enough for students, from punctuation to contractions.
When there's a grammatical mistake, Grammarly will underline it in red. Clicking on the word will give you suggestions on what it should correct to! It works seamlessly with our text editor, and their little icon lets you know how many mistakes there are while you're working. Our tip: wait until you've finished typing the sentence, as the mistakes it identifies might go away as you type.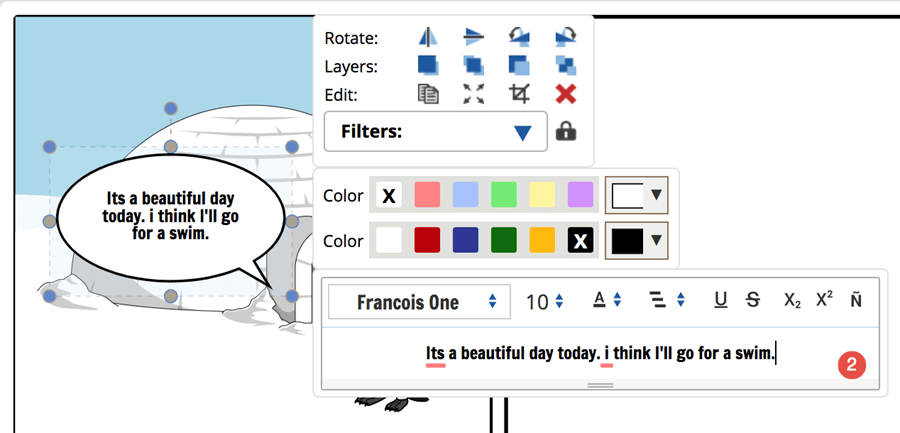 Power Thesaurus
Power Thesaurus is great for working in the Storyboard Creator, although it is great for use on the rest of the website as well. We singled it out because it works in text boxes while typing, making it the perfect way for students to get synonym and antonym suggestions in real time without having to go open another tab or wait until they've saved and exited their storyboard. Students will be able to see a few antonyms and synonyms with the ability to view more - this opens Power Thesaurus in a new tab.
Comparing and contrasting characters is a great activity to use Power Thesaurus. A character is good, but what's the opposite of good? If you're looking for the foil character, it can be helpful to identify the opposite traits and then look for the character who might fit most of or all of those traits. It might not be obvious, but it'll definitely help!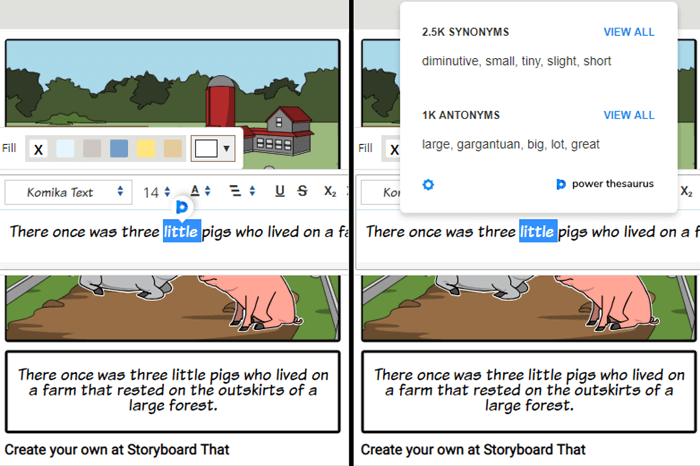 Instant Dictionary
Instant Dictionary by GoodWordGuide is a dictionary extension that provides the definition of the word for each part of speech it could be rather than just one definition, and it gives synonyms where applicable. When first installed, it lets students select whether they want to store the words they look up, which can serve as a quick reference if they find themselves questioning the meaning of the same word several times. All they have to do is double click the word to highlight it, and the definitions will pop up! The extension works inline while writing, so no need to leave the page to find the definition of a word.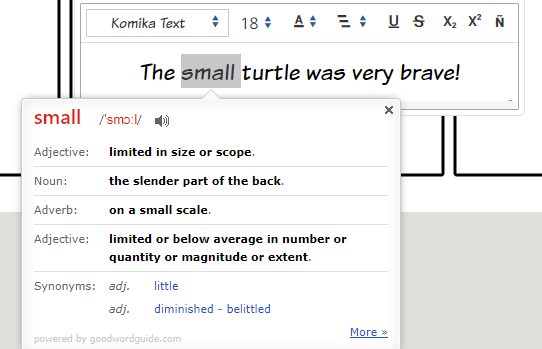 Google Dictionary
Google Dictionary won't work while typing in the Storyboard Creator, but it does work everywhere else, including assignment pages! It offers an easy way to look up the definition of a word on a page, whether that be in the description of a storyboard or one of the articles on the site! There are two ways it can be used.
One way to use the extension is by clicking the Google Dictionary button on the extension toolbar and typing in a word (this works well for looking up definitions while working).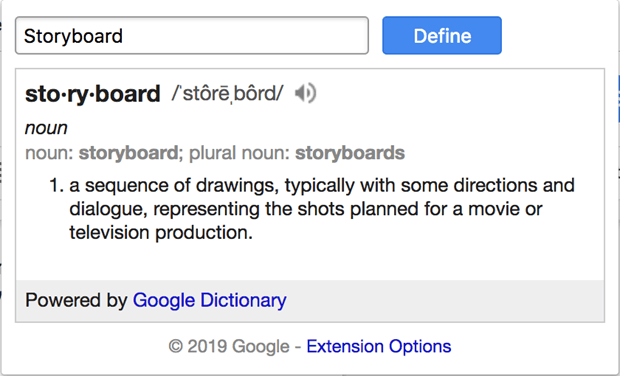 The other way to use Google Dictionary is to highlight a word on a page, and this method doesn't work when writing or editing. A little bubble will pop up with the definition of the word, provides an option to hear how it's pronounced, and the "more" button will open up a new tab with a more extensive breakdown of the word on Google (including antonyms and synonyms).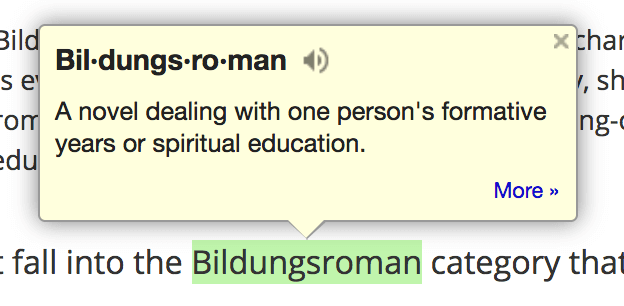 Check out our other chrome extension suggestions:
We hope to keep expanding our list of awesome Chrome extensions! Please let us know if you or your school uses something to help enhance your experience with Storyboard That!