What's App Smashing?
App smashing allows students to create projects using multiple applications (shortened to "apps") to achieve the end result. The applications can be anything from the camera app on a phone to a website like Storyboard That. Providing a variety of different apps to use lets students pick the ones that allow them to achieve their desired outcome. Each part of the project is completed in a different app and the result is an integrated presentation. Combining applications with Storyboard That enhances storytelling through the addition of photographs, audio, and video.
In addition to increasing student voice and individuality in the classroom, students are able to cater best to their own learning style without worrying about how to fit into the narrow parameters of a single application. The fluidity of using different apps allows students to create highly individualized projects. You can see how they learn and how they process information and grade each project accordingly!
One of the best parts about app smashing is that it can be used in so many different ways. Students can work collaboratively or individually, and the projects can be cumulative research projects or focus on a single topic within a unit. When integrating technology into the classroom, let students explore each individual application, so they can master it before they smash it! Chances are, they'll discover ways to use the technology that you didn't even think of (and that you can use to create even more awesome projects and lessons)!
What Can You do With Storyboard That?
With Storyboard That as a part of the process, the possibilities are endless. When it comes to digital storytelling, adding layers to a project can enhance the story for a deeper understanding. Why stop with just words? Here are just a few things you can do to make your app smashing a success:
Export Options
The variety of export options gives students the freedom to pick what best suits their project.
Our image packs export each individual cell of the storyboard into a handy zip file. With each cell as a standalone image, students can create slideshows, videos, and even printed or digital books!


The PowerPoint export option lets students easily transfer their projects to PowerPoint, Google Slides, and Apple Keynote. They can add text, slide transitions, and more to make fun presentations.


If you're looking to add motion to a project, our animated GIF export option will create a flipbook-style GIF of the storyboard! Use wherever GIFs are supported, embed in a blog, or share with classmates.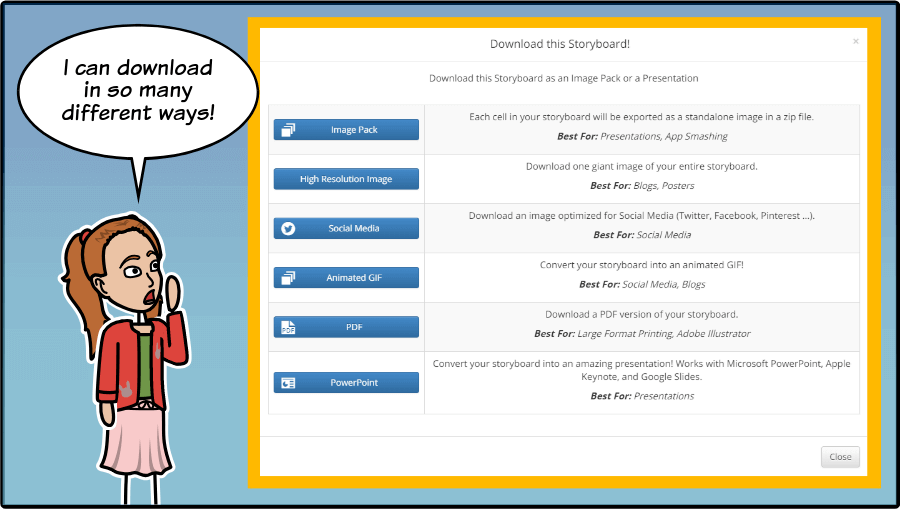 Layouts
Our large layouts and custom sizes can be used to create backgrounds for posters or to create full page, detailed scenes. They make it easy for students to tell a full story and after downloading, they have plenty of room for adding audio or video components in another app! Students might create a rainforest scene as the backdrop to a story about deforestation or the animals who live there. Our other graphic organizer-style layouts are great for both the brainstorming stage of a project and adding a different type of visual to help enhance the information. Tell a story about the life cycle of a butterfly named Flutter with a circle chart as a starting point!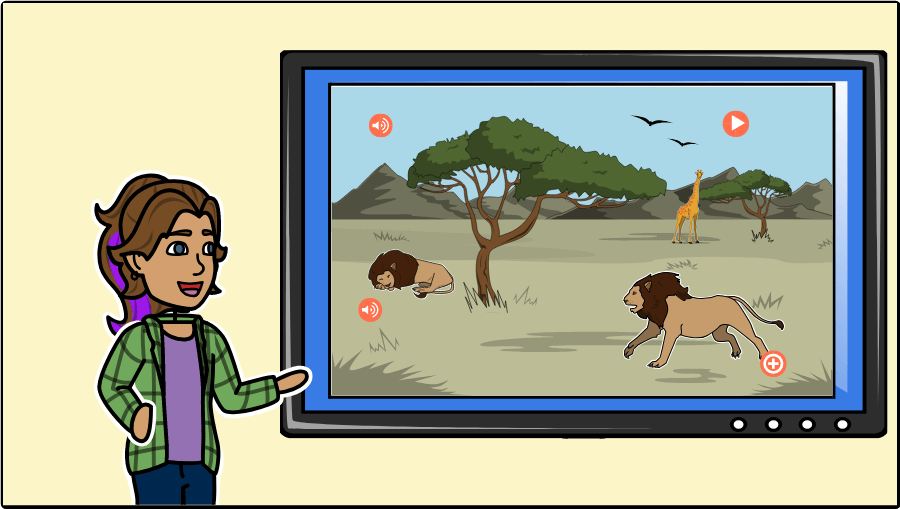 Upload Images

Students can upload images from their device to use in their storyboard, or take advantage of our integration with Photos For Class and use the search function in the Storyboard Creator. If you want to put our awesome characters into a real setting or are doing a report on Mount Everest, upload a photo or two (or more!) without having to leave the Storyboard Creator! It's the easiest way to app smash with Storyboard That.
Your storyboard is just the beginning of an incredibly fun way to create projects and tell stories in the digital space!
Looking for ideas on how to smash Storyboard That with another app? Check out our articles spotlighting different apps!
Apps to Smash with Storyboard That