Holiday Activities for the Classroom
Anyone who knows me know I'm a planner. I like to plan my lunches for the week, where I'm going on my next vacation, and even what gifts I'm giving for birthdays/holidays, sometimes months in advance.
Do you like to plan ahead too? You're in luck! I've put together a calendar of Storyboard That's Holiday lesson plans (all including student activities!), so you can plan your lessons for all upcoming holidays!
Click the month below to jump to that specific month, or scroll down to see all of them!
January | February | April | May | June | July | October | November | December
January
Martin Luther King, Jr. Day
Martin Luther King, Jr. Day is a time to honor and remember the legacy of Martin Luther King, Jr. It is celebrated on the third Monday of January, which is around MLK Jr.'s January 15 birthday.
This holiday provides an awesome teaching opportunity for teachers in any grade and among any subject. MLK Jr.'s legacy can be found in both history and literature, and many ideals that MLK Jr. advocated for are still relevant today.
One way to honor MLK Jr. using storyboards would be to analyze a speech that he wrote! Here is an awesome example of what your students could create after analyzing "Letter from a Birmingham Jail".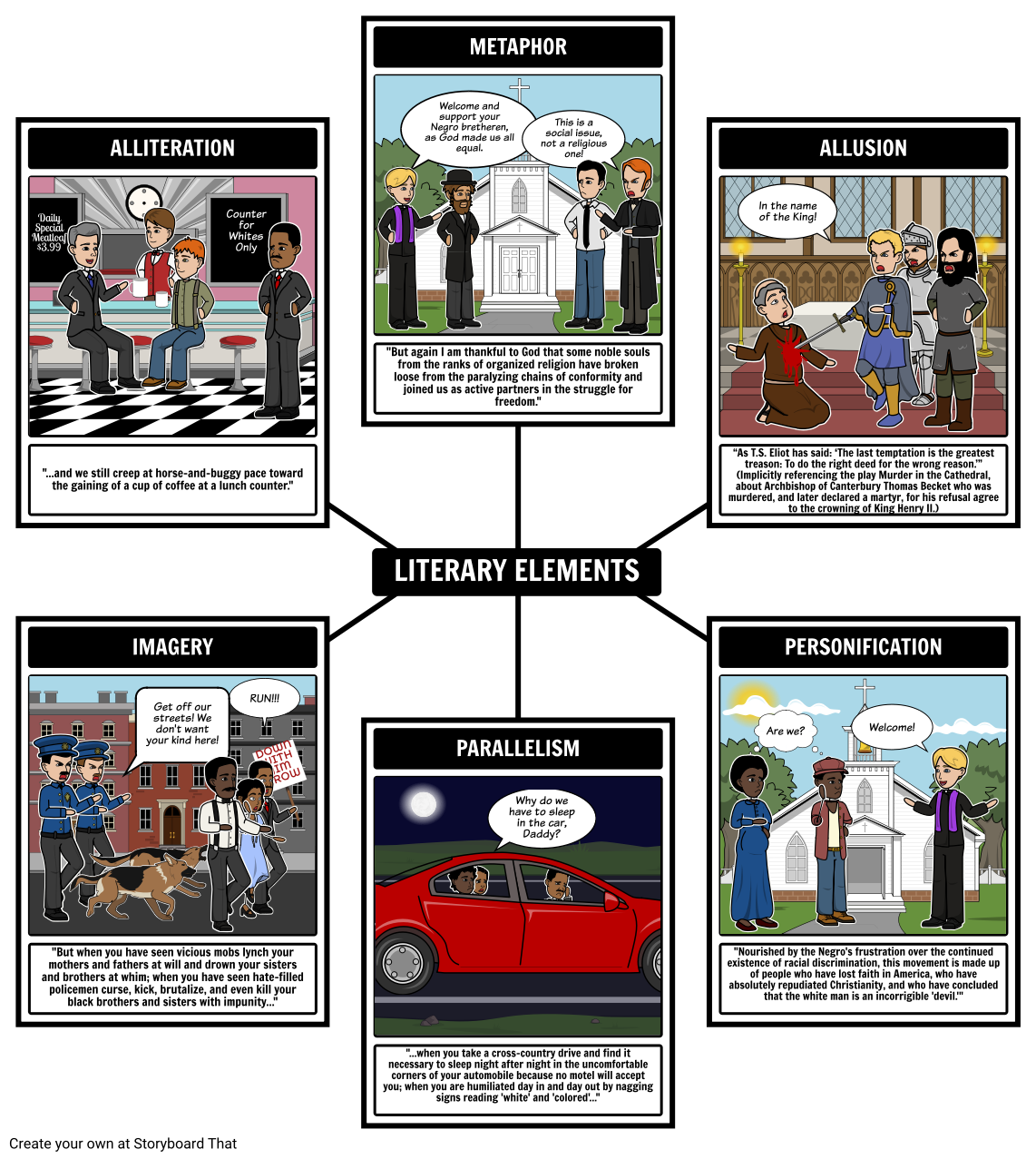 For more activities that you can use to celebrate MLK Jr. Day with your students, check out our complete lesson plans for
"I Have a Dream"
and
"Letter from a Birmingham Jail"
.
February
Black History Month
Did you know that while Black History Month is celebrated in February in the United States and Canada, it's observed in October for those in the United Kingdom?
Use our Black History Month activities to help your students honor important figures, understand key events, and reflect on larger themes of the past and present.
Black History Month Activities
Valentine's Day
There are tons of ways to celebrate Valentine's Day with your students. From giving out valentines to each other to reflecting on what is most important to you, Valentine's Day is a time for love.
Our holiday activity guide includes a little known Storyboard That feature - creating folding holiday cards! Heads up: this might become your new favorite thing about Storyboard That!

April
Earth Day
Earth Day is celebrated each year on April 22. This day provides the perfect opportunity to teach students more about our planet and also to reflect on how we can create a more sustainable way of life for future generations.
Our activity guide displays a variety of activities you can do with your students, but my favorite is the Earth Facts Frayer Model!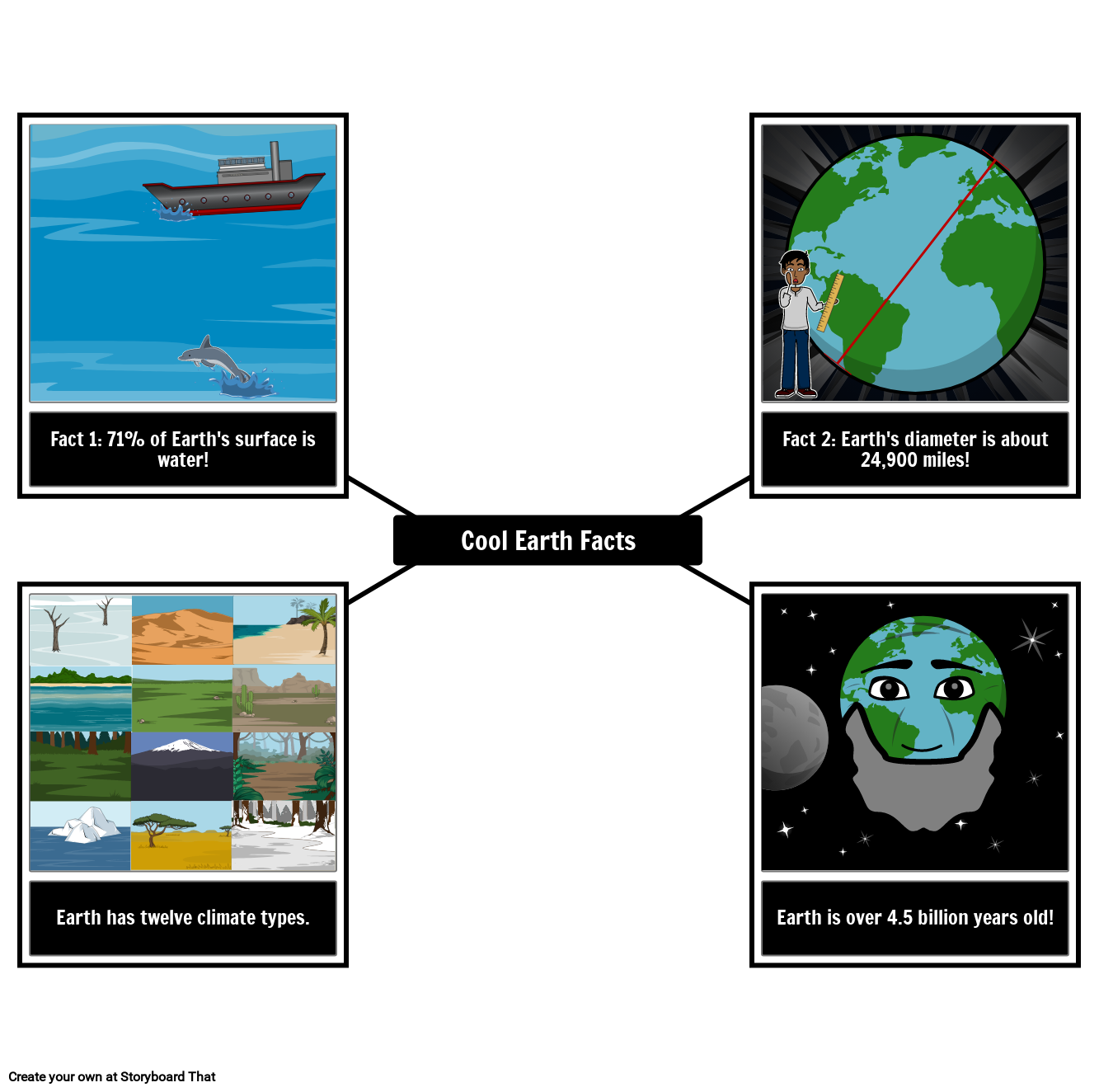 William Shakespeare's Birthday
While William Shakespeare's specific birth date is not known, it is believed that he was baptized on April 26, 1564. His birthday is traditionally celebrated throughout the month of April and it is no different here at Storyboard That! Shakespeare had such a big impact on the world of literature and the arts and storyboards are a great way to honor that legacy!
From analyzing vocabulary from his plays to creating 5-act structure diagrams, there are lots of ways you can honor Shakespeare using storyboards!

Don't forget to check out Storyboard That's entire collection of William Shakespeare resources!
May
Mother's Day
While the actual date of Mother's Day changes each year, in the United States, it is celebrated on the second Sunday in May. Mother's Day is a time to honor not only our own mother, but motherhood and the influence of mothers in general.
I always make sure to call my mom (of course), my grandmothers, and my aunts to wish them a happy Mother's Day.
In the classroom, you can incorporate storyboarding into the Mother's Day celebrations by having your students reflect on why they love their mothers, their favorite things to do with them, and to remember a particularly fun day with them!
Here's an example from our activity guide that uses our 16x9 layout!

June
Father's Day
Just like Mother's Day, the actual date of Father's Day changes. It is celebrated each year on the third Sunday in June. Even though many schools may already be on summer vacation by the time Father's Day comes around, there are still many activities you can do with your students before school is out!
Just like on Mother's Day, I always make sure to call my father, my grandfathers, and my uncles to wish them a happy Father's Day.
One awesome Father's Day activity is to create a Father's Day narrative. This can be a true story or a fictional one, using humans or animals as the main characters! I love this activity because it helps students work on their writing and storytelling skills and also help with reading comprehension.

July
Fourth of July
Even though the Fourth of July occurs outside the traditional school year, I wanted to highlight some ways you can storyboard for this holiday! We have many History and ELA lesson plans that can be used to teach students about the Revolutionary War and The Declaration of Independence.
Our Spider Map layout is perfect for creating a 5Ws analysis! Check out this example from our Primary Source analysis of The Declaration of Independence.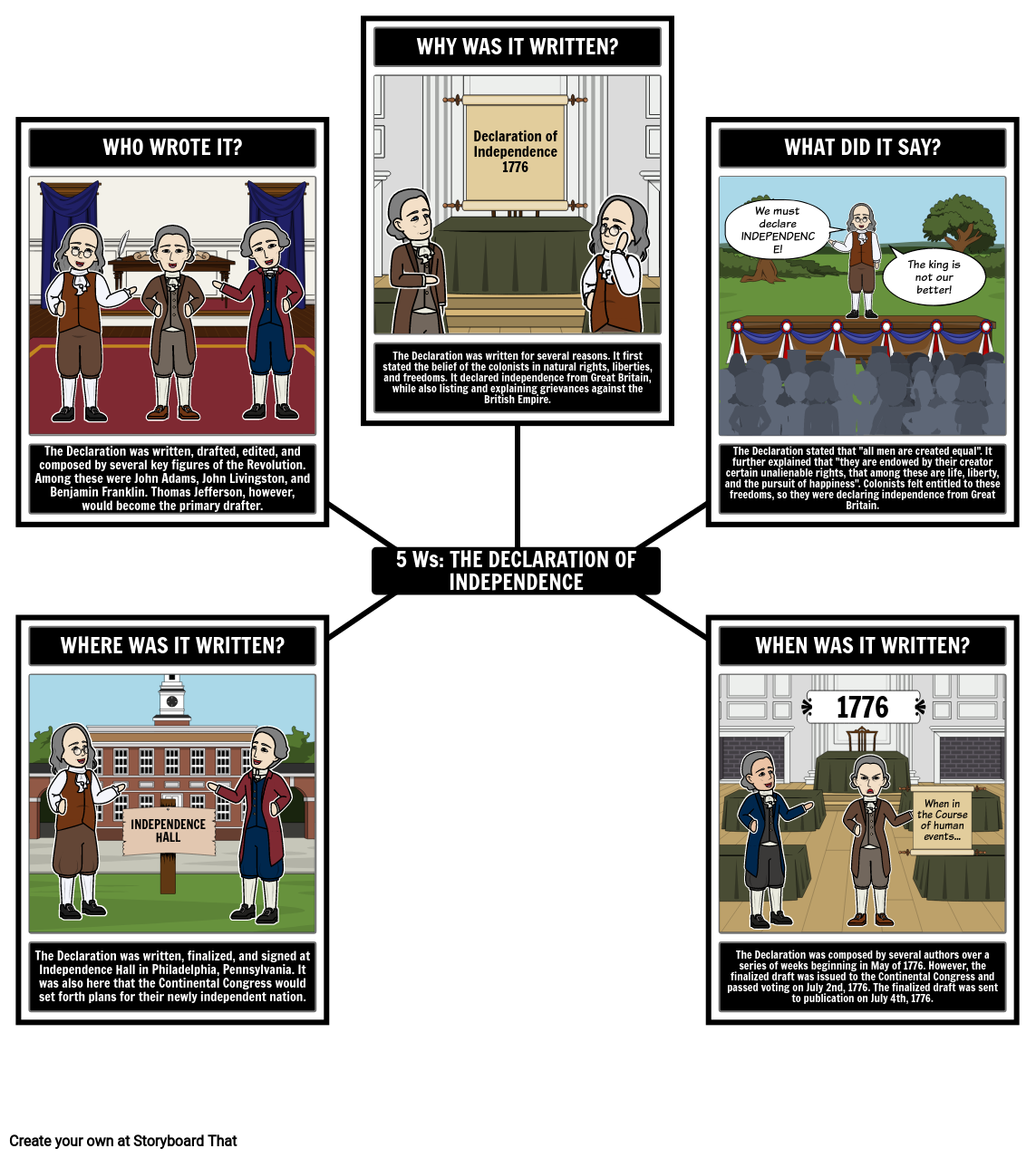 Other Fourth of July activities can be found here:
Common Sense by Thomas Paine
October
Halloween
Perhaps one of my favorite holiday of the entire year is Halloween. What's not to love about a holiday with so much candy involved?!
Since storyboards are such a great tool for visual communication, it makes perfect sense that we use them to convey important messages whenever possible. While Halloween is, no doubt, a fun and festive holiday, it's also important to ensure that students practice safe habits when Trick or Treating.
One of the activities in our Halloween Activity Guide asks that students create a "Tips for a Safe Halloween" spider map! This activity helps students understand how to celebrate the holiday in a safe way while still having fun. Here's an example of what they could create: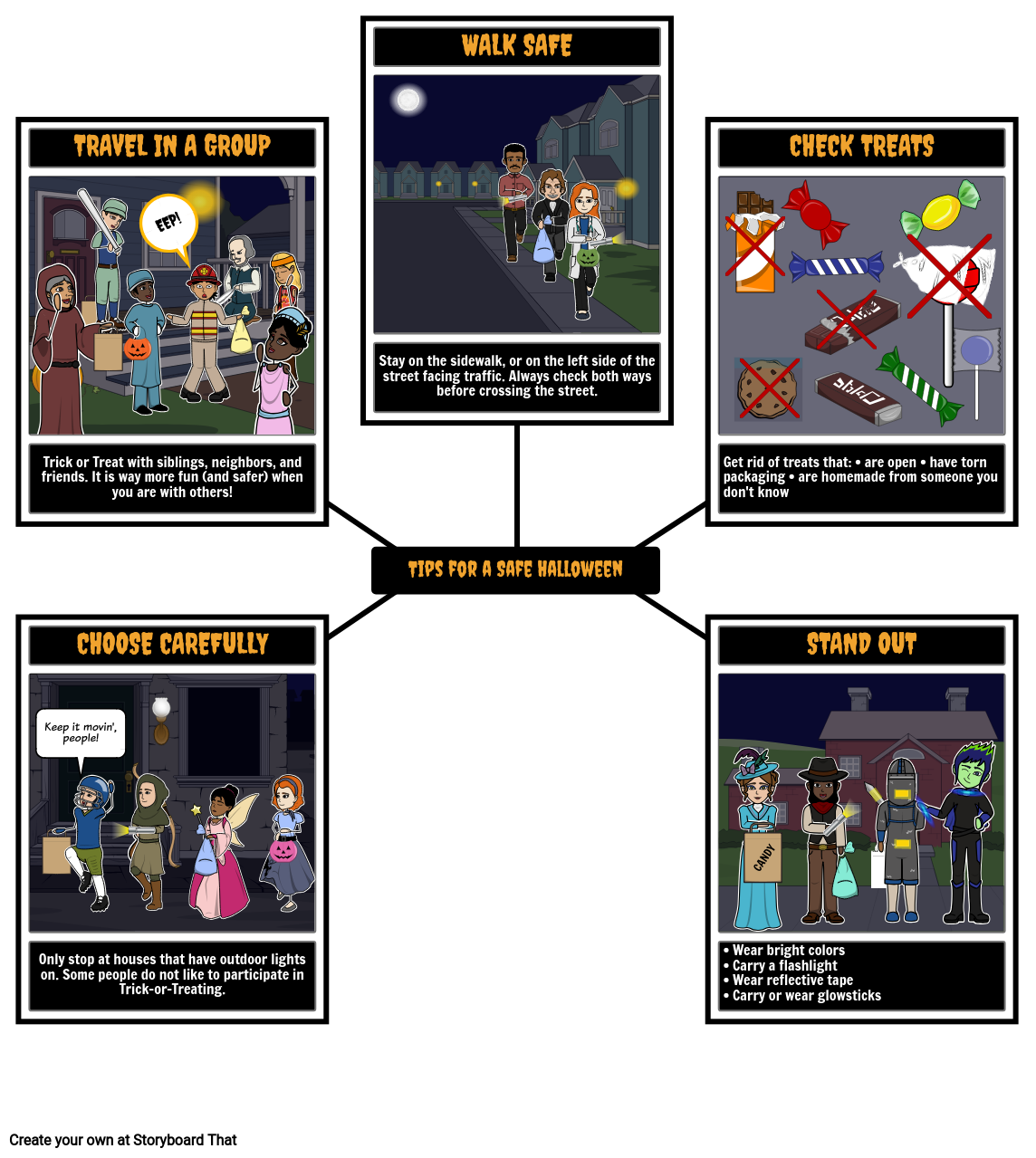 November
Thanksgiving
Traditionally celebrated on the last Thursday in November, Thanksgiving is a time for reflecting on what you are most thankful for and spending time with family and loved ones. Even though most (if not all) schools have a vacation period around Thanksgiving, our Thanksgiving Activities are perfect for getting your students in the holiday spirit after Halloween passes. You can also use these as a fun way to send your students off on their holiday break.
Thanksgiving is also a very historic holiday in the United States. Since Storyboard That prides itself on having amazing period-perfect characters, scenes, and items, why not use all of this amazing art to create a "Story of Thanksgiving" storyboard with your students?!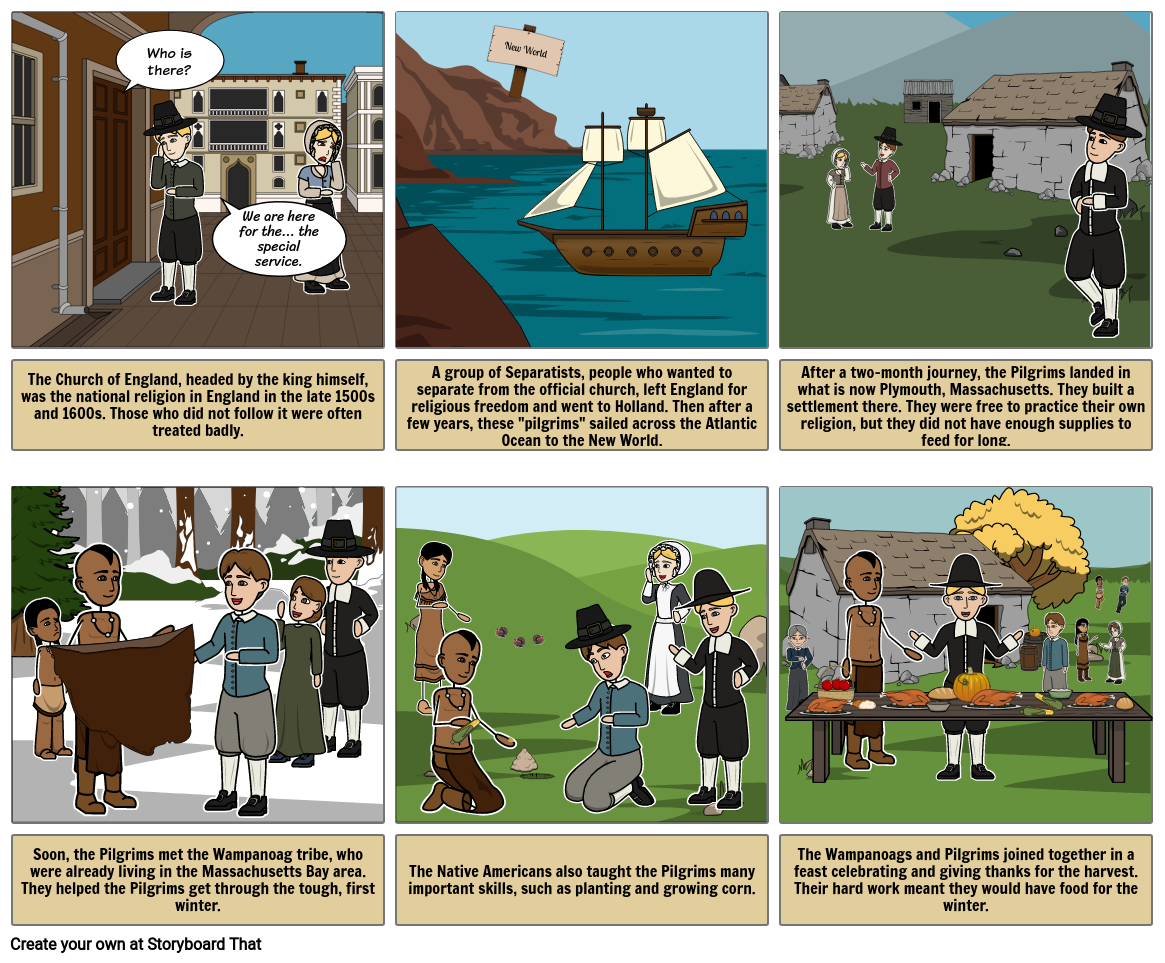 December
Winter Holidays
(Hanukkah, Kwanzaa, Christmas)
December is chock full of holidays. Between Hanukkah, Christmas, and Kwanzaa, there are tons of opportunities for you to storyboard with your students!
Storyboards, by nature, are perfect for telling stories. One of the activities featured in our Winter Holiday lesson plans is just that - a Winter Holiday Story! Your students can write their story about anything - fiction or nonfiction!
Pro Tip: use many of our scenes come with an added feature of being able to customize the weather! Simply drag and drop the scene and look for the "Edit Scene" button. Click on that button and you can create a winter scene in just a few clicks!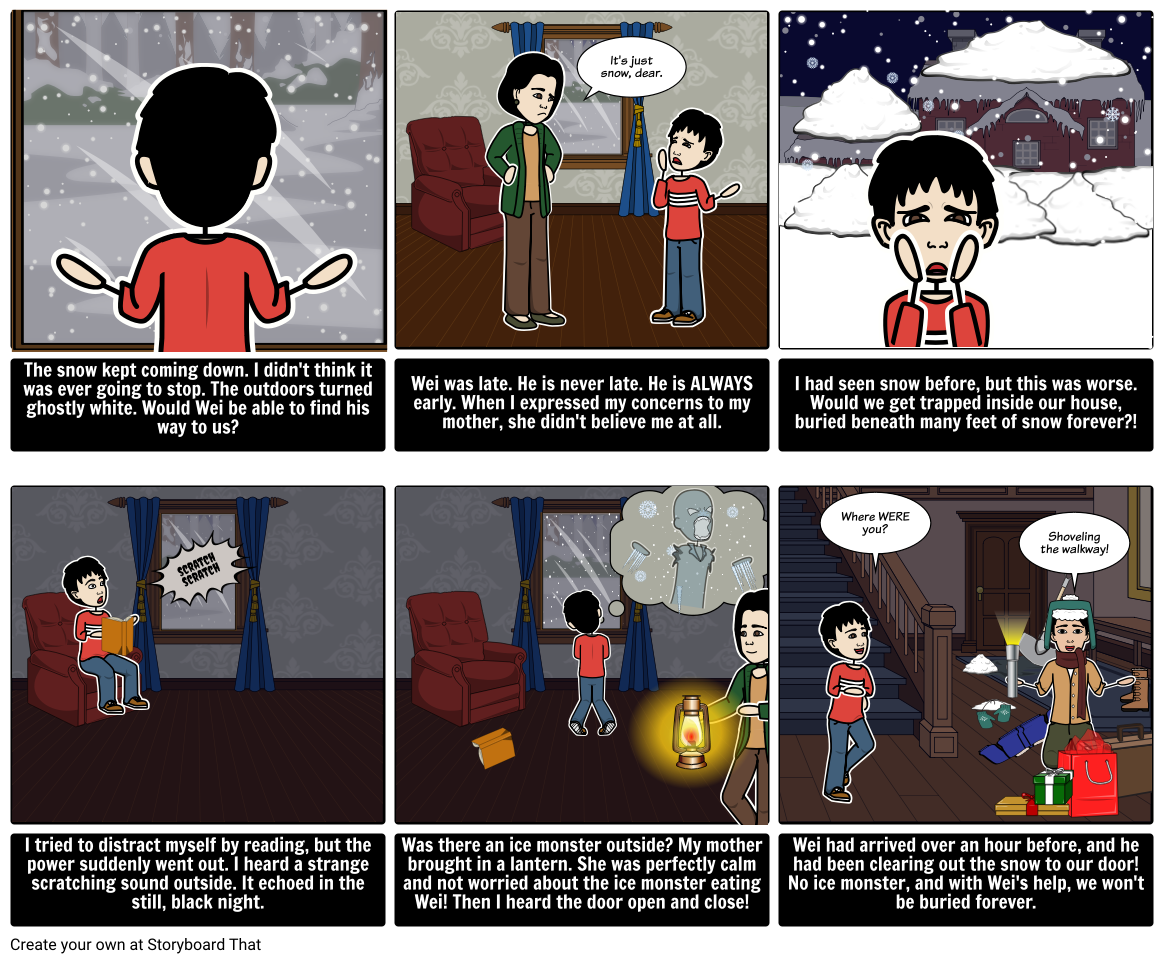 ---
No matter the holiday, storyboards are a great tool for learning while having fun. Try out these activities with your students or create your own! Happy Storyboarding!