Roosevelt reshaped the role of First Lady and oversaw the adoption of the Universal Declaration of Human Rights, one of the most important and influential human rights instruments.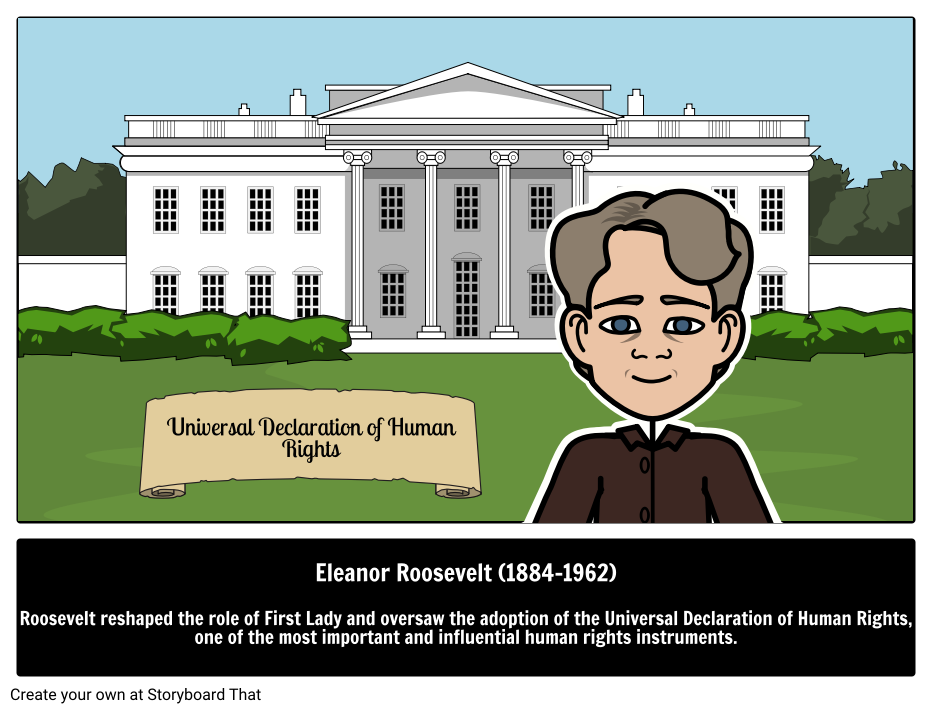 Eleanor Roosevelt
Eleanor Roosevelt was born in 1884 in New York and became the First Lady of the USA as wife of Franklin D. Roosevelt. She was a successful diplomat in her own right and was the first chair of the United Nations Commission on Human Rights where she oversaw the drafting of the Universal Declaration of Human Rights, one of the most important milestones in the development of international human rights.
Eleanor lost both her parents and one of her brothers at a young age and was raised by relatives. She attended boarding school in London and returned to New York, where she took work as a teacher. In 1902, Eleanor began a relationship with her distant cousin Franklin Delano Roosevelt. They married in 1905 and had six children. Their marriage was difficult and Eleanor discovered that Franklin had been unfaithful. Despite this, she remained devoted to her husband when he fell ill with polio and suffered paralysis in his legs.
Eleanor was recognized for her achievements outside of her husband's political career, as well as making public appearances on behalf of her husband as his illness took its toll. Eleanor traveled frequently, giving lectures and attending labor meetings, and she became a committed supporter of the civil rights movement. She was a committed feminist and organized regular press conferences at the White House for female correspondents – a tactic that forced media agencies to employ female journalists if they wanted access to the conferences.
Following her husband's death in 1945, Eleanor was appointed as the USA's delegate to the United Nations by Harry S. Truman. She served as the Chair of the UN Commission on Human Rights and oversaw the adoption of the UDHR in 1948. She continued to campaign for human rights and equality until shortly before her death in 1962 at the age of 78. Speaking at her funeral, the US lawyer and politician Adlai Stevenson said of Roosevelt: 'what other single human being has touched and transformed the existence of so many?'
Eleanor Roosevelt Accomplishments
Oversaw the adoption of the UDH as Chair of the UN Commission on Human Rights.
Inducted to the National Women's Hall of Fame in 1973.
Dramatically changed the way in which the role of First Lady is perceived, using the role to advance the causes of equality and human rights.
Eleanor Roosevelt Quotes
"A woman is like a tea bag – you can't tell how strong she is until you put her in hot water."
"You must do the things you think you cannot do."
"Where, after all, do human rights begin? In small places, close to home – so close and so small they cannot be seen on any maps of the world. Yet they are the world of the individual person; the neighborhood he lives in; the school or college he attends; the factory, farm or office where he works."
Learn more about people who have influenced history in our
Picture Encyclopedia
!
*(This Will Start a 2-Week Free Trial - No Credit Card Needed)