Ernest Hemingway was an American journalist, novelist, and short story writer in the mid-twentieth century. He is known for his spare prose, gritty subjects, and Modernist themes.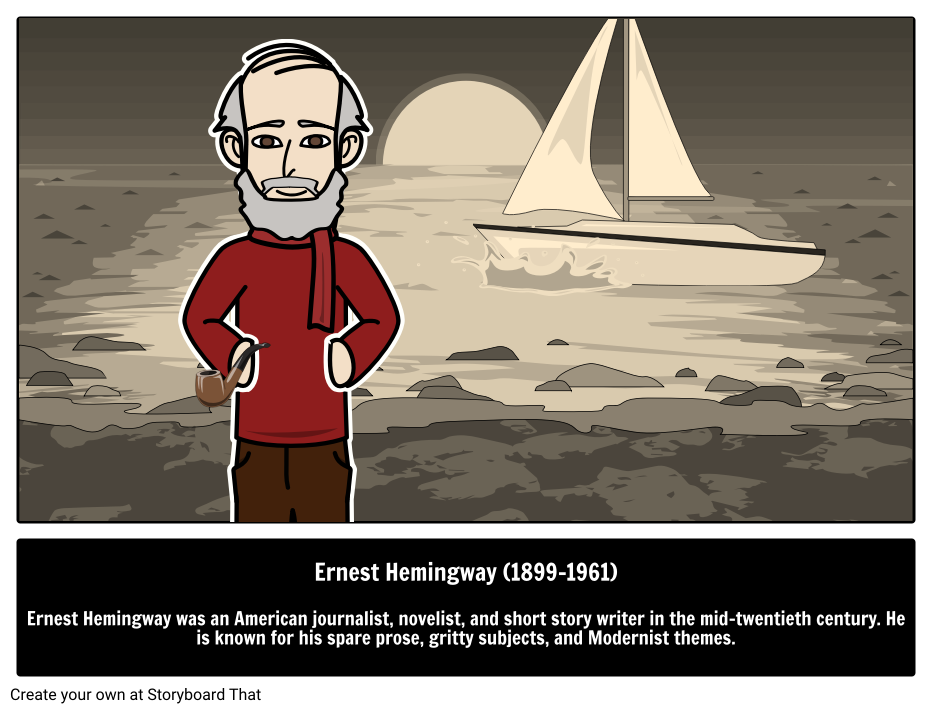 Ernest Hemingway
Ernest Hemingway was an American journalist, novelist, and short story writer in the mid-twentieth century. He was a prominent member of the "Lost Generation" - those who rose to adulthood during World War I and emerged disillusioned with tradition and detached from society. A long-time expatriate, he traveled widely and set many of his novels abroad, including The Sun Also Rises and A Farewell to Arms.
Hemingway was born in 1899 and grew up with a love for the outdoors. His passion for adventure led him to seek out a position as an ambulance driver in the Italian army during World War I, and he was wounded during his work. Hemingway endured a rocky love life, ultimately marrying four times. Much of Hemingway's personal life is reflected in the subject matter of his writing. Like that of other Modern writers, his work includes a deliberate hopelessness and conveys the sense that life is a losing battle (a theme clearly evident in The Old Man and the Sea). Hemingway's own predilection for adventures like bullfighting and deep sea fishing influenced the setting and characters of his novels, earning them a reputation for "masculine" subject matter. His experiences in war also found their way into his works, which conveyed Hemingway's conviction that war is both futile and deeply scarring. To rise above the inevitable sufferings of life, Hemingway and his characters must rely on courage, grit, and dignity in the face of pain.
While Hemingway's themes mirror those of many other Modernist writers, his most lasting influence on literature has been his prose style. Scornful of the verbose writers of the previous century, Hemingway wrote in short, terse sentences. His straightforward prose was designed, in his own words, to "Show the readers everything, tell them nothing". Hemingway's minimalist style made use of simple and natural-sounding dialogue. His succinct expression was also particularly effective at conveying understatement and irony. Still widely read today, Hemingway received considerable acclaim during his lifetime. His achievements were honored in 1954 when he received the Nobel Prize for Literature.
Famous Works of Ernest Hemingway
The Sun Also Rises
A Farewell to Arms
The Old Man and the Sea
In Our Time
For Whom the Bell Tolls
The Snows of Kilimanjaro and Other Stories
Ernest Hemingway Quotes
"All good books are alike in that they are truer than if they had really happened and after you are finished reading one you will feel that all that happened to you and afterwards it all belongs to you: the good and the bad, the ecstasy, the remorse and sorrow, the people and the places and how the weather was. If you can get so that you can give that to people, then you are a writer."
"There is nothing noble in being superior to your fellow men. True nobility lies in being superior to your former self."
"Courage is grace under pressure."
How Do I Use This?
Our digital picture encyclopedia resources have easy to understand information with a visual in order to activate understanding and retention. Storyboard That is passionate about creating resources that inspire children to be storytellers, and we want students of all ages to have the ability to showcase what they have learned.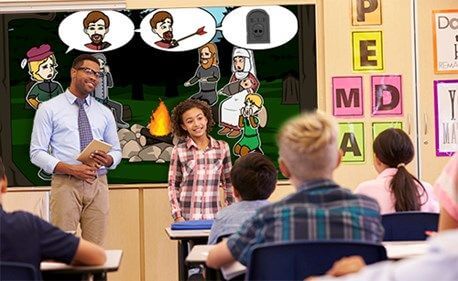 Assign a term/person/event to each student to complete their own storyboard
Create your own picture encyclopedia of a topic you are studying
Create a picture encyclopedia of the people in your class or school
Post storyboards to class and school social media channels
Copy and edit these storyboards and use as references or visuals