Walt Whitman was a groundbreaking American poet and journalist who praised the common man and the American spirit of democracy.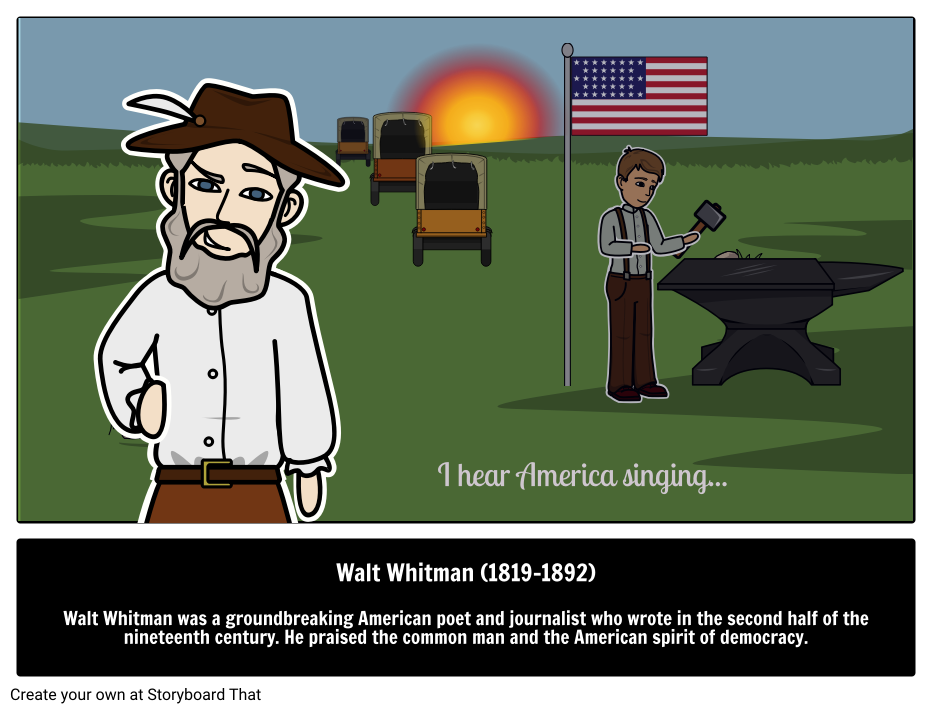 Walt Whitman
Walt Whitman was a groundbreaking American poet and journalist who wrote in the second half of the nineteenth century. Whitman was born on May 31, 1819 to a large, working-class family. Raised in Brooklyn, New York, he had limited education as he joined the workforce to help support his family at a young age. Chiefly self-taught, he read widely and began a career of journalism at 21. In 1855, he self-published his first volume of poetry, Leaves of Grass. Though the collection received mixed reviews, he republished it eight times throughout his life, adding and editing poems for each new edition.
Whitman's poetry received much criticism in its day due to his bold subject matter and untraditional style. To Whitman, however, this break from tradition was a reflection of nineteenth-century America's democratic spirit. Writing in the midst of the great surge of westward migration, Whitman poetry is expansive and egalitarian. Often referred to as the "Bard of Democracy" Whitman stressed the beauty of America's varied citizenry, praising people from all walks of life in his famous poem "I Hear America Singing". The major events of the Civil War and Reconstruction are equally present in his works. Poems such as "O Captain! My Captain!" and "When Lilacs Last in the Dooryard Bloom'd" elegize President Abraham Lincoln, while "Beat! Beat! Drums!", "A Sight in Camp in the Daybreak Grey and Dim", and many others capture the rhythm and sacrifice of war.
Whitman rejected the traditional meter and rhyme of his contemporaries and instead played with structure and form. He generally opted for free verse poems, made rhythmic through repetition and enumeration - repeated listings that lent his poetry an oratorical feel. He boldly wrote in the first person and confidently expressed emotions and realities both beautiful and unsavory. Whitman wrote repeatedly of the soul's transcendence and the regenerative power of nature. In poems like "Song of Myself", he praised the interconnectedness of all creation and addressed topics like fertility, love, and death with a sensuality that shocked many of his readers. Whitman's innovative style changed the face of poetry and inspired a fundamental shift away from the traditional poetic forms of the previous centuries.
Famous Works of Walt Whitman
Leaves of Grass
"Song of Myself"
"Bard of Democracy"
"I Hear America Singing"
"Beat! Beat! Drums!"
"Pioneers! O Pioneers!"
"My Picture-Gallery"
"A Sight in Camp in the Daybreak Grey and Dim"
"When I Heard the Learn'd Astronomer"
"When Lilacs Last in the Dooryard Bloom'd"
"There Was a Child Went Forth"
Bring This to Your Classroom!
Our digital picture encyclopedia resources have easy to understand information with a visual in order to activate understanding and retention. Storyboard That is passionate about creating resources that inspire children to be storytellers, and we want students of all ages to have the ability to showcase what they have learned.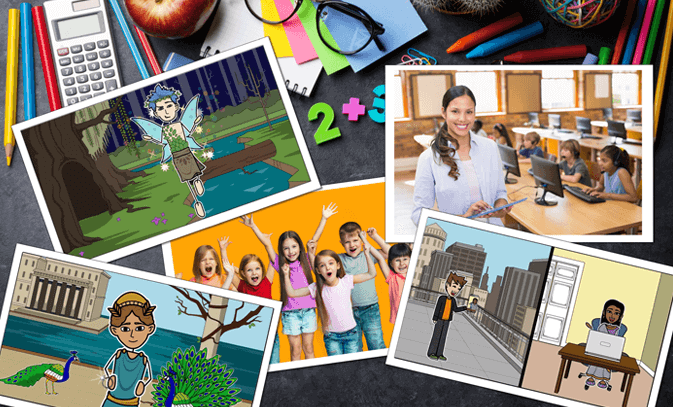 Assign a term/person/event to each student to complete their own storyboard
Create your own picture encyclopedia of a topic you are studying
Create a picture encyclopedia of the people in your class or school
Post storyboards to class and school social media channels
Copy and edit these storyboards and encyclopedia pictures and use as references or visuals
Learn more about people who have influenced history in our
Picture Encyclopedia
!
*(This Will Start a 2-Week Free Trial - No Credit Card Needed)