Rudyard Kipling was a British author in the late 19th and early 20th century. He is most famous for his children's stories, including The Jungle Book and the Just So Stories.
Rudyard Kipling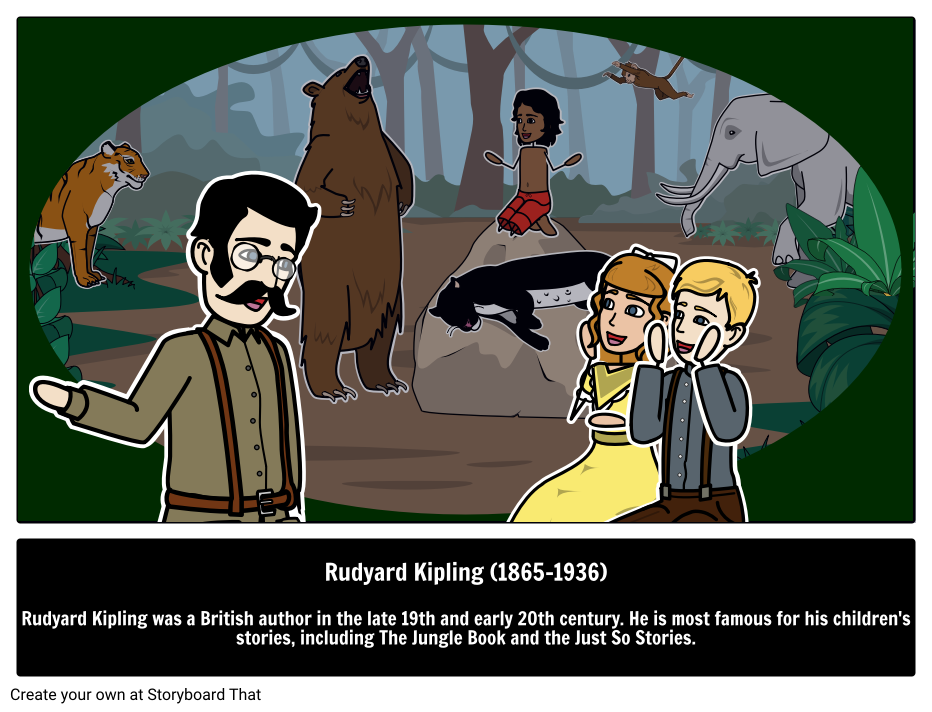 Rudyard Kipling
Rudyard Kipling was a British author in the late 19th and early 20th century. He is most famous for his short story collection The Jungle Book. Kipling spent several of his early childhood and young professional years in colonial India, a setting which heavily influenced his literary style and subject matter.
Rudyard Kipling was born in 1865 in Bombay (now Mumbai), India. In his autobiography, he describes his early youth in glowing terms. His happiness ended abruptly when he was sent off to school in England at the age of six. Living with a cruel caregiver for the next several years, Kipling became withdrawn and took solace in reading. When he returned to India at 17, he entered into journalism and began writing short stories and poetry on the side. Eventually, he compiled his writings into his first poetry and short story collections in 1886 and 1888 respectively. This adult literature was well-received, and when Kipling returned to England again in 1889, he did so as an established writer. As he married and started a family, Kipling turned to children's literature, writing The Jungle Book, Captain's Courageous, and the Just So Stories. His 1901 novel, Kim, depicting an Irish orphan navigating between the worlds of native and British India, is considered his literary masterpiece and contributed to his Nobel Prize for literature in 1907.
In his style, Kipling is considered unique among writers. His syntax reveals a mixture of influences, including English cockney, schoolboy slang, varied Indian dialects, and the Bible. In his subject matter, Kipling is more controversial. Though his novels capture the diverse and complex life of Indians and romanticize the country's exotic beauty, they also reveal an imperialist lens. Kipling's stories glorify the old India but fail to acknowledge the changes wrought by the British Empire, so that even by the time of his writing, the India of his stories was no longer the India of reality. Following World War I, Kipling's outspoken political views began to garner criticism and cost him readership. His later works are generally considered darker and less popular than his earlier writing. Though scholarship remains mixed on Kipling's true vision of India, his children's literature still finds regular readership among modern audiences.
Works Rudyard Kipling
The Jungle Book
Captain's Courageous
Just So Stories
Plain Tales from the Hills
Kim
Puck of Pook's Hill
"The Man Who Would be King"
"If—"
"The Phantom Rickshaw"
"Soldiers Three"
"Gunga Din"
Rudyard Kipling Quotes
"'There is none like to me!' says the Cub in the pride of his earliest kill; But the jungle is large and the Cub he is small. Let him think and be still."
"For the strength of the Pack is the World, and the strength of the Wolf is the Pack."
"Words are, of course, the most powerful drug used by mankind."