Lorraine Hansberry was an American playwright, best known for being the first African American woman to pen a play that was produced on Broadway. Her most well-received play was A Raisin in the Sun, which follows an African American family on Chicago's South Side as they decide to follow their dreams.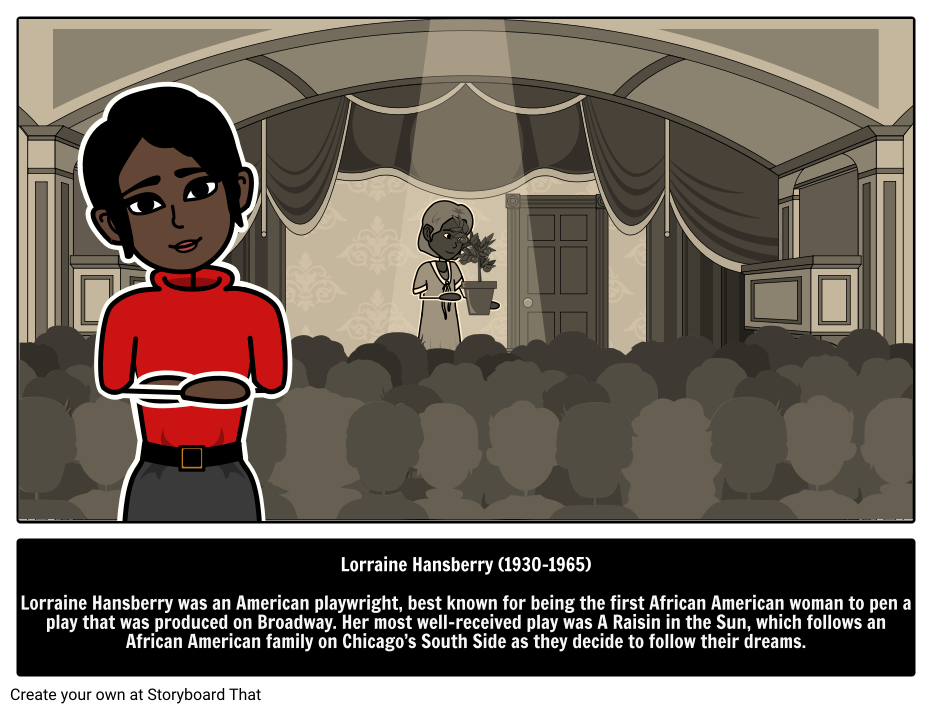 Lorraine Hansberry
Lorraine Hansberry was born in Chicago in 1930 to a well-off family. Her father was a real-estate broker, and he used his money to purposely purchase a house in an all-white neighborhood. The house was threatened by mobs, and a brick was even thrown through their window. They went to court over a "restrictive covenant rule", which was an agreement where white property owners would not sell to African Americans. They were initially forced out of the house when the Supreme Court of Illinois found the covenants legal, but the ruling was overturned on a technicality by the U.S. Supreme Court and found to be a contestable issue, although not necessarily illegal. The case led to the end of these kinds of agreements in Chicago, and opened up land ownership in new areas to African Americans.
Hansberry delivered her most well-known work A Raisin in the Sun in 1959. Loosely based on people she knew from Chicago's poorer black families and her family's own experience with the white neighborhood, it quickly became one of the most seminal plays of its time and was nominated for several awards. Hansberry was the first black woman to write and produce a play for Broadway. Hansberry captured not only the individual desires and dreams of each member of the Younger family, but also the dream of true equality for blacks in America, an ideal reinforced by her use of a line from Langston Hughes' "A Dream Deferred" as the title of her play. The play culminates with the Younger family deciding to move into their new house in the white neighborhood after all, deciding that they must move forward together instead of continuing to stand still in their apartment, fractured by their fighting. Her story of perseverance of the American black family became a beacon of hope for the African American community as the Civil Rights Movement gained momentum.
Hansberry died of pancreatic cancer in 1965 at the age of 34, so many of her writings were unfinished or unpublished. Her ex-husband, Robert Nemiroff, finished some of the works and compiled others, allowing more of her work to be published posthumously.
Lorraine Hansberry Works
Les Blancs
To Be Young, Gifted, and Black
The Sign in Sidney Brustein's Window
Lorraine Hansberry Quotes
"A woman who is willing to be herself and pursue her own potential runs not so much into the risk of loneliness as the challenge of exposure to more interesting men—and people in general."
"'Don't get up. Just sit a while and think. Never be afraid to sit a while and think.'"
"I wish to live because life has within it that which is good, that which is beautiful and that which is love. Therefore, since I have known all of these things, I have found them to be reason enough and—I wish to live. Moreover, because this is so, I wish others to live for generations and generations and generations."